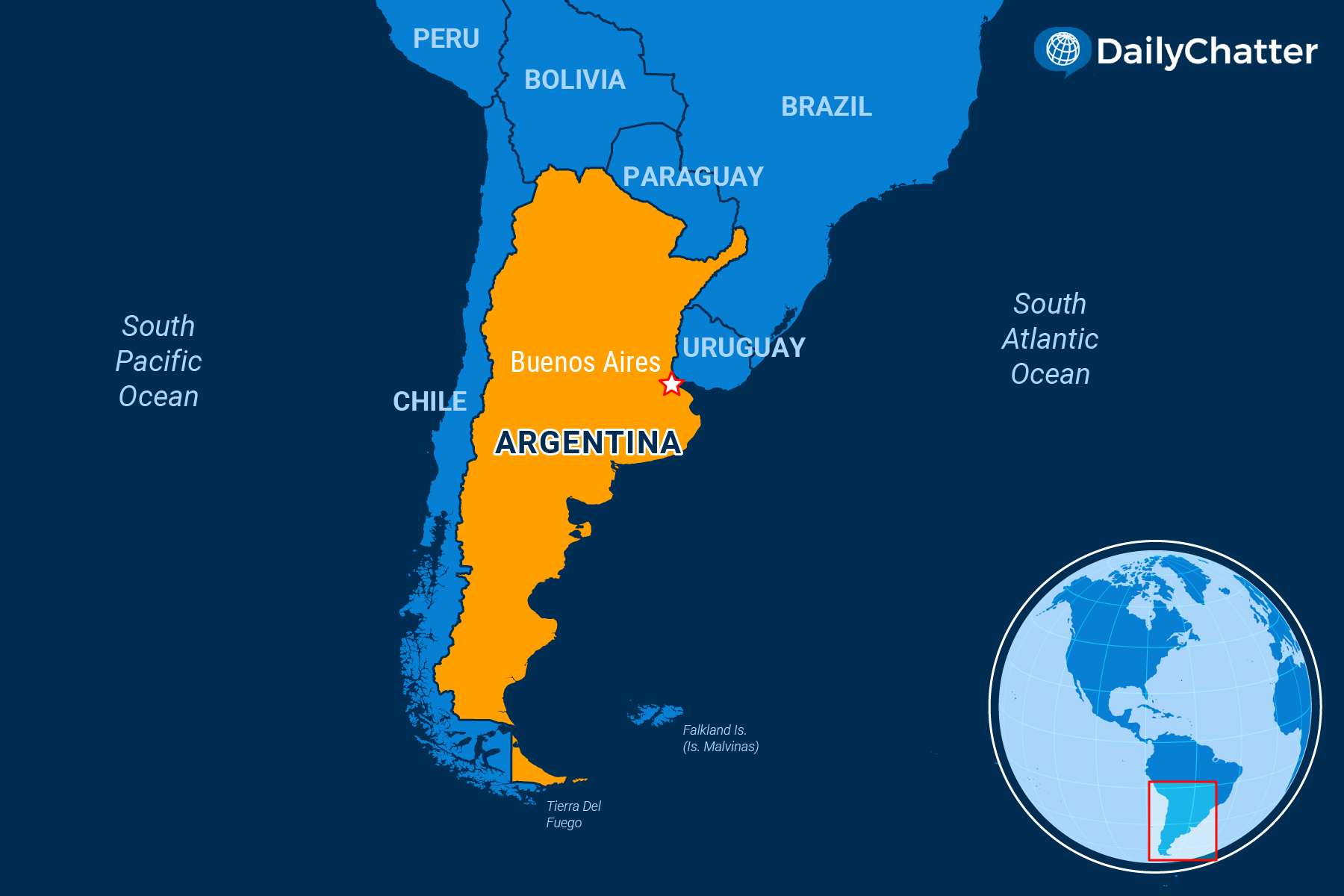 The World Today for November 11, 2021
Listen to Today's Edition
NEED TO KNOW
Voting With Feet
ARGENTINA
Argentine President Alberto Fernández unveiled big spending plans on social welfare programs and other benefits in order to convince voters that they should reelect his Peronist allies in the Justicialist Party during legislative elections on Nov. 14, wrote El Pais, a Spanish newspaper. His moves were clearly motivated by his party's poor showing in primaries in September when voters had a chance to express their feelings about candidates.
But the president's actions don't seem to have made much of an effect. Polls show that his party is likely to lose its majority in the Argentine Senate and reduce its lead in the lower house, the Chamber of Deputies, Reuters reported. Anger over the economy and quarantines due to the coronavirus pandemic was at the core of voter unease, the polls found.
Inflation is more than 50 percent on annual basis, while 42 percent of citizens in the South American country live in poverty, noted the Americas Society/Council of the Americas. President Fernández froze prices on more than 1,400 household items, Bloomberg wrote. He also attempted an unsuccessful nationalization of a soybean exporter, temporary export prohibitions and a ban on firing employees. Similarly, his requests to reduce the payment to the International Monetary Fund also fell on deaf ears.
Investors have responded by dumping Argentine pesos and looking for US dollars as a replacement.
The conservatives, usually the Peronists' rivals, are not necessarily doing much better. As Al Jazeera wrote, Fernández's predecessor, former President Mauricio Macri, was recently in court facing allegations that he spied on the relatives of Argentine submariners who died when their vessel sunk four years ago, killing everyone aboard.
The inadequacy of Fernández's efforts to fix the economy and dissatisfaction over politics in general help explain the rise of Javier Milei, an economist and self-described libertarian who wants to bring more free-market principles to Argentina and "kick Keynesians and collectivists in the ass," the Economist reported.
Meanwhile, the other symptom of the failure of politics in the South American country is the ongoing brain drain that is afflicting its labor force. "I think one of the most striking things is the number of people, particularly younger people, who are now leaving the country to find work abroad, who've just given up on the prospects of Argentina in the near-term," said Financial Times correspondent Marc Filippino in a podcast transcript.
Voters use their feet when the ballot just won't send a strong enough message.
THE WORLD, BRIEFLY
Taking on Taboos
THAILAND
Thailand's Constitutional Court ruled Wednesday that protesters' demands to reform the country's powerful monarchy amounted to an attempt to "overthrow" the institution, Bloomberg reported.
The top court said in its judgment that the monarchy is a "key pillar" and that any action to "undermine or weaken the institution show intentions to overthrow the monarchy."
The ruling came more than a year after Thailand was swept by anti-government protests. The demonstrations marked the first instances where the monarchy was publicly discussed and criticized, a long-held taboo in Thailand.
Insulting the royal family is a felony in Thailand, punished with up to 15 years in jail.
The verdict centers on three activists, who made separate speeches criticizing the royal institution but not demanding its abolition, according to the BBC. The individuals have denied wrongdoing.
While the individuals won't face penalties, the contentious ruling highlights how Thailand's royalist political establishment stands firmly against calls to reform the monarchy.
Analysts noted that the ruling could be used by authorities to take more legal action against demonstrators or anyone that speaks against the royal family.
It could also curb any attempt by lawmakers to debate the issue, although many politicians are now starting to speak up against the lese-majeste laws ahead of the next elections.
Motive and Mayhem
LIBYA
A US court put a lawsuit against Libyan eastern-based commander Khalifa Haftar on hold until after an election in which he is expected to run for president, saying the plaintiffs acted inappropriately in bringing the suit, and tried to influence the country's upcoming polls, the Washington Post reported.
Haftar, a US citizen and former Libyan general, has been facing multiple lawsuits in the Eastern District of Virginia over his actions during the Libyan civil war. The renegade commander has been battling Libya's internationally recognized government but recently stepped down from the command of his forces. The move is seen as paving the way to run for president in a United Nations-backed attempt to end the country's bloody civil war.
Even so, the plaintiffs allege that the former military leader has been responsible for torturing and killing their relatives during his military campaigns. He is currently facing three cases.
Still, US Judge Leonie M. Brinkema said "this litigation is being used to influence Libya's fragile political situation" and paused the proceedings until after the Dec. 24 elections.
The decision came because of a dispute in the case of Ibrahim al-Krshiny, who accused Haftar and his forces of targeting him and his family in 2014. During a deposition, Haftar's lawyers asked al-Krshiny to identify those who helped him prepare for the questions, saying they were entitled to the information. The judge ruled the defendants could ask for a name but not a location.
However, a Libyan government representative then sent a letter to the judge asking the court to change its ruling. Brinkema was then directly contacted by the al-Krshiny's attorney – even though, such direct communications with judges by one party to the case are generally prohibited.
She later said that the actions were "extremely troubling" and decided to put all three cases against Haftar on hold.
The plaintiffs denied any involvement with the Libyan government.
A Wobbly Domino
MEXICO
Mexico arrested a businessman for allegedly using the Pegasus malware to spy on journalists, the first arrest related to the global spyware scandal, the Associated Press reported.
Officials said the suspect, Juan Carlos García Rivera, was linked to the companies Proyectos y Diseños VME and Grupo KBH, both of which are believed to be parties to some of the contracts used to buy Pegasus.
The Pegasus software is a product of the Israeli firm NGO Group and a recent investigation revealed that the spyware has been used by many governments worldwide to spy on opponents and journalists.
In Mexico, Pegasus was used to tap 15,000 phone numbers – including those of journalists and opposition politicians – among them current President Andrés Manuel López Obrador and his inner circle.
Mexican officials said that the two previous administrations had spent about $300 million in government money to purchase spyware and surveillance equipment, including the Pegasus software. The country's anti-money laundering investigator also noted that some of the bills for the programs included excess payments that may have been channeled back to government officials as kickbacks.
Following the arrest, the NSO denied wrongdoing and said that its products "are only sold to vetted and approved government entities, and cannot be operated by private companies or individuals," according to the Washington Post.
DISCOVERIES
Oops
A new study found that some shark attacks are not actually intentional but merely a case of mistaken identity, Live Science reported.
A research team studied how young great white sharks see their prey as they start hunting in oceans. Juvenile great whites are known to pose a larger risk to humans, compared to their more mature and experienced counterparts.
Researchers filmed how seals and humans moved in water and edited the footage so that it resembled the vision of young sharks. While the shark has a pretty good idea of what its prey looks like and knows its scent, its poor eyesight can lead it to attack humans.
The team noted that great whites lack color vision and cannot see fine details as the human eye can – meaning that the young are prone to error.
In their findings, they wrote that the juvenile shark's retina didn't clearly distinguish between a seal and a human swimming or using a paddleboat.
"We just look like their food," said lead author Laura Ryan.
Ryan and her colleagues noted that their research tested the "mistaken identity theory," which states that sharks mistake humans as prey.
Even so, she added that older sharks also tend to bite humans, despite being more experienced hunters and less prone to error.
Great whites are responsible for more human deaths than any other sharks, although the chances of being bitten by them are extremely low.
However, great whites are also vulnerable to extinction and have been targets of human culls as part of beach protection programs.
COVID-19 Global Update
Total Cases Worldwide: 251,483,123
Total Deaths Worldwide: 5,073,702
Total Vaccinations Worldwide: 7,359,952,424
Countries with the highest number of confirmed cases worldwide as of 4 a.m. ET*
US: 46,792,081 (+0.21%)
India: 34,401,670 (+0.04%)
Brazil: 21,909,298 (+0.06%)
UK: 9,451,884 (+0.42%)
Russia: 8,764,713 (+0.42%)
Turkey: 8,317,394 (+0.33%)
France: 7,346,277 (+0.16%)
Iran: 6,012,408 (+0.13%)
Argentina: 5,300,985 (+0.03%)
Spain: 5,038,517 (+0.13%)
Source: Johns Hopkins University
*Numbers change over 24 hours
Not already a subscriber?
If you would like to receive DailyChatter directly to your inbox each morning, subscribe below with a free two-week trial.
Support journalism that's independent, non-partisan, and fair.
If you are a student or faculty with a valid school email, you can sign up for a FREE student subscription or faculty subscription.
Questions? Write to us at hello@dailychatter.com.