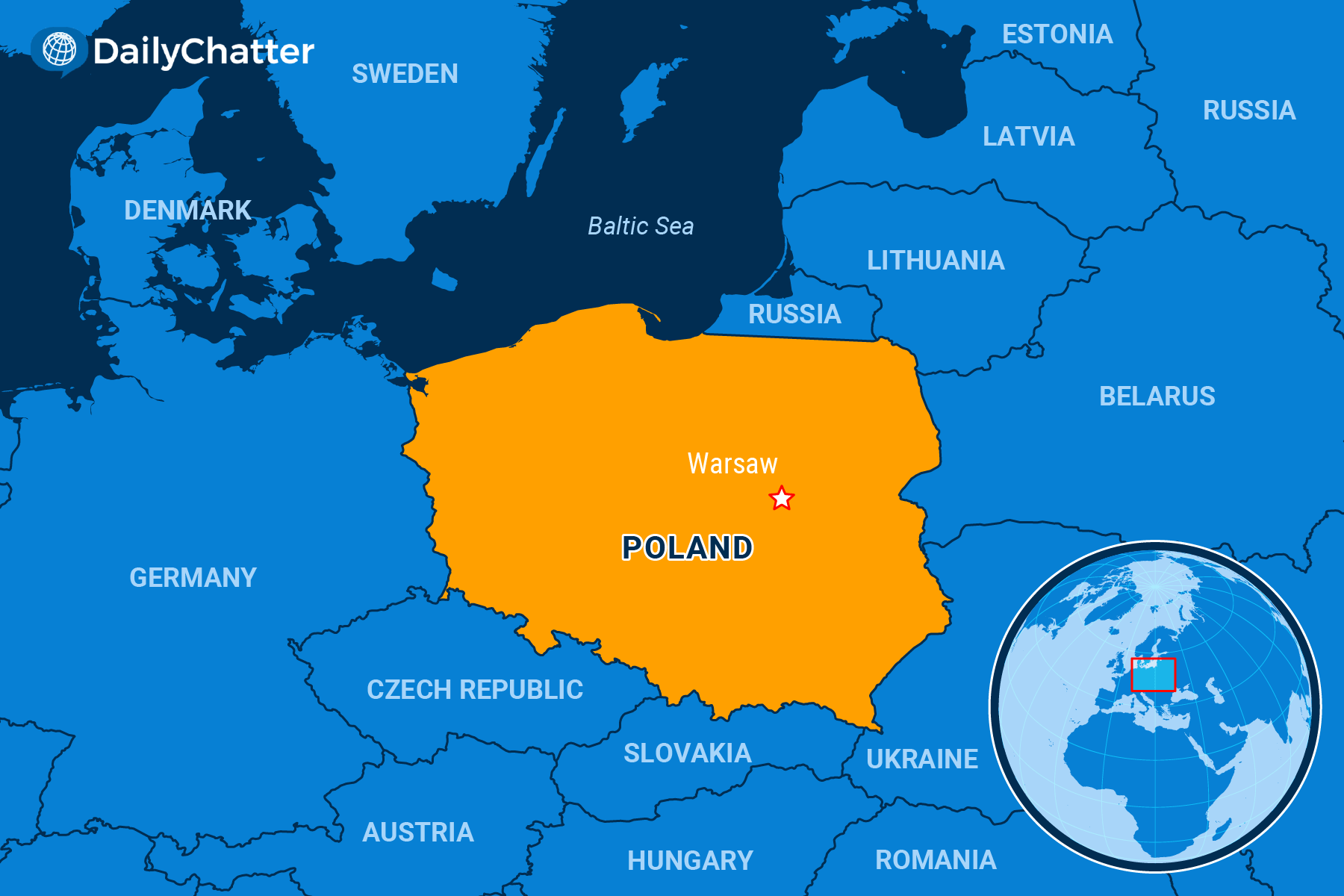 The World Today for November 08, 2021
Listen to Today's Edition
NEED TO KNOW
Eastern Front
POLAND
Last month, the European Court of Justice ordered Poland to pay $1.2 million a day for failing to prevent political interference in its judicial system. As CNN reported, the Polish government under the control of the Law and Justice Party has enacted numerous laws that run counter to European Union rules. Poland, for example, has been fined almost $600,000 a day for refusing to close down a coal mine near the Czech and German borders.
Polish officials, meanwhile, are vowing to fight. The "Polish state cannot bow to lawlessness," Justice Minister Zbigniew Ziobro, a Euroskeptic member of the United Poland party that is part of the country's coalition government, told Deutsche Welle. "Only the weak give in to pressure."
Ziobro added that the government was already planning on making changes to the country's supreme court that could satisfy the European Court of Justice's demands, though those changes have yet to be finalized. As a result, the conflict has given rise to fears of a "Polexit," or the former communist country leaving the 27-member EU.
European leaders appear to be disinclined to escalate a fight that could result in a second country leaving the EU after Britain's departure, known as Brexit, early last year, argued the Financial Times. But the European Court of Justice's decision has put Poland in a corner. Either the court has to blink and reverse itself or Polish politicians have to succumb to unelected bureaucrats in Brussels.
The EU has no mechanism to oust members. And the vast majority of Poles want to remain in the EU, the Conversation explained. Only if Poland requested an exit could it leave. As a result, a Polexit seems unlikely.
Speaking to the Associated Press, observers noted, however, that British leaders didn't aim to take Britain out of the EU when they sought to renegotiate the country's status in the bloc. Yet their actions led to a cascade of events that ended in a referendum. That vote led to the cutting of the country's ties with the bloc. European officials, who misread British popular opinion, didn't help the situation, either, as Spectator magazine wrote.
In the meantime, the EU has withheld more than $66 billion in coronavirus-related recovery funds from Poland, the Irish Times reported. That approach has forced Poland to change its domestic laws before. Local governments eliminated "LGBT-free zones," for example, after the EU froze funding to local municipalities that created them.
In Europe, the center just doesn't want to hold.
THE WORLD, BRIEFLY
Ripping Seams
IRAQ
Iraqi Prime Minister Mustafa al-Kadhimi survived an assassination attempt Sunday amid escalating tensions in Iraq following last month's parliamentary elections, CNN reported.
Military officials said that three explosive-laden drones targeted the prime minister's residence in Baghdad. They added that armed forces managed to down two drones but the third caused minor damage and wounded a few guards. The prime minister was unharmed.
No one has claimed responsibility for the attack, which came after supporters of Iran-backed militias clashed with security forces near Baghdad's Green Zone over the weekend. The violence ignited when parties representing the militias called for demonstrations after losing seats in last month's polls. They demanded a recount and alleged fraud.
Officials and politicians in the country denounced the attack as a "terrorist act," while al-Kadhimi urged calm and constructive dialogue "for the sake of Iraq and the future of Iraq."
Shia Muslim cleric Moqtada al-Sadr warned that the attack "returns (Iraq) to a state of chaos to be controlled by non-governmental force." His Sadrist Movement and coalition won more than 70 seats in the parliamentary elections and saw the biggest gains of any party,  according to the Associated Press.
The Iran-backed militias lost some popularity in recent elections: Many Iraqis have held them responsible for the crackdown during the 2019 demonstrations against poor services, and challenging the state's authority.
Blah, Blah, Blah
SCOTLAND
Tens of thousands of environmental advocates, charities, trade unionists and Indigenous people marched in the Scottish city of Glasgow over the weekend to demand action to mitigate climate change as the COP26 climate summit entered its second week, Sky News reported.
Police officials weren't certain how many people attended the protest but the COP26 Coalition – which organized them – estimated the number at 100,000. Although mostly peaceful, authorities detained 21 people during the rally.
The huge gathering is considered the largest protest of the climate summit, where world leaders have been meeting to discuss plans to ameliorate the effects of climate change, including limiting rising temperatures and cutting greenhouse gas emissions.
Even so, many demonstrators demanded concrete plans and said they were tired of hearing "blah, blah, blah" from leaders on climate action – echoing criticism by young climate activist Greta Thunberg, the Scotsman noted.
On Friday, Thunberg admonished world leaders for their hollow words. She later canceled her speech on Saturday, saying that she wanted to let Indigenous people and others take the stage.
Among those speaking was Ugandan climate activist Vanessa Nakate, who called on leaders to "treat the climate crisis like our crisis."
Elsewhere in Britain, thousands rallied in front of the Bank of England in London, while many others marched in Belfast, in Northern Ireland.
The COP26 Coalition added that demonstrations also took place in other cities around the world.
Changing Jurisdiction
CANADA
Canada will transfer the investigation and prosecution of military sexual misconduct cases to civilian authorities, following growing skepticism about the armed forces' ability to handle the issue, the Wall Street Journal reported.
Newly appointed Defense Minister Anita Anand said the move would help the military "live up to its stated values and the expectations of Canadians."
The decision followed multiple sexual-misconduct allegations that have sparked public outrage and demands for an investigation by lawmakers. The issue also threatened to tarnish the reputation of Liberal Prime Minister Justin Trudeau, who has pledged to defend women's rights and tackle harassment in the workplace.
Calls to act on the issue increased this year after Canadian military police investigated allegations of sexual misconduct against the country's former top soldier and his successor. Other senior military leaders have also faced similar allegations that led to their placement on leave or the postponement of promotions.
Last month, former top court justice, Louise Arbour, said in a letter directed at defense officials that there is "significant skepticism on the part of stakeholders and most importantly survivors, with respect to the independence and competence" of the military to deal with sexual-misconduct complaints.
Analysts said the removal of specific responsibilities from the military justice system was a rare move in a major Western democracy. Many noted that Canada has lagged behind the United States and other nations in handling sexual-misconduct complaints in the military, partly because legislative armed-services oversight is among the weakest relative to other major Western democracies.
DISCOVERIES
Going It Alone
The critically endangered California condor is a truly blessed bird.
It has survived potential extinction and recently scientists discovered that the carnivorous bird is capable of "virgin births," Insider reported.
In a new study, a research team analyzed biological samples collected from more than 900 condors over the past 30 years. They noted that two females had given birth without fertilization, even though they had access to fertile males.
Lead author Oliver Ryder explained that both females had been previously housed with other male condors, where they produced various offspring with mates over the years.
However, he added that that "both eggs possessed the expected male ZZ sex chromosomes but all markers were only inherited from [female condors]."
The findings mark the first record of asexual reproduction in an avian species where the females could access male mates.
Previous research has only documented the rare phenomenon of virgin births in other bird species – such as domestic chickens and turkeys – that were separated from males.
"This is truly an amazing discovery," Ryder said in a statement. "We were not exactly looking for evidence of parthenogenesis, it just hit us in the face."
Conservation efforts have helped the California condor to thrive, albeit still in small numbers. Captive-bred birds have been released throughout the American southwest and Mexico, raising the species' current number to about 500.
COVID-19 Global Update
Total Cases Worldwide: 249,906,905
Total Deaths Worldwide: 5,049,976
Total Vaccinations Worldwide: 7,253,961,777
Countries with the highest number of confirmed cases worldwide as of 4 a.m. ET*
US: 46,487,857 (+0.06%)
India: 34,366,987 (+0.03%)
Brazil: 21,880,439 (+0.03%)
UK: 9,346,967 (+0.32%)
Russia: 8,651,561 (+0.00%)**
Turkey: 8,233,649 (+0.33%)
France: 7,319,526 (+0.12%)
Iran: 5,987,814 (+0.13%)
Argentina: 5,296,781 (+0.01%)
Spain: 5,025,639 (+0.00%)**
Source: Johns Hopkins University
*Numbers change over 24 hours
**Numbers have been adjusted by affected country
Not already a subscriber?
If you would like to receive DailyChatter directly to your inbox each morning, subscribe below with a free two-week trial.
Support journalism that's independent, non-partisan, and fair.
If you are a student or faculty with a valid school email, you can sign up for a FREE student subscription or faculty subscription.
Questions? Write to us at hello@dailychatter.com.