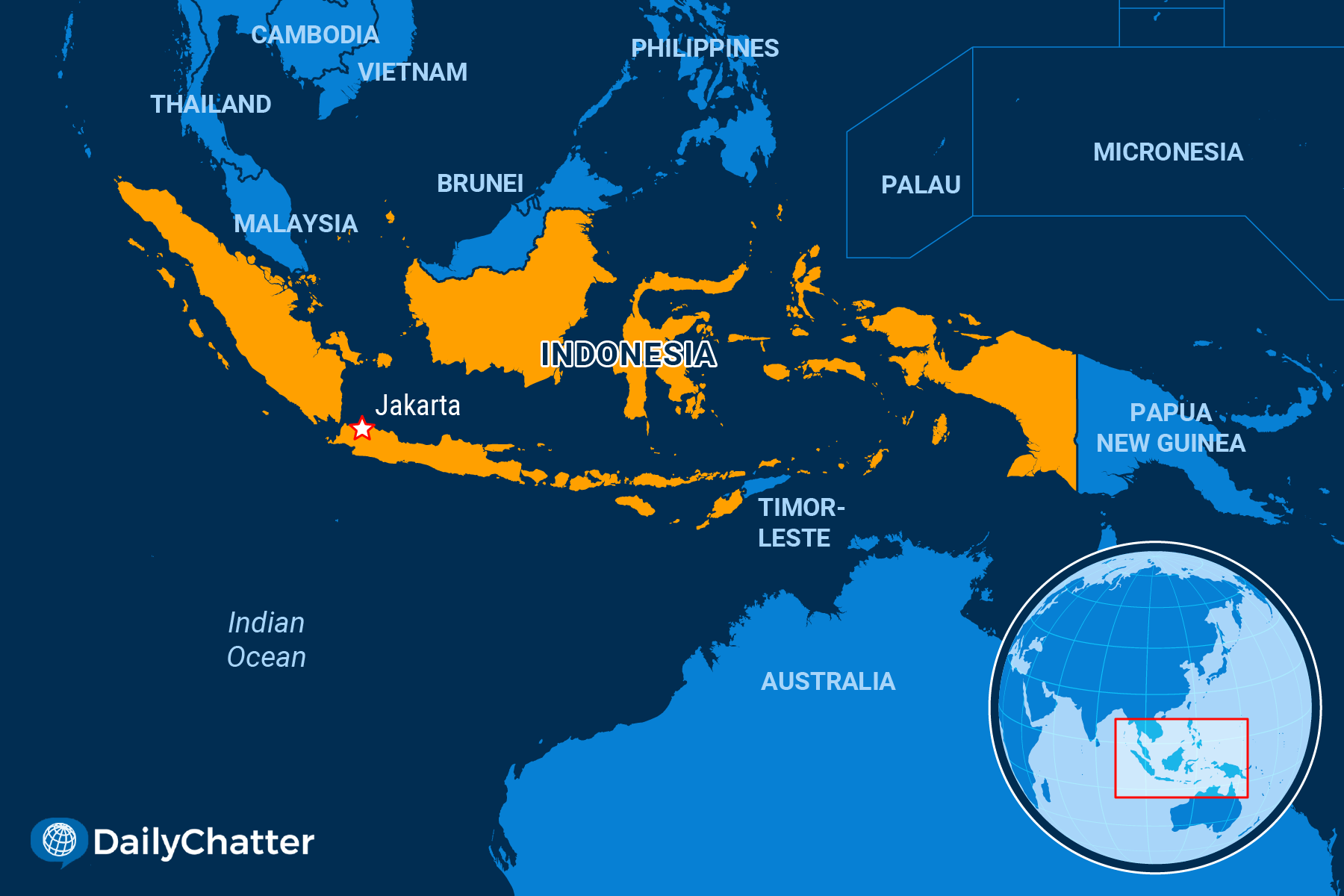 The World Today for October 25, 2021
Listen to Today's Edition
NEED TO KNOW
On a High Wire
INDONESIA
Indonesian President Joko Widodo – known as Jokowi – is urging the world's rich countries to give his Southeast Asian nation a hand in reaching its climate goals.
The fourth most populous country in the world, with the largest Muslim majority on Earth, Indonesia ranks in eighth place on the list of the world's biggest emitters of greenhouse gases.  It's hoping, however, to curb carbon emissions to 29 percent even as Jokowi says he could reduce emissions by more than 40 percent if he had help from the US, Europe and Japan. Those countries have failed to reach a $100 billion target of aid to the developing world to fight climate change.
"It's impossible if we don't get funding help," Jokowi told Reuters recently. "If we don't have the technology, it's also difficult."
Indonesia would need $200 billion a year for the next decade and more than $1 trillion annually over the next 40 years to reach its goal of producing net-zero emissions by 2060, wrote Nikkei Asia, adding that the big bills stemmed from creating new energy infrastructures in a country that is heavily dependent on coal.
While bemoaning its coal business, Indonesia has also become the biggest supplier of the fossil fuel to China, where power outages are roiling the economy in part due to coal shortages, Bloomberg reported.
That's not the only example of Indonesia claiming the moral high ground while at the same time sacrificing it. As the Guardian explained in a story that cited Greenpeace and TheTreeMap, for example, around 20 percent of the land used for oil palm plantations lies in Indonesian forests where the law bans the farms. Endangered orangutans and Sumatran tigers have lost habitat as a result.
Indonesian leaders may or may not be hypocritical. It's more useful to see that they are struggling to contribute to solutions for the world's climate problems while grappling with the poverty, corruption and economic challenges that face the sprawling nation of more than 17,500 islands.
Jokowi undoubtedly wants his tourism industry to open again but vaccine issues are slowing the return of visitors from Australia and Singapore, CNBC reported. In the absence of tourism dollars, he's likely happy to accept billions in investment in Indonesian companies like GoTo, a so-called "super app" that offers ride-hailing, food deliveries and online shopping and banking. With Persian Gulf financiers backing it, GoTo was recently valued at $28.5 billion, according to the Financial Times.
The country's tech sector has grown explosively in recent years but needs more investment in education, training and human capital, added the Council on Foreign Relations.
Officials just need to make those investments before sea levels rise too high.
THE WORLD, BRIEFLY
Shaken, and Stirred
SUDAN
Sudan's military detained its prime minister and other government officials Monday, in a move being called a coup, the Associated Press reported.
Sudan's Ministry of Culture and Information said the whereabouts of Interim Prime Minister Abdalla Hamdok and other officials remain unknown, adding that the internet has been cut off and bridges closed.
Monday's arrests come after months of tensions among Sudan's transitional government, which is made up of civilian and military leaders. They follow an attempted coup last month by loyalists of deposed autocrat Omar al-Bashir, who was ousted in 2019 following mass protests, according to the New York Times.
The strained relations within the government have also prompted supporters of both factions to demonstrate in the streets in recent days. Many pro-army supporters have demanded the creation of a military government.
A takeover by the military is a major setback for Sudan, which has been plagued by military coups, including the 1989 takeover that brought al-Bashir to power.
Following al-Bashir's ouster, the country has been able to emerge from years of being held as an international pariah: Last year, the United States removed Sudan from its list of states that support terrorism, a move that allowed the country to access international loans and investment.
The detentions have prompted pro-democracy supporters to take to the streets and protest the apparent takeover. Meanwhile, Jeffrey Feltman, the US special envoy for the Horn of Africa, expressed concern at the turn of events, warning that "any changes to the transitional government by force puts at risk US assistance."
Out Goes the King
COLOMBIA
Colombian authorities captured Dairo Antonio Usuga, the country's most-wanted drug trafficker, over the weekend in an arrest that has been likened to the operation that brought down notorious drug kingpin Pablo Escobar three decades ago, Al Jazeera reported.
Security forces detained the leader of the Gulf Clan – better known as Otoniel – in the rural area of the northern Uraba region.
President Ivan Duque said Otoniel's capture "marks the end of the Gulf Clan," adding that his government was working to extradite him to the United States.
The drug kingpin was first indicted in 2009 in a Manhattan federal court on drug trafficking charges. He also faces other criminal charges in the US, including the continuous operation of a criminal enterprise and the use of firearms in drug trafficking.
Authorities have been trying to capture Otoniel for years. Meanwhile, his capture comes as Colombia's security forces are slowly losing hold of rural areas to armed gangs.
Human Rights Watch praised Otoniel's arrest, saying that the leader "must be held accountable for the hundreds of crimes committed under his command."
Even so, analysts and human rights advocates worry that Otoniel's capture will leave a vacuum in the criminal organization, which will lead to in-fighting and more violence.
They noted how that occurred after the 1993 killing of Escobar and the 2016 capture of Joaquin "El Chapo" Guzman, the former leader of the Mexican Sinaloa cartel.
Shape-shifter
TURKEY
Turkish President Recep Tayyip Erdogan declared 10 Western ambassadors as "persona non grata" this week, a move that could further derail relations between Turkey and its Western allies, the Financial Times reported Saturday.
The controversial move would force the diplomats – including those from the United States, Canada, Britain and Germany – to leave the country. The decision came after the 10 envoys signed a declaration demanding the release of jailed businessman and philanthropist Osman Kavala.
The joint statement called for a swift and fair resolution for Kavala's case: He has been in prison for four years over charges that he tried to topple the government. Last year, he was acquitted of charges that said he organized the 2013 Gezi Park protests, only to be arrested again a few hours later.
Erdogan maintains that Kavala is a "terrorist" but human rights groups, opposition parties and members of his ruling party have said the charges are politically motivated. The businessman has become a symbol of Erdogan's crackdown following the 2016 attempted coup.
Analysts noted that the president's decision could damage Turkey's deeply strained relations with the US and Europe. It also risks hurting the country's already ailing currency, which has dropped to record lows amid investor concerns about Erdogan's interference in monetary policy.
Main opposition leader Kemal Kilicdaroglu accused Erdogan of creating fake controversies to divert attention from the sinking economy.
DISCOVERIES
Renewable Magnetism
Sitting by a campfire or a fireplace and watching the flames flicker is a mesmerizing sight.
Crabs, however, are mesmerized by the electromagnetic field created by undersea power cables, Sky News reported.
A recent study found that brown crabs in Scotland have become so enchanted by the cables of offshore wind farms that they end up sitting still and becoming inactive.
Researchers wrote that the crustaceans can't resist once the cables generate a magnetic field strength of 500 microteslas and above – about five percent of a fridge door magnet.
However, they warned that this inactivity threatens the well-being of brown crabs: They become less willing to forage for food or look for a mate. Higher levels of electromagnetic fields also alter the number of blood cells in the creatures' bodies and make them "more susceptible to bacterial infection," according to lead author Kevin Scott.
Scott and other researchers warned that the planned creation of new offshore wind farms around Scotland's coast could destabilize the brown crab population. This could further impact commercial fishing because crabs are Britain's second most valuable crustacean catch.
"We need to investigate further technical solutions so that we don't create negative environmental effects while trying to decarbonize our energy supply," said co-author Alastair Lyndon.
COVID-19 Global Update
Total Cases Worldwide: 243,689,684
Total Deaths Worldwide: 4,948,928
Total Vaccinations Worldwide: 6,805,507,083
Countries with the highest number of confirmed cases worldwide as of 4 a.m. ET*
US: 45,444,413 (+0.04%)
India: 34,189,774 (+0.04%)
Brazil: 21,729,763 (+0.03%)
UK: 8,814,735 (+0.44%)
Russia: 8,112,999 (+0.00%)**
Turkey: 7,851,775 (+0.32%)
France: 7,226,974 (+0.07%)
Iran: 5,860,844 (+0.16%)
Argentina: 5,280,358 (+0.01%)
Spain: 4,997,732 (+0.00%)**
Source: Johns Hopkins University
*Numbers change over 24 hours
**Numbers have been adjusted by affected country
Not already a subscriber?
If you would like to receive DailyChatter directly to your inbox each morning, subscribe below with a free two-week trial.
Support journalism that's independent, non-partisan, and fair.
If you are a student or faculty with a valid school email, you can sign up for a FREE student subscription or faculty subscription.
Questions? Write to us at hello@dailychatter.com.