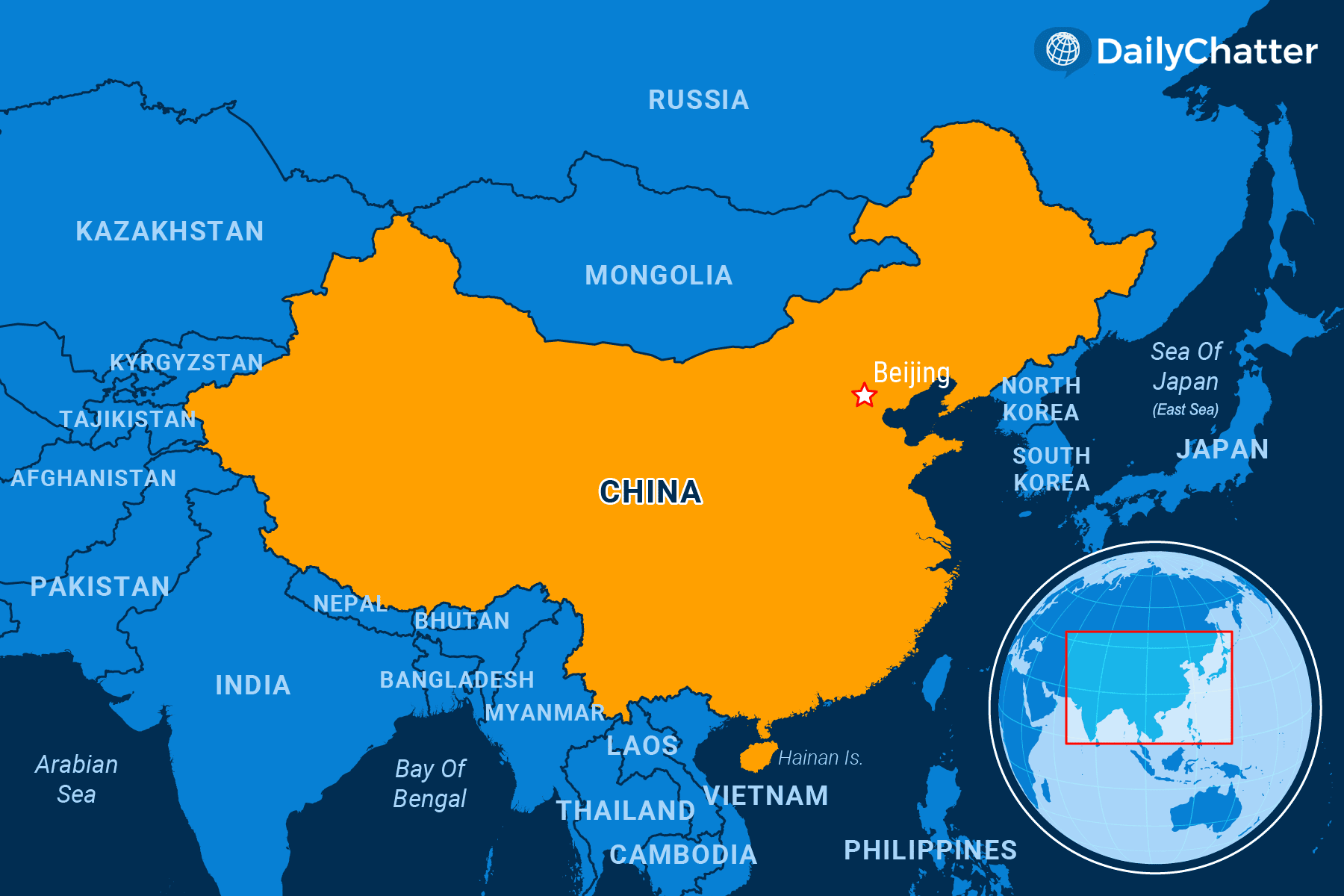 The World Today for October 14, 2021
Listen to Today's Edition
NEED TO KNOW
Pop Goes the Bubble
CHINA
China's real estate bubble is bursting.
As Reuters explained, Evergrande has acquired $300 billion in debt but missed more than $130 million in payments since late September. The 30-day grace period for nonpayment is set to expire soon. The company, Bloomberg wrote, has not been especially communicative about its plans while Chinese officials have signaled that they don't intend to bail out the company. Bondholders fear China Evergrande Group will default on its debt payments.
Evergrande borrowed excessively, grew quickly and provided opaque reports that concealed its financial condition, the Wall Street Journal reported. Regulators, government officials and investors seeking to cash into China's $52 trillion property market helped keep the company going, even when shoddy construction and corruption became rife in the industry.
Then Chinese leaders in Beijing adopted reforms that undercut Evergrande's house-of-cards business model. The new rules curbed excessive borrowing and emphasized the sale of affordable homes to average families rather than luxury units, the Australian Broadcasting Company wrote. Evergrande responded with deep discounts that shrunk cash flow.
The prospect of a massive Chinese real estate developer imploding is casting doubts about the strengths of the world's second-largest economy, noted the Guardian.
Many fear that a crisis in the Chinese real estate sector could trigger a worldwide financial crisis in the same manner as the 2008 financial crisis, which began with the real estate market collapsing in the US. Goldman Sachs, for example, has warned of local Chinese governments also potentially defaulting on payments related to $8.2 trillion in debt amassed over the years to fuel the construction of skyscrapers, roads, bridges, stadiums and other infrastructure, Forbes added.
The second-largest shareholder in Evergrande, a company called Chinese Estate Holdings, saw its share price plummet by 44 percent. Chinese Estate Holdings opted to take the company private, a move possibly designed as a way to escape a coming storm in the market, reported CNN. Fantasia Holdings, a luxury property developer, also recently garnered headlines when it announced it would miss a $206 million bond payment, according to Barron's.
Financial Times columnist Martin Wolf recently argued that Evergrande would not sink China or the world economy but that the crisis showed how the Chinese economy was too dependent on real estate. He wondered how Chinese leaders could create a transition away from this dependency. "(It would) impose a huge adjustment and create a big headache for the authorities: what can replace property investment in creating demand?" Wolf opined.
It's a task that could be the challenge that eclipses all others for this generation of China's leaders.
THE WORLD, BRIEFLY
Schoolyard Bullies
BOSNIA & HERZEGOVINA
The president of the Bosnian Serb-majority in Bosnia and Herzegovina issued a decree to reverse a measure that criminalizes the denial of genocide and other serious crimes committed during the country's ethnic wars following the breakup of Yugoslavia in the 1990s, Radio Free Europe reported Wednesday.
The edict by Republika Srpska President Zeljka Cvijanovic said the law imposed by the country's former High Representative Valentin Inzko "shall not apply" to the Serb-majority entity.
The move follows the amendment of Bosnia's criminal code by Inzko to prohibit and punish the denial of genocide, war crimes and crimes against humanity, saying "there is no reconciliation without the recognition of crimes and without responsibility."
Inzko served as high representative to Bosnia, until Christian Schmidt took over the job on August 1.
Inzko's measure angered Bosnian Serb politicians, many of whom refuse to acknowledge atrocities committed during the war, including the 1995 Srebrenica massacre. The event – considered an act of genocide – involved the killing of more than 8,000 Muslim men and boys by Bosnian Serb forces.
Cvijanovic also issued another decree that prohibits "disparaging and mocking" the Republika Srpska, one of two entities along with the Bosniak and Croat federations that make up Bosnia.
Still, the decree could face legal challenges from the country's constitutional court.
Bosnia and Herzegovina are governed and administered along ethnic lines laid down in the 1995 Dayton Accords, which ended the three-year Bosnian War.
The accords helped establish the Office of the High Representative (OHR), the international community overseer that ensures the civilian implementation of the 1995 agreement. However, secessionists in Republika Srpska and its foreign supporters have been pushing for the OHR's abolition.
Read the Room
CHILE
Chilean President Sebastian Pinera declared a state of emergency and sent troops to two southern regions this week where the Mapuche indigenous people have been clashing with security forces over ancestral land issues, Agence France-Presse reported.
Pinera said Tuesday that the regions had experienced "repeated acts of violence linked to drug-trafficking, terrorism and organized crime committed by armed groups," adding that police and civilians have been killed in the clashes.
The unrest comes as Mapuche leaders are demanding the return of their ancestral lands currently owned by farms and logging companies. The Mapuche predominately live in the country's south and are Chile's largest indigenous group, about 1.7 million in a population of 19 million.
The issue of ancestral land has lingered for years and has prompted some groups to launch attacks on trucks and private properties over the past few decades.
On Sunday, one person was killed and 17 others injured when clashes broke out in the capital, Santiago, between authorities and protesters marching for Mapuche autonomy.
Analyst Lucia Dammert criticized Pinera's decision, which came on the national holiday that marks the "discovery" of the Americas by Christopher Columbus.
The holiday is controversial among Indigenous groups throughout the Americas, who view Columbus' arrival and subsequent colonization as a disaster.
Toys for Tots
WORLD
World's largest toy company Lego will start making its products more gender-neutral in an effort to eliminate stereotypes and match the wishes of its young customers, the Washington Post reported Tuesday.
The company issued a statement saying it would offer a more diverse array of characters and roles so that children would not "feel that they weren't welcome or represented" in Lego products.
Its website no longer categorizes its brick sets based on gender.
The announcement follows a recent global survey – commissioned by Lego and conducted by the Geena Davis Institute on Gender in Media – which found that parents and – sometimes – children are still influenced by gender notions regarding future careers.
The survey reported that certain professions are usually associated with a specific gender: For example, scientists were believed to be mostly male. Even so, the findings also showed that young girls were more willing to take part in activities that cut across "gender norms" than their male counterparts.
In one instance, more than 80 percent of girls saw no problems in girls playing soccer or boys practicing ballet. Only 71 percent of their male counterparts agreed.
Madeline Di Nonno, the institute's chief executive, expressed delight at the fact that girls were shown to be more confident but noted that the discrepancy might also reflect that boys fear being teased or bullied if they play with toys associated with girls.
Lego's decision also comes amid a widespread campaign to make toys and other children's products more gender-neutral: Recently, California approved a new law that would require large retail stores in the state to provide gender-neutral shopping sections for childcare products and toys by 2024.
DISCOVERIES
Guardians of the Sea
The Cape Verde archipelago is considered a biological hotspot with 17 species of whales, 60 species of sharks and rays and five species of sea turtles.
Sadly, only one percent of the archipelago's marine area is protected. As a result, fishermen in the country have taken up the challenge to defend the ecosystem, forming the "Guardians of the Sea" group to monitor illegal fishing activities across the country's islands, the Guardian reported.
Initially formed on the island of Maio before spreading to the islands of Sal and Boa Vista, the protection squad addresses concerns that overfishing in the area was causing the fish and other marine creatures' populations to dwindle.
The Guardians keep an eye out for any semi-industrial boats conducting illegal fishing or scuba divers capturing protected species. They then record the infractions and report them to the authorities. Maio's Guardians, for example, have recorded more than 240 infractions over the past four years. Still, some say that enforcement from authorities is rare and the punishment for violating the law isn't harsh enough.
The marine protectors also track wildlife sightings around the islands to monitor the populations of whales, dolphins and turtles.
While Cape Verde's government has expressed interest in cooperating with the Guardians, the protectors say that officials have other plans in mind. Currently, Cape Verde has granted fishing rights to 69 vessels from the European Union.
"I don't know if there will be fish in the future," said Carlito Fernandes, a fisherman and Guardian. "If we destroy nature, eventually we will destroy ourselves."
COVID-19 Global Update
Total Cases Worldwide: 239,180,637
Total Deaths Worldwide: 4,874,791
Total Vaccinations Worldwide: 6,537,143,712
Countries with the highest number of confirmed cases worldwide as of 4 a.m. ET*
US: 44,683,145 (+0.25%)
India: 34,020,730 (+0.05%)
Brazil: 21,597,949 (+0.03%)
UK: 8,311,851 (+0.46%)
Russia: 7,742,899 (+0.36%)
Turkey: 7,540,193 (+0.45%)
France: 7,164,924 (+0.09%)
Iran: 5,742,083 (+0.23%)
Argentina: 5,268,653 (+0.02%)
Spain: 4,980,206 (+0.001%)**
Source: Johns Hopkins University
*Numbers change over 24 hours
**Numbers have been adjusted by affected country
Not already a subscriber?
If you would like to receive DailyChatter directly to your inbox each morning, subscribe below with a free two-week trial.
Support journalism that's independent, non-partisan, and fair.
If you are a student or faculty with a valid school email, you can sign up for a FREE student subscription or faculty subscription.
Questions? Write to us at hello@dailychatter.com.