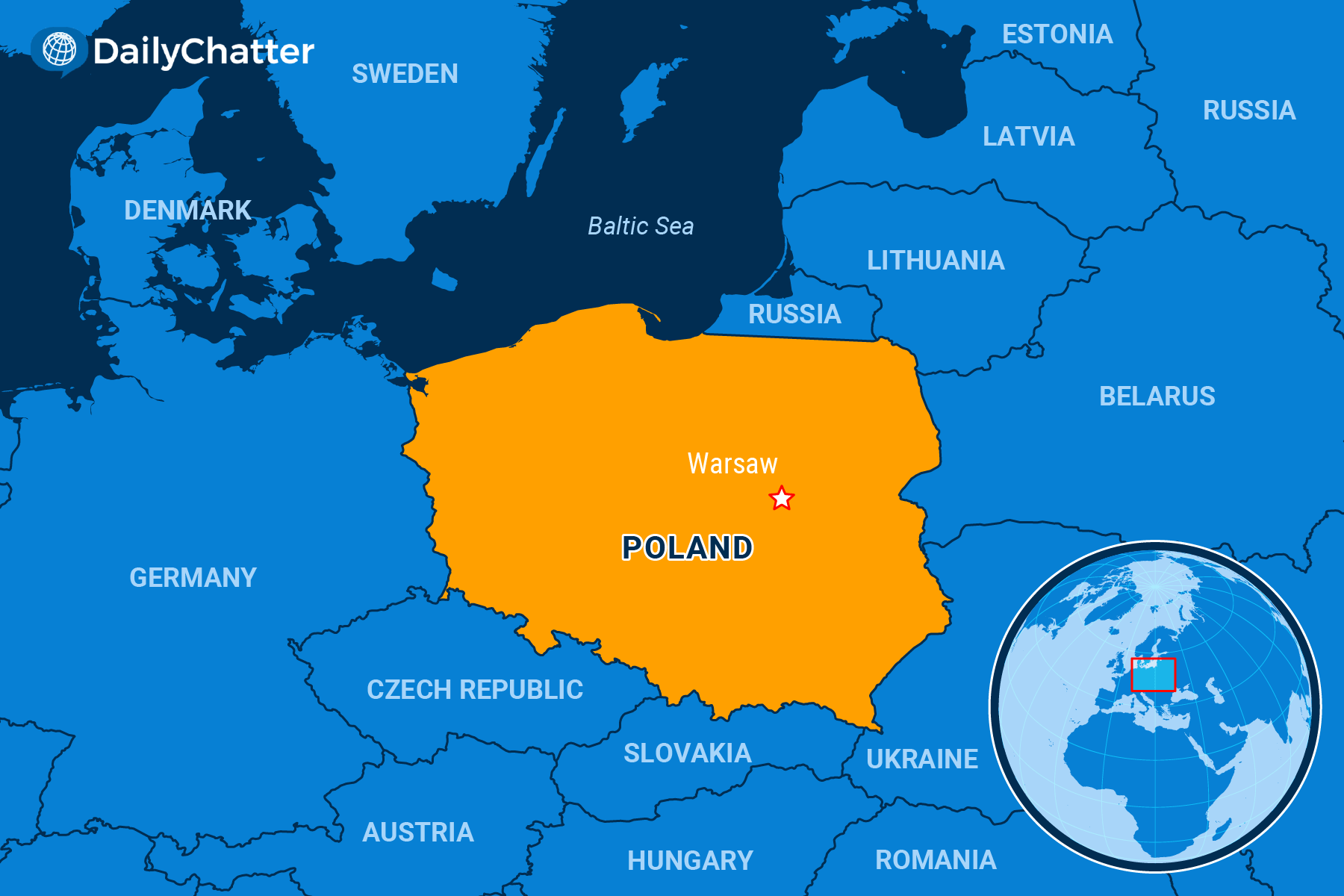 The World Today for September 22, 2021
Listen to Today's Edition
NEED TO KNOW
POLAND
Not Yet Convinced
Around half of the people in Poland are fully vaccinated. The other half are leery of heeding the pleas of public health authorities and getting their shots.
"We get all the information from the internet, from the TV here, and nothing has yet convinced me that the vaccine is safe," said 24-year-old Karolina, who lives in Jeżowe, a village in southeastern Poland where fewer than 21 percent of residents have received at least one shot, during an interview with Politico.
Poland is an outlier in the European Union, where more than 70 percent of adults have been fully vaccinated despite botched development and a slow distribution of vaccines early in the pandemic. Now Poland has one of the bloc's highest excess mortality rates, reported the New York Times.
Jeżowe is also the heartland of Poland's ruling Law and Justice party. The party-backed presidential incumbent, Andrzej Duda, won more than 90 percent of the vote last year. In nearby Zamosc last month, arsonists torched an inoculation center, according to Bloomberg. Videos of Poles "verbally abusing" paramedics and public health workers have also gone viral throughout the Central European country.
Law and Justice stands accused of using its parliamentary majorities and hold on the presidency to push through populist, nationalistic and socially conservative policies while undermining the courts and media and stripping their political opponents of power. It has nearly banned abortions, limited LGBTQ rights and, as NBC wrote, sought to "erase" Poland's role in the Holocaust.
EU officials have criticized Prime Minister Mateusz Morawiecki and Law and Justice Party leader Jaroslaw Kaczynski for their policies, but the Polish leaders have asserted Poland's sovereignty and told EU officials to mind their own business, as ABC News explained.
Morawiecki's government and some allies have been pushing Poles to get the coronavirus vaccine. Kaczynski called fellow citizens' reluctance "extreme egoism," Euractive wrote. "We need to reach collective immunity. We need to take all possible undertakings, including incentives and more radical steps."
President Duda, however, has been skeptical of vaccines, leading critics to accuse Law and Justice of appealing to the anti-vax vote. Other officials have also expressed their refusal to receive the shots, Deutsche Welle reported. The German news agency cited a poll saying that 44 percent of Poles were refusing vaccinations while 9 percent were undecided. Fewer than 60 percent of Poles who supported Law and Justice also supported vaccinating, whereas much higher numbers of people who supported opposition parties thought vaccines are a good idea.
In a democracy, the views of others deserve respect.
WANT TO KNOW
CANADA
Bittersweet Victory
Canadian Prime Minister Justin Trudeau secured a third term following Monday's legislative elections, but his Liberal Party failed to secure a majority in parliament, Sky News reported Tuesday.
Results showed Trudeau's party gained 158 seats, just 12 seats short of the 170 needed for a majority in the 338-seat lower house of parliament. The opposition Conservatives appeared to have won 119 seats, two fewer than they won in the 2019 polls.
The prime minister thanked his supporters and promised to tackle issues that affected voters, such as climate action, affordable homes and child care. Even so, Trudeau will be leading his second consecutive minority government and has to rely on the help of other parties to pass legislation.
Political analysts said that Monday's election was a big gamble for the 49-year-old leader, who was previously leading a stable minority government amid the coronavirus pandemic.
Trudeau's government spent billions to keep the economy afloat during the pandemic and Canada is now one of the most vaccinated countries in the world. However, observers noted that his popularity severely dipped in the polls when he announced early elections last month.
Opposition politicians criticized Trudeau for calling the snap polls two years before his term ended, and accused the prime minister of furthering his own ambitions.
RUSSIA
The Usual Suspect
The European Court of Human Rights ruled Tuesday that the Russian government was responsible for the death of former KGB agent Alexander Litvinenko in 2006, sparking further questions about the Kremlin's role in poisoning its opponents, the Wall Street Journal reported.
The court found that Russian agents Andrei Lugovoi and Dmitry Kovtun were assigned to assassinate Litvinenko, who died after drinking tea laced with polonium-210, a deadly radioactive isotope, at a bar in London.
The ECHR added that the Russian government had failed to provide "any other satisfactory and convincing explanation of the events."
The Kremlin called the court's ruling baseless and denied any involvement. Lugovoi, who is currently a lawmaker in Russia's State Duma, said the judgment was "wrongful, unlawful and politically biased."
The verdict opens up more questions about the death of Litvinenko, a fierce critic of Russian President Vladimir Putin. The former Russian agent – who had fled Russia to Britain – had accused Putin of coming to power by organizing a series of apartment bombings in 1999. The attack eventually led to Russia's invasion of Chechnya.
Meanwhile, British authorities have charged a third Russian agent for the 2018 chemical attack in Salisbury that targeted former Soviet spy Sergei Skripal and his daughter Yulia, according to the Evening Standard.
Officials have already charged two men whom they allege were officers of the Russian military service.
The Kremlin, again, has denied any involvement.
SUDAN
Fires Everywhere
Sudanese authorities thwarted a coup attempt Tuesday that involved military officers and civilians linked to the previous regime of President Omar al-Bashir, Al Jazeera reported.
Officials said that the plotters had tried to take over the state television station and army headquarters, as well as to depose the Council of Ministers and Sovereignty Council that make up the country's transitional government.
Prime Minister Abdallah Hamdok said the coup was "an extension of previous attempts" to overthrow Sudan's fragile transitional government, which was formed following the ouster of al-Bashir in 2019.
The government said that the plotters have been arrested and the situation is "under control."
The attempted coup comes amid similar takeovers that have taken place in Africa recently, including Guinea and Mali. Last year, Hamdok survived an assassination attempt targeting his convoy, according to France 24.
Sudan's transitional government is composed of civilians and military representatives, but tensions between both parties have persisted amid political divisions and economic problems.
In recent months, the government has faced opposition over a series of economic reforms needed to qualify for debt relief from the International Monetary Fund. The changes include slashing subsidies and a managed float of the Sudanese pound, which has prompted some citizens to protest the reforms and the rising costs of living.
DISCOVERIES
Old Bottom Feeders
A team of paleontologists came across the fossil of a 500-million-year old creature they believe was a "giant" among the tiny ocean life that existed during the Cambrian period, CNN reported.
Found in Canada's Kootenay National Park, researchers wrote in their study that the fossil belonged to Titanokorys gainesi, which they described as possibly "one of the biggest animals from the Cambrian period ever found."
Titanokorys was about 1.6 feet in length, it had multifaceted eyes and a large head carapace similar to the shell of a turtle or crab. The research team said the alien-looking creature had a series of flaps it used to swim and spiny claws below its head to catch prey.
They noted that the extinct marine animal was a radiodont. The radiodonts were a group of primitive arthropods that were common after the Cambrian explosion event 541 million years ago – a period when the fossil record shows that myriad organisms suddenly appeared on Earth.
The authors are still trying to determine why a subgroup of radiodonts, like the Titanokorys, had such a hard head: It's unclear why they would need protection given that they were larger than other creatures then living on the seafloor.
"These enigmatic animals certainly had a big impact on Cambrian seafloor ecosystems," said lead author Jean-Bernard Caron.
COVID-19 Global Update
Total Cases Worldwide: 229,563,544
Total Deaths Worldwide: 4,709,292
Total Vaccinations Worldwide: 5,966,557,394
Countries with the highest number of confirmed cases worldwide as of 4 a.m. ET*
US: 42,413,485 (+0.30%)
India: 33,531,498 (+0.08%)
Brazil: 21,247,094 (+0.00%)**
UK: 7,531,922 (+0.42%)
Russia: 7,208,241 (+0.26%)
France: 7,054,198 (+0.12%)
Turkey: 6,904,255 (+0.43%)
Iran: 5,459,796 (+0.32%)
Argentina: 5,243,231 (+0.04%)
Colombia: 4,943,622 (+0.03%)
Source: Johns Hopkins University
*Numbers change over 24 hours
**Numbers have been adjusted by affected country
Not already a subscriber?
If you would like to receive DailyChatter directly to your inbox each morning, subscribe below with a free two-week trial.
Support journalism that's independent, non-partisan, and fair.
If you are a student or faculty with a valid school email, you can sign up for a FREE student subscription or faculty subscription.
Questions? Write to us at hello@dailychatter.com.