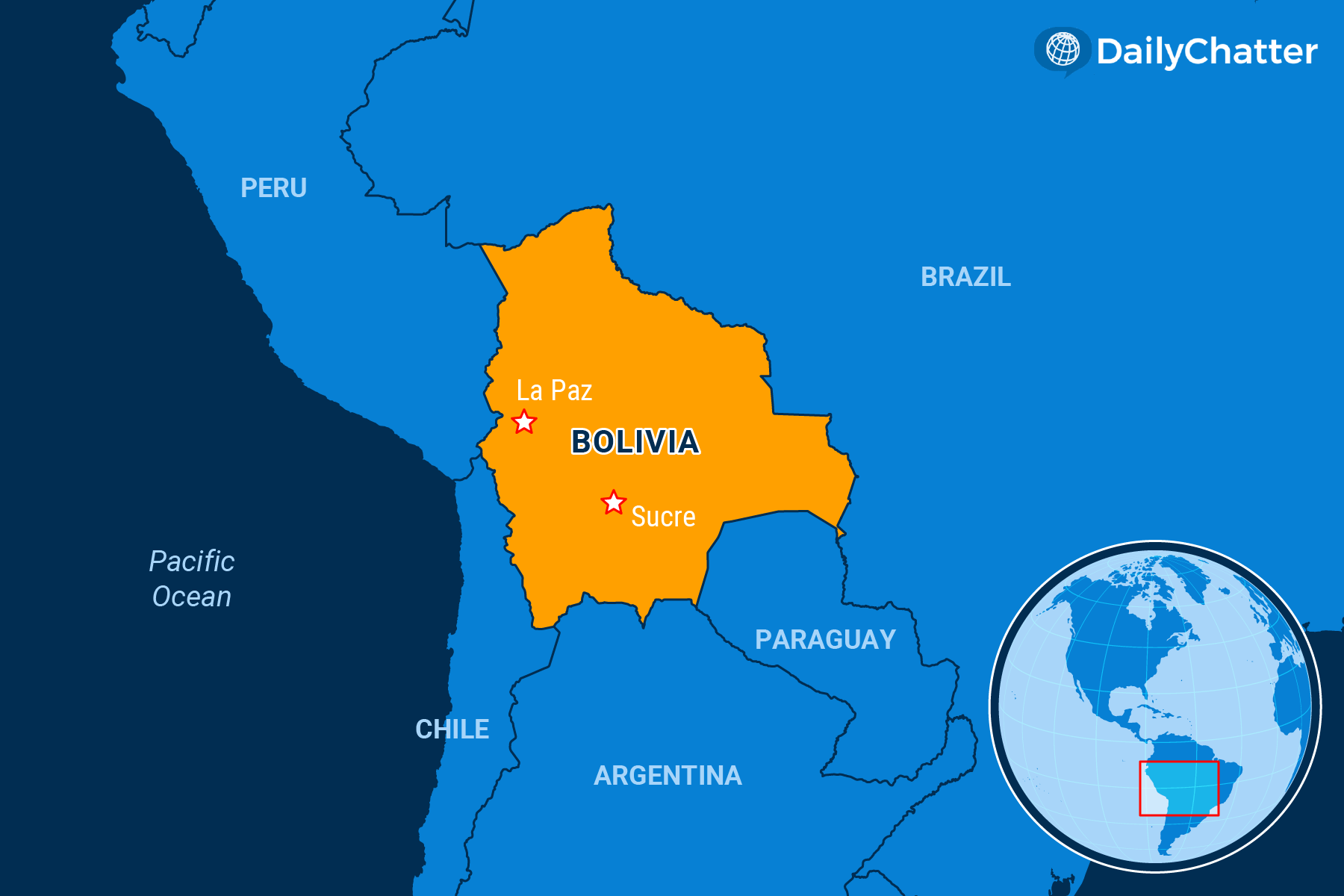 The World Today for September 07, 2021
Listen to Today's Edition
NEED TO KNOW
BOLIVIA
Testing the Scales
A lot is capturing Bolivians' attention these days. Wildfires are raging through the forests. Cases of Covid-19 are rising again. Its national soccer team is playing the World Cup qualifiers. But what really has the country mesmerized – and polarized – is the fate of former Interim President Jeanine Anez – she was arrested in March for staging a coup that ousted ex-President Evo Morales and sanctioning violence against her political opponents.
Bolivians are divided over seeing her as a victim of a political witch hunt or as a former tyrant who is finally receiving her comeuppance.
Anez famously carried a leather Bible into the country's presidential palace in November 2019 after Morales fled the country. The ousted president had replaced the Christian text with "acts honoring the Andean earth deity called the Pachamama" at official public ceremonies. A socialist who was wildly popular among working-class voters, Morales was the first indigenous Bolivian to become the country's head of state, as the BBC explained. He had been in office for 14 years and had stirred controversy for winning a fourth term due to fraud, critics alleged.
After his departure, Morales' party, the Movement for Socialism, staged protests that elicited a brutal crackdown and resulted in 20 dead and almost 100 injured in late 2019. As the Associated Press noted, the Organization of American States released a scathing report that said Bolivian security forces tortured and executed Morales' supporters.
Last year, however, Anez' political fortunes turned. Morales' former economy and public finance minister, Luis Arce, won the presidency. His win solidified public support for Morales' civil rights and economic agenda, the New Republic wrote. Arce vowed to bring to justice the plotters who brought about Morales' ouster, Agence France-Presse wrote.
Now, it is the question of whether and how to prosecute those responsible for the violence that followed Morales's resignation that is testing this politically volatile South American nation, wrote the Washington Post. "Since Bolivia lacks an independent judicial system, it will be very difficult to have an impartial investigation into these allegations," César Muñoz, a senior researcher with Human Rights Watch, told the newspaper.
Meanwhile, writers at the Economist and elsewhere wondered whether Arce's administration would pave the way for Morales to return. But Arce is not waiting on his former boss to give him direction.
Recently, Bolivian prosecutors charged Anez with genocide stemming from the deaths of 20 protesters in 2019, Reuters reported. Soon after, Anez attempted to commit suicide. Changing their usual mantra claiming that Anez is the target of a political conspiracy, her lawyers told Al Jazeera that "she feels very harassed" and that her actions were a "cry for help." The European Union, the US and other countries have expressed concern.
Mercy or punishment – that's the question for Bolivia's justice system now. And how it answers will show its commitment to justice.
WANT TO KNOW
AFGHANISTAN
The Last Stand
The Taliban said it has captured the Panjshir Valley, the last province to fall to the militant group after taking over most of the country last month, Slate Magazine reported.
Images online showed the group raising their flag in the provincial capital on Monday, following two weeks of heavy fighting between the Taliban and the National Resistance Front in Afghanistan (NRFA).
Witnesses said that thousands of Taliban fighters took control of Panjshir's eight districts overnight with reports of numerous casualties among resistance fighters, including some high-ranking leaders.
Even so, NRFA leader Ahmad Massoud denied the Taliban's claims, saying that anti-Taliban forces "are present in all strategic positions across the valley to continue the fight."
Still, if the Taliban's claims are true, the defeat of the NRFA in Panjshir marks a strategic and symbolic victory: Panjshir remained the only pocket of resistance against the Taliban – that is true of the last period it ruled Afghanistan, too – from 1996 to 2001. The mountainous region was also the location where the 2001 US-led invasion began in Afghanistan.
EL SALVADOR
The Ledge
El Salvador's highest court ruled that the president can serve two consecutive terms, a verdict criticized as sliding the country further toward authoritarianism, Reuters reported.
Under El Salvador's constitution, presidents cannot serve for two consecutive terms. However, the ruling will allow populist President Nayib Bukele to run for reelection in 2024. It could potentially make Bukele the first president in Central America to serve more than five years in office since the 1950s, according to Agence France-Presse.
The decision was handed down by judges appointed by lawmakers belonging to Bukele's party, which controls Congress. In May, lawmakers removed justices critical of the government, a move some called a "coup d'etat."
Meanwhile, civil rights activists warned that the ruling placed the country's democracy "on the edge of the abyss" and that Bukele is moving the country toward authoritarianism: Last year, he sent troops into Congress to pressure lawmakers into approving legislation. He has also withdrawn from US-backed anti-corruption agreements.
The 40-year-old head of state denies accusations of authoritarianism.
Meanwhile, his administration is considering constitutional changes that could extend the president's term from five years to six.
SAO TOME AND PRINCIPE
Sore Loser
Former Infrastructure Minister Carlos Vila Nova won Sao Tome and Principe's presidential runoff Monday amid concerns of election fraud and irregularities, Reuters reported.
The runoff pitted former infrastructure minister Carlos Vila Nova and his rival Posser da Costa for the largely ceremonial post in the former Portuguese colony.
Results showed Vila Nova secured more than 57 percent of the vote, while his rival received 42.46 percent, Reuters reported separately.
The second round of voting was delayed after the third-ranked candidate, Delfim Neves, alleged fraud and demanded a recount. The constitutional court later rejected his request.
Sao Tome and Principe, located off the coast of central Africa and with a population of more than 215,000 people, is considered a model of parliamentary democracy on the continent.
In the last two decades, the country's economic growth has been driven by a mix of external aid and government borrowing, as well tourism and foreign investment in oil exploration. Multiple companies are exploring the archipelago in the hopes of finding significant reserves.
DISCOVERIES
Cheers
Making a toast to honor a dead friend or relative goes back 9,000 years, CNET reported.
Archaeologists uncovered evidence of toasting the deceased with beer in Neolithic China, one of the earliest known instances of ritual alcohol consumption to honor the dead.
Among a trove of painted ancient pots in southern China, researchers noted that seven of the 20 vessels appeared to be long-necked Hu pots that were used to drink alcohol in later historical periods, according to the Independent. In their paper, lead author Jiang Wang and her colleagues analyzed the surfaces inside the pots and found residue of what appeared to be a very old beer.
Wang explained that the brew was made from fermented "(rice) grain called Job's tears (Coix lacryma-jobi), and unidentified tubers."
"This ancient beer though would not have been like the IPA (Indian Pale Ale) that we have today," she added. "Instead, it was likely a slightly fermented and sweet beverage, which was probably cloudy in color."
Her team noted the process of making the beer was laborious and complicated. At the time, rice domestication and farming were in their early stages and the ancient inhabitants mainly survived on hunting and foraging.
Jiang suggested that the brewing of the beverage was a process of trial and error and that the beer was mainly consumed during rituals such as funerals.
Consequently, the ritualized drinking led to the formation of social bonds between people that would eventually become the foundation of the complex rice farming societies that arrived about 4,000 years later, she speculated.
COVID-19 Global Update
Total Cases Worldwide: 221,114,526
Total Deaths Worldwide: 4,575,054
Total Vaccinations Worldwide: 5,493,229,986
Countries with the highest number of confirmed cases worldwide as of 4 a.m. ET*
US: 40,018,326 (+0.18%)
India: 33,058,843 (+0.09%)
Brazil: 20,899,933 (+0.04%)
UK: 7,051,516 (+0.58%)
Russia: 6,929,862 (+0.25%)
France: 6,924,325 (+0.04%)
Turkey: 6,412,247 (+0.00%)**
Argentina: 5,207,695 (+0.07%)
Iran: 5,156,986 (+0.54%)
Colombia: 4,919,773 (+0.02%)
Source: Johns Hopkins University
*Numbers change over 24 hours
**Numbers have been adjusted by affected country
Not already a subscriber?
If you would like to receive DailyChatter directly to your inbox each morning, subscribe below with a free two-week trial.
Support journalism that's independent, non-partisan, and fair.
If you are a student or faculty with a valid school email, you can sign up for a FREE student subscription or faculty subscription.
Questions? Write to us at hello@dailychatter.com.