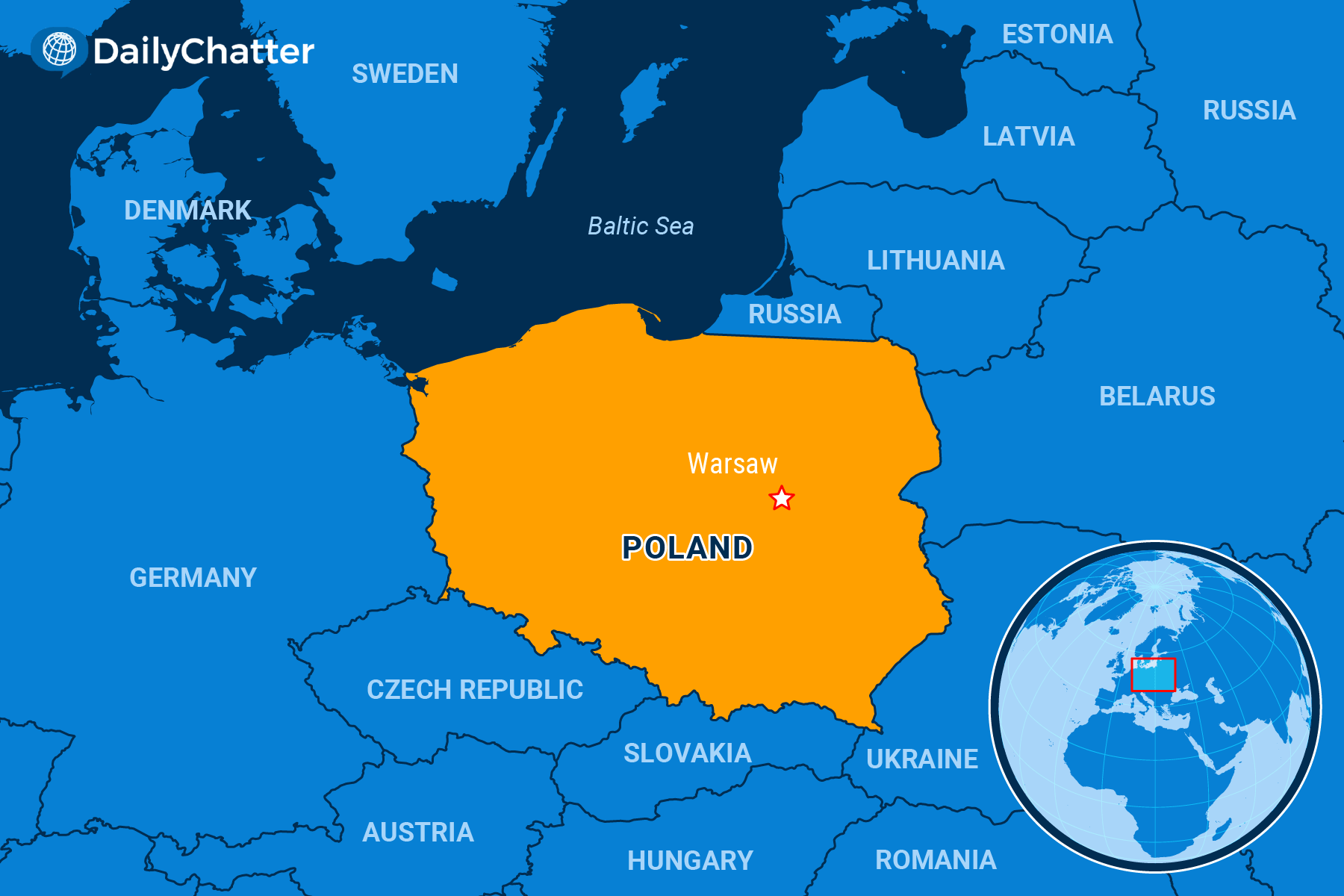 The World Today for August 13, 2021
Listen to Today's Edition
NEED TO KNOW
POLAND
Problem Child
From the headlines, one would think Poland is at war with the European Union.
The Central European country is "fighting" bureaucrats in Brussels. Local pundits call on the EU to be "tougher." Newspapers described the 27-nation bloc, the most important conglomeration of democracies in the world and one of the globe's largest economies, as using money as a "weapon."
In fact, there is no hot conflict. Instead, Poland and the EU are in a kind of cold struggle over whether the EU can uphold (or dictate, depending on one's view) legal standards in the country despite the opposition of its elected conservative government, which itself is fracturing, Bloomberg reported.
"The evolution of these disputes is relevant for the future of the European Union because pervasive nationalist sentiments in Europe mean that the prospect of additional countries moving away from the idea of pan-European federalism and resorting to sovereignist positions is a real possibility," wrote Stratfor, a US-based think tank.
Writing in the Financial Times, columnist Tony Barber argued that the EU was correct to say that Polish President Andrzej Duda and Prime Minister Mateusz Morawiecki of the nationalist Law and Justice Party have undermined the independence of the country's judiciary and flouted the principle that the European Court of Justice is the bloc's supreme judicial authority, giving the single market a unified rule of law that is vital to commerce.
The Law and Justice Party has concentrated its power over the judiciary and judge appointments since gaining power in 2015. The European Court of Justice, for example, recently ordered Poland to close a "disciplinary panel" that critics said helps government officials control judges, the New York Times explained. Officials have resisted disbanding the court, although this week, they showed signs of compromise. Around 3,500 Polish judges and prosecutors have called on the Polish government to comply, the EUObserver wrote.
The EU has already begun withholding funds from Poland because of the government's insistence that, as a sovereign nation, it can flout rules that it embraced when it joined the EU in 2004 to avoid backsliding to the authoritarianism and suppression of civil rights that Poles experienced under communism in the 20th century, the Wall Street Journal added.
Morawiecki wants to find "some kind of accord" with the EU to avoid costly punishments, the Associated Press reported.
But whether or not the EU can tolerate the kind of ideological diversity that would allow conservative governments like Poland's – and Hungary's, too – to remain in the bloc is an open question, wrote the Spectator, a British magazine.
Membership has privileges and its responsibilities.
WANT TO KNOW
SUDAN
Ten Years Gone
Sudan agreed to turn over former longtime ruler Omar al-Bashir and two other officials to the International Criminal Court in the Netherlands, where they will be tried for war crimes during the 2003 Darfur conflict, Al Jazeera reported Thursday.
The decision came during a visit by the court's Chief Prosecutor Karim Khan to the country and a week after Sudan's transitional government voted to ratify the Rome Statute – officially making the nation a party to the ICC.
Officials said they were committed to cooperating with The Hague-based court but gave no timeframe for al-Bashir's handover – nor did they clarify if the former autocrat would be extradited to the Netherlands or face trial in Sudan.
The US State Department praised the move as "a major step for Sudan in the fight against decades of impunity."
Al-Bashir has been wanted by ICC for more than a decade over charges of genocide, war crimes and crimes against humanity in the Sudanese region.
The United Nations estimates that about 300,000 were killed and 2.5 million were displaced in the conflict between non-Arab rebels and government-backed Arab militias known as Janjaweed.
The Sudanese leader had ruled the country for 30 years before being deposed amid mass protests in 2019. Following his ouster, a transitional government, composed of civilian and military leaders, was formed.
In December 2019, a court convicted al-Bashir on corruption charges. Currently, the former strongman is on trial for the 1989 coup that brought him to power.
He faces the death penalty if found guilty.
ALGERIA
Blazing Peaks
Wildfires in Algeria's forested mountains killed at least 65 people this week amid a scorching heatwave that has ignited similar devastating blazes in other parts of the Mediterranean, including Greece and Turkey, the New York Times reported.
The death toll includes 28 soldiers, who died while trying to put out fires across 17 different provinces of the country. Local media reported that more than 86 blazes are ongoing and have yet to be contained.
The tragedy prompted President Abdelmadjid Tebboune to call for three days of national mourning.
The government said – without any evidence – that the fires were deliberately set by arsonists and that officials are investigating three people in connection with fires in multiple cities.
The blazes come as the country is experiencing a heatwave coupled with high winds, which has facilitated the spread of the wildfires. Temperatures in Tizi Ouzou in north-central Algeria, the worst-hit area, were forecast to reach 116 degrees Fahrenheit this week.
The fires were initially sparked in the mountain forests and villages east of the capital, Algiers, but later spread across the Berber region, engulfing homes, orchards and livestock.
In Greece and Turkey, meanwhile, the heatwave has fueled wildfires, burning homes, thousands of acres of land, and forced residents to flee.
ASIA
Thanks, but No Thanks
Southeast Asian nations have begun shunning Chinese coronavirus vaccines in favor of Western-made inoculations to control new surges of the Delta variant amid rising concern over the effectiveness of Sinopharm and Sinovac, the Washington Post reported.
The switching of vaccines comes months after nations such as Cambodia, Indonesia and the Philippines rolled out jabs made by China's Sinovac and Sinopharm to great fanfare. The two companies were among the earliest to begin clinical trials but they did not release full data on the results.
Millions of people initially took the Chinese-made vaccines after many Southeast Asian nations were unable to procure Western ones such as Moderna and Pfizer.
However, doubts over China's vaccines began emerging in June when fully vaccinated Indonesian doctors died because of Covid-19 – at least 20 physicians have died even though they received both doses of the Sinovac vaccine.
In late July, Indonesia – a country of 270 million – rolled out the US-made Moderna vaccine to healthcare workers after Washington donated eight million doses.
Meanwhile, Thailand started mixing Sinovac with the British-Swedish AstraZeneca jab. The government also ordered that healthcare workers receive a third booster shot, either of AstraZeneca or an mRNA vaccine such as Pfizer or Moderna.
Cambodia, a close ally of China, also said last week it will start offering AstraZeneca booster shots to people that received two doses of the Chinese-made jabs.
The shift in jabs marks a turning point for China's vaccine diplomacy: Beijing maintains that its vaccine donations are a public good and has criticized nations for hoarding jabs. But critics say China has used the vaccines for propaganda purposes. Regardless, China pledged last week to donate two billion doses to countries around the world this year.
Even so, many Southeast Asians had said that they would prefer Western-made jabs even before the Delta variant plagued the region: Earlier this year, a survey in the Philippines found that more than 63 percent of adults preferred the United States as a source of vaccines.
DISCOVERIES
Do It For Bambi
Deer can get coronavirus, according to a new survey by scientists and federal officials in the United States.
The US Department of Agriculture's Animal and Plant Health Inspection Service found that a third of white-tailed deer tested in four states were exposed to the virus, the New York Times reported.
Researchers tested blood samples from deer in Illinois, Michigan, New York and Pennsylvania between 2020 and 2021. Their results showed that the forest animals were equipped with antibodies, suggesting that they fought off the infection.
In Michigan, about 67 percent of the deer surveyed had antibodies to fight the pathogen.
Scientists aren't exactly clear how deer were exposed to infection: They believe that contact or proximity to other animals and humans could have resulted in their infection. Sewage might also be a culprit.
Evidence of the coronavirus spreading from one species to another has been observed in other animals: Asian bat species are suspected to be the original hosts of the virus.
Meanwhile, farmed mink caught the pathogen from humans, which later mutated and spread back to people in a few cases.
The study has yet to be published but the findings have worried researchers.
Many fear the coronavirus could become present in common animal species and eventually spill back to humans.
"Please add this finding as reason no. 2,784 to get vaccinated," said Tony Goldberg, a veterinarian surveying North American bats for evidence of coronavirus infections.
COVID-19 Global Update
Total Cases Worldwide: 205,431,038
Total Deaths Worldwide: 4,334,874
Total Vaccinations Worldwide: 4,578,295,863
Countries with the highest number of confirmed cases worldwide as of 4 a.m. ET*
US: 36,306,917 (+0.32%)
India: 32,117,826 (+0.13%)
Brazil: 20,285,067 (+0.20%)
France: 6,469,753 (+0.46%)
Russia: 6,447,229 (+0.33%)
UK: 6,208,926 (+0.53%)
Turkey: 6,018,455 (+0.37%)
Argentina: 5,066,253 (+0.26%)
Colombia: 4,856,595 (+0.09%)
Spain: 4,677,883 (+0.37%)
Source: Johns Hopkins University
*Numbers change over 24 hours
Not already a subscriber?
If you would like to receive DailyChatter directly to your inbox each morning, subscribe below with a free two-week trial.
Support journalism that's independent, non-partisan, and fair.
If you are a student or faculty with a valid school email, you can sign up for a FREE student subscription or faculty subscription.
Questions? Write to us at hello@dailychatter.com.