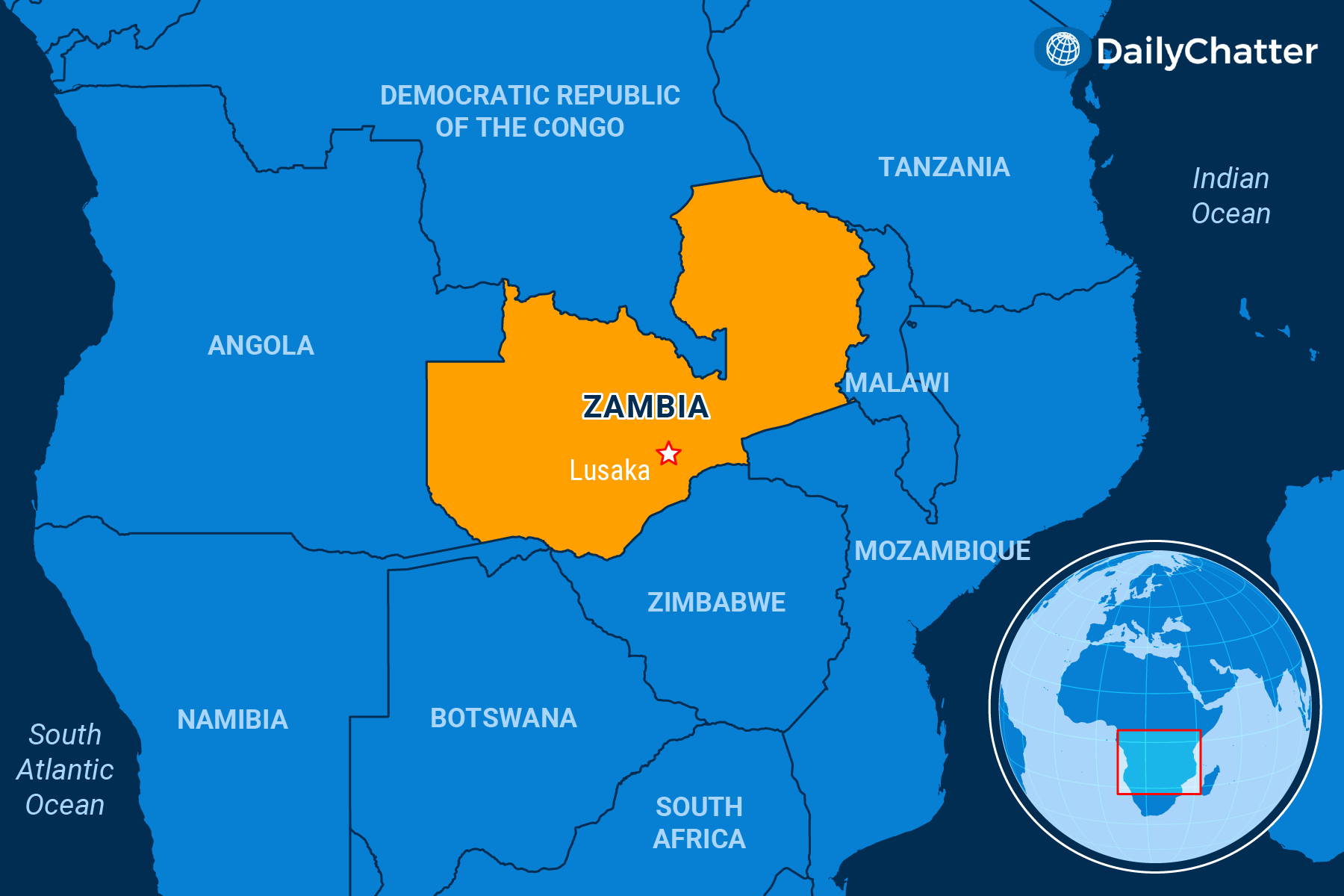 The World Today for August 12, 2021
Listen to Today's Edition
NEED TO KNOW
ZAMBIA
A Storm Is Brewing
Zambian President Edgar Lungu deployed the army after clashes between members of his ruling Patriotic Front and the opposition United Party for National Development resulted in the deaths of two Patriotic Front supporters in the capital of Lusaka. Assailants hacked the victims to death with machetes, Al Jazeera reported.
"Maintaining law and order is a daily chore of the police but sometimes they need help from other security wings," said Lungu.
The violence reflected the unstable climate in the southern African country in the run-up to a presidential election on Aug. 12 that pits Lungu against his nemesis, UPND leader Hakainde Hichilema.
The race is tight. Lungu narrowly defeated Hichilema in the last presidential election in 2015. Food costs and unemployment have risen under Lungu's watch, however, eroding his support in recent years. His detractors also say he overspent on infrastructure, causing Africa's second-largest copper supplier to go into debt default.
"I can't support thieves, we have suffered because of them," said Josephine Nakazwe, a 23-year-old cellphone vendor in Lusaka, in an interview with Agence France-Presse.
Zambia has long been a relatively stable country in the region. But that might be coming to an end: Critics say Lungu is turning to dirty tricks to win the election that could cause tensions to boil over.
Lungu's deployment of the military will intimidate voters and give him more power to suppress turnout, Africa Program Director Judd Devermont of the Center for Strategic and International Studies told CNN.
Meanwhile, officials banned the UPND from campaigning in the Kanyama neighborhood where the Patriotic Front supporters died. Kanyama coincidentally has the most registered voters in the country, according to Bloomberg. The government has also restricted some campaigning practices due to Covid-19, potentially stopping the spread of the virus but also potentially stymying political change.
The stage is set for the country's "democratic decline," warned the Council on Foreign Relations in a blog post. Zambia's Catholic bishops also released a statement imploring their flocks to refrain from violence and hatred toward their neighbors based on their political persuasions, the Vatican News reported.
Zambia is applying for a $13 billion bailout from the International Monetary Fund to stabilize its economy. Copper sales will help pay off that bill, British think tank Chatham House wrote. While lucrative and vital to the country's economy, mining is also a dangerous and polluting industry that the next Zambian president needs to clean up, added Human Rights Watch.
Whoever becomes Zambian president will have a chance to calm the storm or reap the whirlwind.
WANT TO KNOW
POLAND
Of Straws and Camels
Poland's ruling coalition collapsed this week over a parliamentary vote on a contentious media bill, throwing into doubt the future of the rightwing governing party amid ongoing disputes with the European Union, Bloomberg reported.
The ruling Law and Justice party (PiS) ended its partnership with the Agreement party of Jaroslaw Gowin, who was Poland's deputy prime minister until Tuesday. The break-up occurred when Gowin rejected draft legislation asserting control over independent media that would target Discovery Inc., the US owner of Poland's largest private television network.
Gowin said that the bill – which passed Wednesday – is an attempt to muzzle Poland's media freedom. His comments were echoed by civil rights advocates and thousands of citizens, who marched in 100 Polish cities on Tuesday to protest the bill, which limits media ownership to Europeans.
The governing PiS said that it had enough backers in parliament to implement the new legislation. Even so, Gowin's exit leaves the PiS and another governing partner with minority support in parliament and will likely lead to the rightwing party considering coalitions with more radical and nationalist groups in the legislature.
The collapse marks another challenge for the PiS amid ongoing clashes with the EU over the country's eroding rule of law.
Earlier this week, Poland announced that it would review its system of disciplining judges following pressure from the EU top court and the European Commission, the bloc's executive body, according to EU Observer.
INDIA
Open Arms
Indian lawmakers voted to revoke a controversial retrospective tax law on foreign deals in an effort to make the world's second-most populous country more open to foreign investors, South China Morning Post reported Wednesday.
The 2012 law had caused major friction and also litigation between the Indian government and foreign firms operating in the country, including the British energy firm Cairn and telecom giant Vodafone.
Cairn, which has oil and gas operations in India, was awarded damages of more than $1.2 billion last year at a tribunal at The Hague after a protracted legal fight with India, Reuters reported. Vodafone saw its $2 billion tax bill squashed by a tribunal as well.
Following the repeal of the law, India can now settle as many as 17 long-standing tax disputes with foreign investors and is expected to pay about $1 billion in refunds to companies – as long as they withdraw from the ongoing litigation.
Analyst Meyyappan Nagappan said the move was "long overdue," noting that India's losses in international arbitration courts pressured the government to repeal the legislation.
While some companies welcomed the move, observers cautioned that it remains to be seen how foreign firms would accept India's reimbursement offer.
They added that other issues such as trade protectionism and stagnating economic growth due to the pandemic could deter new investors.
India desperately requires capital flows to steer its battered economy. The country received $81.7 billion in foreign direct investment (FDI) – a 10 percent jump from last year.
Even so, private investment and economic demand – needed to jumpstart the economy – are lagging.
GUINEA
Next In Line
A Guinean man died from the highly infectious Marburg virus, forcing 100 people into isolation just months after the end of the country's most recent Ebola outbreak, USA Today reported.
The case was recorded last week following the man's death: He first showed symptoms on July 25 and died eight days later.
Following the discovery, health officials are investigating how many people were in close contact with the man. So far, 145 people have been ordered to quarantine.
Marburg is a highly contagious disease and is part of the same virus family as Ebola. It's transmitted via bodily fluids and has a fatality rate of up to 90 percent. There are no vaccines or antiviral treatments approved to treat the virus.
Since its discovery in 1967, there have been numerous outbreaks around the world: The worst was recorded in Angola from 2004 to 2005 when 90 percent of the 252 people infected died.
The Marburg virus case comes just months after the end of Guinea's latest Ebola outbreak in June – the 2014-2016 Ebola outbreak that cost thousands of lives in Guinea, Liberia and Sierra Leone began in Guinea. Meanwhile, the country is currently facing one of its worst coronavirus waves with nearly 1,200 cases as of Aug. 2 – the highest tally since the beginning of the pandemic.
It's unclear how the man exactly contracted the disease but scientists at the US Center for Disease Control said in January that the virus was spotted in Egyptian rousette bats in Sierra Leone, which shares a border with Guinea.
DISCOVERIES
Trademark Style
Sulfur-crested cockatoos can learn to imitate a variety of sounds and even human speech with very amusing results. They are also pros at dumpster-diving, according to Science Magazine.
In recent years, some witnesses have reported seeing cockatoos rummaging suburban trash bins in Sydney, Australia, in search of food.
Lead researcher Barbara Klump and her team initially investigated the phenomenon by conducting two public surveys in 2018 and 2019. Klump's team asked Sydney's residents if they ever spotted the behavior.
The surveys' results showed that dumpster-diving is common for cockatoos: Eventually, researchers caught and marked nearly 500 birds in some of the trash hotspots.
In their paper, they reported that the birds not only taught each other how to open dumpsters but some also developed their own foraging "regional subcultures."
In simpler terms, cockatoos living in different areas would learn from others but eventually develop their own unique way of opening a trash can – not just imitate other birds, step-by-step.
This last finding puts cockatoos in a group of animals – including primates and whales – that have a culture in both communication and food gathering.
"The important thing here is that … we humans are actually perhaps not as special as we think, you know," co-author John Martin told Australia's ABC News. "There are other animals out there that show similar behaviors to us and similar cultures."
COVID-19 Global Update
More than 180 nations worldwide have confirmed cases of the coronavirus. The following have the highest numbers worldwide as of 4 a.m. ET*:
US: 36,190,342 (+0.37%)
India: 32,077,706 (+0.13%)
Brazil: 20,245,085 (+0.16%)
France: 6,440,082 (+0.51%)
Russia: 6,425,918 (+0.33%)
UK: 6,176,023 (+0.48%)
Turkey: 5,996,194 (+0.46%)
Argentina: 5,052,884 (+0.23%)
Colombia: 4,852,323 (+0.11%)
Spain: 4,660,473 (+0.37%)
Source: Johns Hopkins University
*Numbers change over 24 hours
Not already a subscriber?
If you would like to receive DailyChatter directly to your inbox each morning, subscribe below with a free two-week trial.
Support journalism that's independent, non-partisan, and fair.
If you are a student or faculty with a valid school email, you can sign up for a FREE student subscription or faculty subscription.
Questions? Write to us at hello@dailychatter.com.