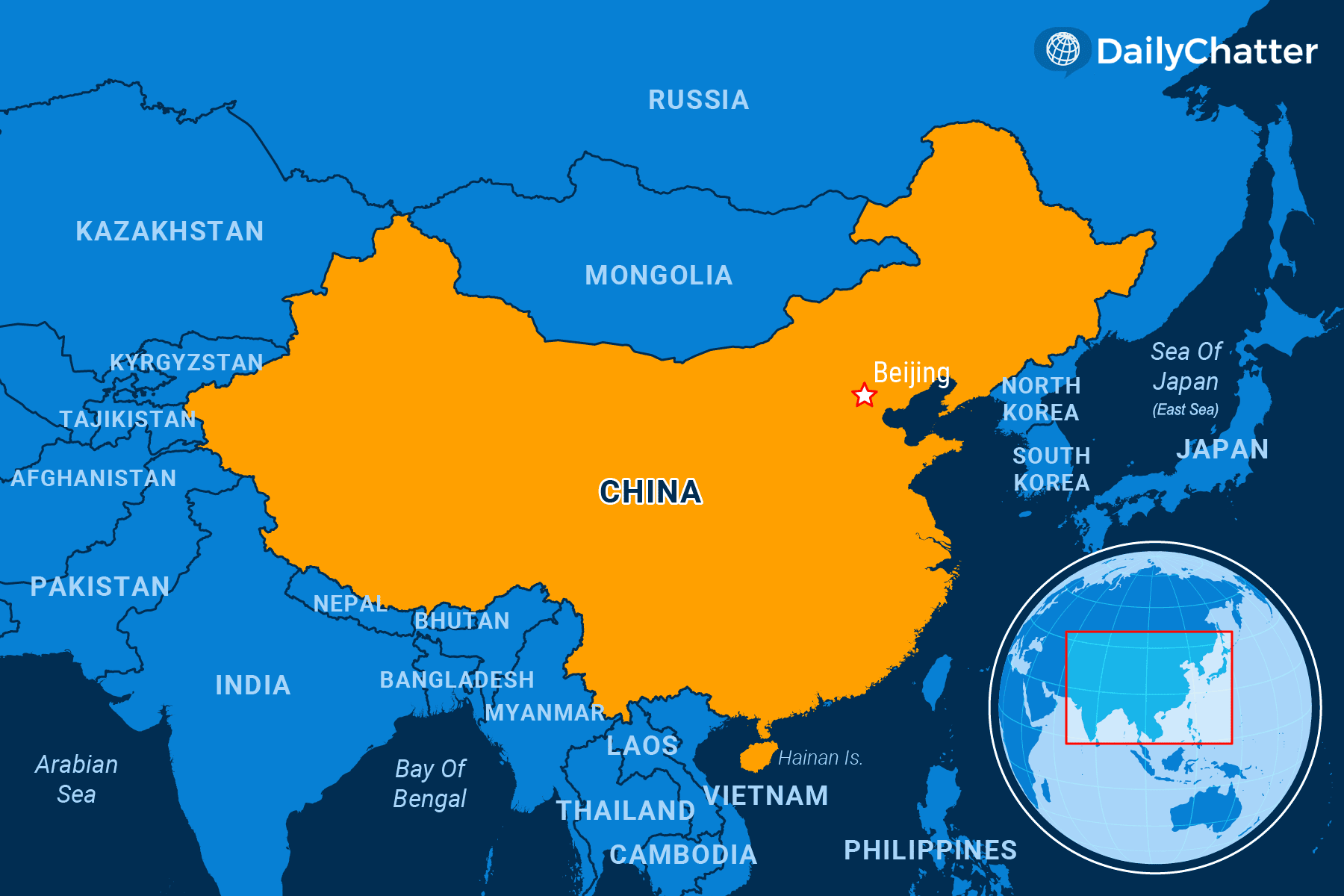 The World Today for July 27, 2021
Listen to Today's Edition
NEED TO KNOW
CHINA
China is building more than 100 new nuclear missile silos in its northwestern desert, according to the California-based James Martin Center for Nonproliferation Studies. Reported in the Washington Post, the facilities represent a significant increase in the country's nuclear capabilities. The world's most populous country and second-largest economy after the US is estimated to now possess as many as 350 nuclear weapons.
The deployment recalls the era of mutually assured destruction, or MAD, that marked the arms race between the US and the now-defunct Soviet Union during the Cold War in the second half of the 20th Century. Leaders in China, a growing power, understandably feel as if they need a robust military to counter the US and its many allies. But the same logic applies to the US and others who aren't simply going to sit idle while a massive authoritarian country develops such an arsenal.
The US is already considering whether to put more missiles in the American territory of Guam, Japan or elsewhere. These escalations could foster stability, as arguably occurred in the Cold War. Or not. "Missile proliferation (could) fuel suspicions, trigger arms races, increase tensions, and ultimately cause crises and even wars," Pacific Forum President David Santoro told Reuters.
Chinese rhetoric is already heating up. At an event celebrating the centennial of the creation of the Chinese Communist Party, Chinese President Xi Jinping delivered a speech where he said "foreigners who bully China will bleed and get their heads bashed," Vice wrote.
Meanwhile, a meeting between American diplomats and their Chinese counterparts ended Monday in a "stalemate," cooling near-term hopes for a major summit between US President Joe Biden and Chinese President Xi Jinping, CBS News reported.
The Council on Foreign Relations in New York has determined that Taiwan is the first place where World War III could start, the Daily Beast reported. The self-declared independent country is an American ally. China considers the coastal island democracy to be a breakaway state, however. As such, it's an affront to the autocratic central government's image.
Analysts at the Council have a point. The New York Post's conservative editorial board has called on President Joe Biden to take a tougher stance on Chinese aggression toward Taiwan. Chinese television has warned Japan not to come to Taiwan's aid in a military conflict lest they want to become the target of a nuclear attack. Japanese officials have nonetheless signaled their support for Taiwan, according to the South China Morning Post.
The problem is that emotions are driving policies, wrote Tim Easton, a China and Taiwan expert, in an op-ed in the Taipei Times. Rational actors more concerned with peace rather than saving face could steer both sides away from a fight.
But pride is hard to shake, even before the fall.
WANT TO KNOW
TUNISIA
Fits and Starts
Tunisian President Kais Saied sacked the prime minister and suspended parliament, a move that plunged the Arab world's fragile democracy into its biggest crisis of the decade, the Financial Times reported.
Saied's move comes as the country is facing an economic crisis worsened by the coronavirus pandemic that has angered Tunisians, who blame the government for not doing enough.
It also follows months of political bickering between the Saied, Prime Minister Hichem Mechichi and Rached Ghannouchi, the speaker of parliament and leader of Islamist party Ennahdha. Saied has refused to swear in 11 new ministers for Hichem's cabinet.
The president said that the constitution allowed him to dissolve parliament if it was in "imminent danger." His opponents, however, accuse him of staging a coup and breaching the constitution.
While many Tunisians celebrated Saied's move, hundreds marched outside the parliament Monday to denounce the decision.
Analysts said that the unrest has raised concerns about possible foreign or military involvement in Tunisian politics. The United Arab Emirates, Egypt and France support Saied.
The crisis comes just months after the decennial of the Tunisian revolution, which ended the autocratic rule of Zein al-Abidine Ben Ali. The revolution inspired revolts in other Arab nations, which came to be known as the "Arab Spring."
Even so, Tunisia's fledgling democracy has been plagued by weak coalition governments that have struggled to restart the country's decrepit economy, amid political infighting, terrorist attacks targeting tourism and Covid-19.
LEBANON
Musical Chairs
Former Prime Minister Najib Mikati became Lebanon's prime minister-designate Monday after his predecessor stepped down amid an ongoing political and economic crisis, the Washington Post reported.
Mikati is the third person to be nominated for the post since last year's explosion in Beirut, which forced then-Prime Minister Hassan Diab to resign. Diab was later replaced by Saad Hariri, who resigned earlier this month after failing to form a government.
His appointment was approved by 72 out of 118 lawmakers, including those from the powerful Hezbollah movement.
Mikati, a Sunni Muslim, will now inherit a country that is on the brink of financial collapse – the currency has lost more than 90 percent of its value. Food and medicine remain scarce. Teachers have fled.
The new leader has promised to seek international aid once he forms a government but he added that he had "no magic wand."
Mikati, however, remains a very controversial figure in Lebanon: Many Lebanese blame him and Lebanon's elites for the country's plight.
The billionaire – with an estimated net worth of $2.7 billion – was accused by state prosecutors in 2019 of illicit enrichment from state-subsidized housing loans along with his brother.
He denies the allegations.
NIGERIA
Raw Deal
A man sent to deliver a ransom payment for the release of more than 130 abducted schoolchildren in Nigeria's western region was himself kidnapped by gunmen, BBC reported.
In May, unknown gunmen raided the town of Tegina, in Niger state, killing one person and kidnapping 136 schoolchildren. They demanded a ransom.
Parents and the school administration were able to raise about $73,000. When it was time to pay, the kidnappers demanded that an elderly man deliver the agreed amount. But they later called and told the school's headteacher that the amount was not enough.
The kidnapping of the go-between has dashed the hopes of the parents of getting their children back. Many had to sell land and other possessions in order to secure the amount, an enormous sum in a deeply poor region.
It also underscores Nigeria's critical security situation as kidnappings have become a lucrative business venture for many criminals. Ransoms are frequently paid but this was the rare case of the person handling the money being kidnapped.
Since December, more than 1,000 school children across northern Nigeria have been taken. Hundreds remain in captivity.
DISCOVERIES
Quid Pro No
Dogs are known to help humans but it doesn't mean they understand reciprocity, a new study on animal altruism shows.
A research team led by Jim McGetrick conducted an experiment to test reciprocal altruism in dogs, Cosmos Magazine reported. Reciprocal altruism occurs when animals return a favor. In humans, it's a common phenomenon. In dogs, previous studies have shown canines capable of assisting each other.
In their study, the team trained 37 dogs to use a button-operated food dispenser before putting the dispenser in an enclosure with unfamiliar humans. For each dog, one person would press the dispenser to help the dog eat, another didn't.
Researchers later swapped buttons to see if the dogs would help the human get food – regardless of whether the humans were helpful or not.
Sadly, it was very one-sided.
"We found that dogs would not provide food to a human regardless of whether that human had been helpful or unhelpful," says McGetrick. "Thus, dogs do not seem to reciprocate the receipt of food from unfamiliar humans."
McGetrick suggested that our relationship with canines is different from dog-dog bonds: It's possible that Fido doesn't take into account a human's desire to eat.
He also cautioned dog-lovers to not expect any quid pro quo.
"…you are not guaranteed they will do something nice in return," he said.
COVID-19 Global Update
More than 180 nations worldwide have confirmed cases of the coronavirus. The following have the highest numbers worldwide as of 4 a.m. ET*:
US: 34,533,187 (+0.26%)
India: 31,440,951 (+0.09%)
Brazil: 19,707,662 (+0.10%)
France: 6,071,893 (+0.26%)
Russia: 6,061,802 (+0.21%)
UK: 5,748,331 (+0.44%)
Turkey: 5,618,417 (+0.30%)
Argentina: 4,859,170 (+0.26%)
Colombia: 4,736,349 (+0.18%)
Spain: 4,342,054 (+1.44%)
Source: Johns Hopkins University
*Numbers change over 24 hours
Not already a subscriber?
If you would like to receive DailyChatter directly to your inbox each morning, subscribe below with a free two-week trial.
Support journalism that's independent, non-partisan, and fair.
If you are a student or faculty with a valid school email, you can sign up for a FREE student subscription or faculty subscription.
Questions? Write to us at hello@dailychatter.com.