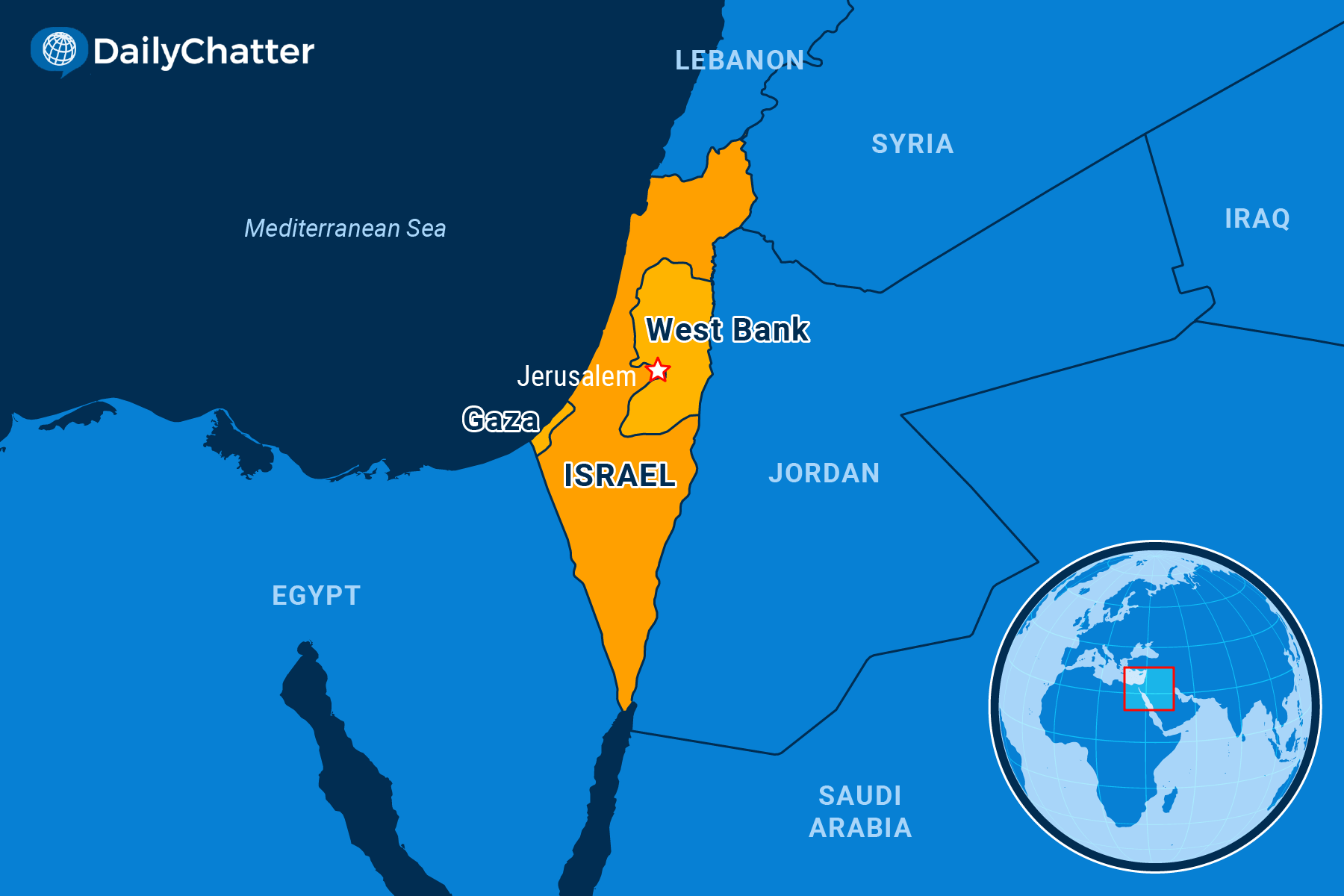 The World Today for May 14, 2021
Listen to Today's Edition
NEED TO KNOW
ISRAEL/ WEST BANK & GAZA
Historic Violence
We've seen it before, all too often. Hamas fires rockets at Israel. Israel launches airstrikes at Gaza. Dozens or hundreds or even thousands die when it is over – for a moment.
The present violence between Israel and the Palestinians is different because it has progressed beyond rockets and bullets to mobs and fistfights in the streets of Israeli cities. But its roots run into the enmities that have been inveterate for decades.
Arab and Jewish Israelis in cities like Lod, for example, recently defied a curfew to throw stones and Molotov cocktails at each other in the streets, NBC reported. The fighting has included horrific stories of violence perpetrated by both sides, added the BBC. An Israeli television news reporter described a particularly harrowing incident when a group of extremist Jewish Israelis attacked an Arab man in a lynching, wrote the Times of Israel.
The unrest comes as the number of casualties is more than 100 after Hamas militants in Gaza fired rockets into Israel on Monday. Israel responded with airstrikes that pulverized buildings. A Washington Post photo essay captured the devastation on both sides.
As Reuters explained, the violence followed weeks of tensions during the Islamic holy month of Ramadan that included fighting between Palestinian protesters and Israeli police around the Al-Aqsa Mosque, a sacred site that Jews revere as the Temple Mount and Muslims call the Noble Sanctuary. Hamas demanded Israeli forces withdraw from the site. When the Israelis refused, Hamas fired the rockets, wrote the Conversation.
Stoking the tensions was a controversial court hearing to evict Palestinian families in East Jerusalem to make way for Jewish settlers. The Associated Press detailed how the families lost their homes in West Jerusalem when the modern state of Israel was established. They became refugees but Jordan gave them homes in East Jerusalem in the 1950s when that country controlled the neighborhood.
After the Six-Day War in 1967, however, Israel took possession of East Jerusalem. In the 1970s, Israelis began to enforce Israeli laws that allow them to reclaim homes based on previous Jewish ownership. The families have been ordered to leave by Aug. 1. The Israeli Supreme Court has postponed a hearing on the issue.
Meanwhile, the violence comes as Palestinian politics are stalled – an upcoming election was canceled – and Israeli politics is at a crossroads.
Israeli Prime Minister Benjamin Netanyahu is weaker than ever, the New York Times argued in an analysis. Usually, when Hamas fires rockets at Israelis, politicians rally around the flag and support the government. However, things are more complicated now. Netanyahu has been in office for 12 years. He's on trial for corruption charges. He's repeatedly failed to form a new government, triggering four elections in the past two years. His opponents are pushing hard for him to go so someone else might stabilize the situation.
Netanyahu can't fix the past. No one can. Unfortunately, some believe, no one seems willing to fix the present. Least of all, Netanyahu, by staying.
WANT TO KNOW
KAZAKHSTAN
Buyers Beware
Kazakh President Kassym-Jomart Tokayev signed into law a sensitive bill that would ban the selling or leasing of agricultural land in the Central Asian nation, Agence France-Presse reported Thursday.
The new legislation makes permanent a five-year moratorium on the sale or leasing of such parcels introduced in 2016 following nationwide protests against controversial amendments to land laws that rocked the authoritarian regime and stoked anti-Chinese sentiment.
The protests were unprecedented in the strictly controlled former Soviet republic.
Many demonstrators fear that the amendments would have allowed Chinese buyers to purchase massive amounts of Kazakh farmland, despite the government's assertions that they would bring more investment into the country.
Under the new law, foreigners, foreign companies, international organizations and even scientific groups which have foreign ties cannot own or lease agricultural land in Kazakhstan, Radio Free Europe/Radio Liberty reported.
The moratorium was set to expire later this year.
AUSTRIA
Cracks in the Facade
Austrian prosecutors launched an investigation into Chancellor Sebastian Kurz this week over accusations that the Austrian leader had lied to a parliamentary committee investigating allegations of corruption by members of his previous government, Politico reported.
The investigation surrounds his administration's efforts to install a close ally to run the country's state holding company, known as ÖBAG.
During a parliamentary hearing last summer Kurz denied that he held discussions with his confidant, Thomas Schmid, about heading ÖBAG before the job was advertised. However, a series of text messages between Schmid, Kurz and other high-ranking officials show that the chancellor not only discussed the position but also attempted to make sure his ally got the post.
The allegations also implicate other officials including Finance Minister Gernot Blümel and former Justice Minister Wolfgang Brandstetter who currently sits on Austria's constitutional court.
Kurz has denied the allegations and said he had no intention of resigning. If found guilty, he could face three years in prison.
The scandal has hurt Kurz's image in Europe, where he is regarded by many as a political star and a model for conservative politicians across the continent.
Analysts warned that the probe has also tested the stability of Austria's democracy as Kurz and government officials have taken steps to undermine the process.
Kurz has persistently questioned the competence and motivations of the prosecutors' office, moves that have been criticized by Austria's legal community as an attack on the independent judiciary.
COLOMBIA
A Snowball's Trick
Mass anti-government protests continued across Colombia for a third week as pressure escalates on President Iván Duque to implement major changes to help struggling Colombians as the country reels from the pandemic, the BBC reported Thursday.
The demonstrations have heavily impacted the country's third-largest city, Cali, with protesters blocking main access roads into the city, disrupting deliveries of staples and critical supplies: While food and medicine have been reaching the city after "humanitarian corridors" were established last week, the disruption has been severe.
The mass protests in recent weeks have resulted in deadly clashes between police and demonstrators and killed at least 42.
Although the contentious bill has been scrapped, protesters have since turned to much broader demands, including abolishing university tuition fees, introducing a universal basic income and improving the security for human rights activists and those promoting indigenous rights.
Duque, meanwhile, has tried to negotiate with protesters in vain: On Monday, he failed to reach an agreement with members of the National Strike Committee, an umbrella group organizing some of the protests.
DISCOVERIES
Hermit Games
In the movie "Cast Away," Tom Hank's character learns to survive on an uninhabited island, where he is isolated from the rest of the world for four years.
While humans can withstand periods of extreme isolation, scientists at the Human Adaptation Institute decided to test this theory in a bizarre experiment, Sky News reported.
In March, a group of 15 participants – eight men and seven women ages 27 to 50 – volunteered to live inside the large Lombrives cave in the French Pyrenees.
The six-week experiment, dubbed "Deep Time," aimed to study the effects of isolation and understand how people adapt to massive changes in their environment and living conditions.
The group was completely cut off from the rest of the world: They had no phones, watches or natural light, and had to adapt to a constant temperature of 54 degrees Fahrenheit and 95 percent humidity.
Meanwhile, scientists monitored their sleep patterns, social interactions and behavioral reactions via sensors.
The participants eventually emerged from the cave in April but only after the research team went into the cave to remind them that the six weeks were over.
All the individuals looked pale and tired but were in good health.
Yet, despite living a hermit lifestyle in a dank, dark place, two-thirds of the group wanted to go back to the cave to finish work on projects they had started during the six weeks.
COVID-19 Global Update
More than 180 nations worldwide have confirmed cases of the coronavirus. The following have the highest numbers worldwide as of 4 a.m. ET*:
US: 32,852,998 (+0.12%)
India: 24,046,809 (+1.45%)
Brazil: 15,433,989 (+0.49%)
France: 5,902,343 (+0.33%)
Turkey: 5,083,996 (+0.23%)
Russia: 4,857,303 (+0.17%)
UK: 4,460,405 (+0.06%)
Italy: 4,139,160 (+0.20%)
Spain: 3,598,452 (+0.16%)
Germany: 3,578,125 (+0.06%)
Source: Johns Hopkins University
*Numbers change over 24 hours
Not already a subscriber?
If you would like to receive DailyChatter directly to your inbox each morning, subscribe below with a free two-week trial.
Support journalism that's independent, non-partisan, and fair.
If you are a student or faculty with a valid school email, you can sign up for a FREE student subscription or faculty subscription.
Questions? Write to us at hello@dailychatter.com.