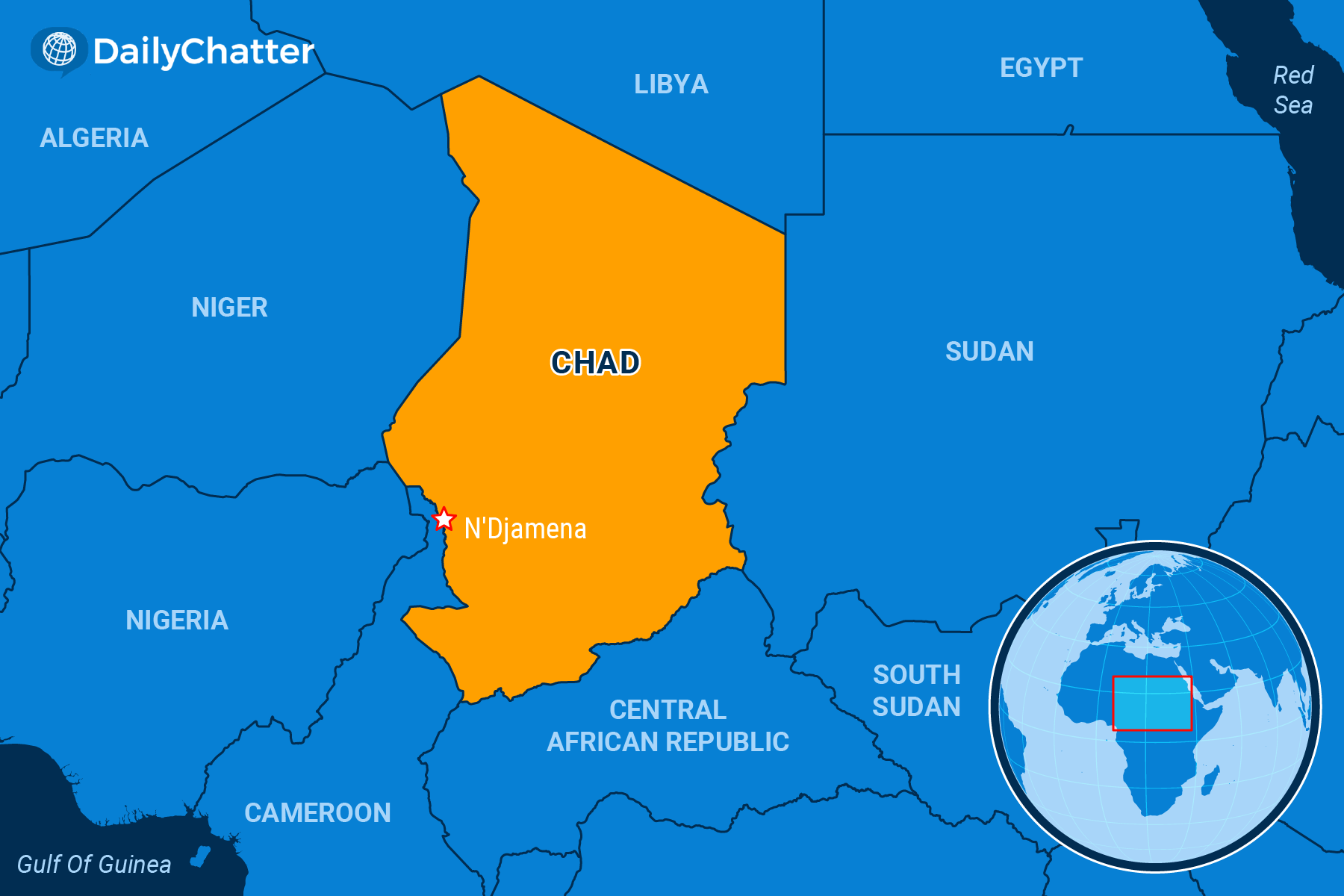 The World Today for April 26, 2021
Listen to Today's Edition
NEED TO KNOW
CHAD
After the King
President Idriss Deby recently won reelection to a sixth term to continue his grip on power in Chad, which began more than 30 years ago when he seized control in an armed uprising.
A day later, rebels killed him.
"Faithful to the oath made to the nation and the Chadian people, the Marshal of Chad, President of the Republic, Head of State, Supreme Commander of the Armed Forces, Idriss Déby Itno, has just breathed his last breath defending the sovereign nation on the battlefield," Army spokesman Azem Bermendao Agouna said in his statement, according to CNN.
Déby was known to assume command of his troops against the rebels, the BBC wrote.
The rebel force, the Front for Change and Concord in Chad, had been bearing down on the capital of N'Djamena to oust Déby, 68, in the weeks before the election, Reuters reported. The American and British governments had moved their personnel out of the country in anticipation of violence.
Before Déby fell, many N'Djamena residents said they had heard conflicting reports of where the rebels might attack. It appears as if the Chadian government's propaganda about their success against the Front was overly optimistic.
"Five days ago, the government was talking about terrorists in the Faya area but today we are told that the rebels are in the Mao area," high school teacher Jean Djimasde told the Associated Press, suggesting that the rebels were coming closer from the north. "We don't know exactly what is going on."
The ongoing threat of a rebellion as well as discontent over Déby's management of the African country's oil wealth and human rights record were among the reasons that opposition leaders had boycotted the election. They have called for a ceasefire with the rebels as well as an "inclusive national dialogue." It appears they will receive their wish. The rebels have vowed to overturn the government.
However, Déby has enjoyed the support of American and French leaders who appreciate his crackdown on Islamist militants in the Sahel region. He recently had pushed through a law permitting him to hold office until 2033, wrote National Public Radio. The Front for Change and Concord in Chad is not an Islamic jihadist organization but has deep ties to Libya, the Wall Street Journal noted.
A transitional military council will run Chad for the next 18 months. Déby's son, General Mahamat Idriss Déby, also known as Mahamat Kaka, will serve as president of the council. It's not clear if the military will follow the council's orders, however.
In losing an autocrat, the future of unstable Chad is even more uncertain.
WANT TO KNOW
TURKEY
A Label, a Cut
Turkey blasted the United States after President Joe Biden formally declared the massacres of Armenians in the early 20th century to be genocide, a move that will likely raise tensions between the two NATO allies, the Wall Street Journal reported Saturday.
The declaration marks the first time that a sitting US president acknowledged that the massacre that killed 1.5 million Armenians between 1915 and 1917 under Ottoman rule constituted genocide.
The announcement was welcomed by Armenians, including the country's diaspora, who have been campaigning for years for such recognition, according to NBC News.
However, Turkey rejected Biden's declaration and has historically objected to the use of the term "genocide," despite most historians, governments and international organizations' stance that the killings qualified as such.
Turkey has said many Armenians were killed in the clashes but maintains that Armenians revolted and sided with the invading Russian forces during World War I.
So far, only 30 countries have officially recognized the deaths as genocide including France and Russia.
Analysts said the declaration is merely symbolical but will certainly drive a wedge between the two nations.
In recent years, US-Turkish relations have deteriorated over Turkey's purchase of a Russian air missile system, its role in regional conflicts and its poor human rights record.
Observers of the relationship said that Turkish President Recep Tayyip Erdogan will likely use the US pronouncement for domestic political gain and to appeal to his conservative base by labeling the decision a Western insult against Turkey.
MYANMAR
Stalemate
Southeast Asian leaders reached an agreement with the head of Myanmar's military junta over the weekend to end the violence that has gripped the nation and has seen thousands detained and hundreds killed following the coup earlier this year, Al Jazeera reported.
Junta head, Min Aung Hlaing, and leaders of the Association of Southeast Asian Nations (ASEAN) agreed to a five-point plan that called for an immediate end to violence and for "all parties" to exercise restraint.
The agreement also included a dialogue among all parties, acceptance of aid and a special ASEAN envoy to facilitate discussions in Myanmar.
Malaysian Prime Minister Muhyiddin Yassin praised the summit as a success but human rights organizations and some Myanmar voters said it fell short of restoring democracy and holding the army to account for killing hundreds of civilians.
Human Rights Watch said the plan lacked a timeline and failed to mention the release of political prisoners including Myanmar's democratically elected leader Aung San Suu Kyi. It added that representatives of Myanmar's voters were not invited to the summit in Indonesia's capital of Jakarta.
Myanmar has been gripped by mass demonstrations since Feb. 1 when the military seized power and arrested the country's elected leaders.
Protesters have demanded the return to democracy but the military has responded by launching a violent crackdown on protesters: Nearly 750 demonstrators have been killed and more than 3,300 arrested.
The situation in the Southeast Asian nation has prompted Western governments to impose sanctions on Myanmar's military leaders but ASEAN nations have to date refrained from imposing sanctions.
AUSTRALIA
Strictly Business
A new rule to impose a strict dress code on Australia's civil servants, including those working from home, has provoked outrage among workers and accusations of gender discrimination, reported the Washington Post.
Australia's Department of Home Affairs mailed an 11-page "dress and appearance" code to its employees in February, listing certain attires as too casual for the workplace.
Among these rules, workers will not be allowed to wear shorts of any kind while activewear such as tracksuits and sportswear are considered inappropriate for business meetings.
The code applies to all public workers in the department including those working from home – meaning that all participants in Zoom meetings must be wearing business attire.
The policy cited the importance of the department's public image but labor unions criticized the move as a blow to many civil servants, particularly those that have been working from home in the country's hotter parts.
Unions took the case to Fair Work Australia, an independent workplace tribunal, where it argued that some of the wording of the policy had clear gender implications and targeted women.
The tribunal ruled this week that the department should have consulted with its employees on the changes. Officials said that they will consider the decision.
The regulation has puzzled many Australian civil workers, particularly in a country where the leaders are known for their lack of professional attire.
In November, Prime Minister Scott Morrison posted on Instagram a photo of himself wearing business attire on top paired with pale blue swim shorts and white flip-flops. One of his predecessors, Tony Abbott, was often seen around parliament in cycle shorts and other sportswear.
DISCOVERIES
Chimp Ennui
Life in the zoo can get dull for intelligent animals like the chimpanzee and their keepers are always hunting for new ways to keep them amused especially since humans – a major source of entertainment for the primates – have had to stay away because of Covid-19.
Enter Zoom calls.
Recently, two Czech zoos set up large screens near chimpanzee enclosures to enable all-day video calls between different chimps in different cities, the Smithsonian Magazine reported.
Keepers at the Safari Park Dvůr Králové said the animals really enjoyed the set-up after initially approaching the screen "with defensive or threatening gestures."
"It has since moved into the mode of 'I am in the movies' or 'I am watching TV,'" said zookeeper Gabriela Linhartova. "When they see some tense situations, it gets them up off the couch, like us when we watch a live sports event."
During their screen time, the apes exhibited some human-like behavior, such as snacking on nuts. They even displayed some form of self-awareness: They understood that they were watching a video and being seen by other chimps.
Sadly, the program came to a halt in mid-April after the Czech government loosened restrictions and reopened zoos.
At least, the chimps won't be lonely or bored anymore.
COVID-19 Global Update
More than 180 nations worldwide have confirmed cases of the coronavirus. The following have the highest numbers worldwide as of 4 a.m. ET*:
US: 32,077,297 (+0.10%)
India: 17,313,163 (+2.08%)
Brazil: 14,340,787 (+0.23%)
France: 5,559,121 (+0.44%)
Russia: 4,708,640 (+0.00%)**
Turkey: 4,629,969 (+0.84%)
UK: 4,420,443 (+0.04%)
Italy: 3,962,674 (+0.33%)
Spain: 3,468,617 (+0.00%)**
Germany: 3,306,692 (+0.47%)
Source: Johns Hopkins University
*Numbers change over 24 hours
**Numbers have been adjusted by affected country
Not already a subscriber?
If you would like to receive DailyChatter directly to your inbox each morning, subscribe below with a free two-week trial.
Support journalism that's independent, non-partisan, and fair.
If you are a student or faculty with a valid school email, you can sign up for a FREE student subscription or faculty subscription.
Questions? Write to us at hello@dailychatter.com.