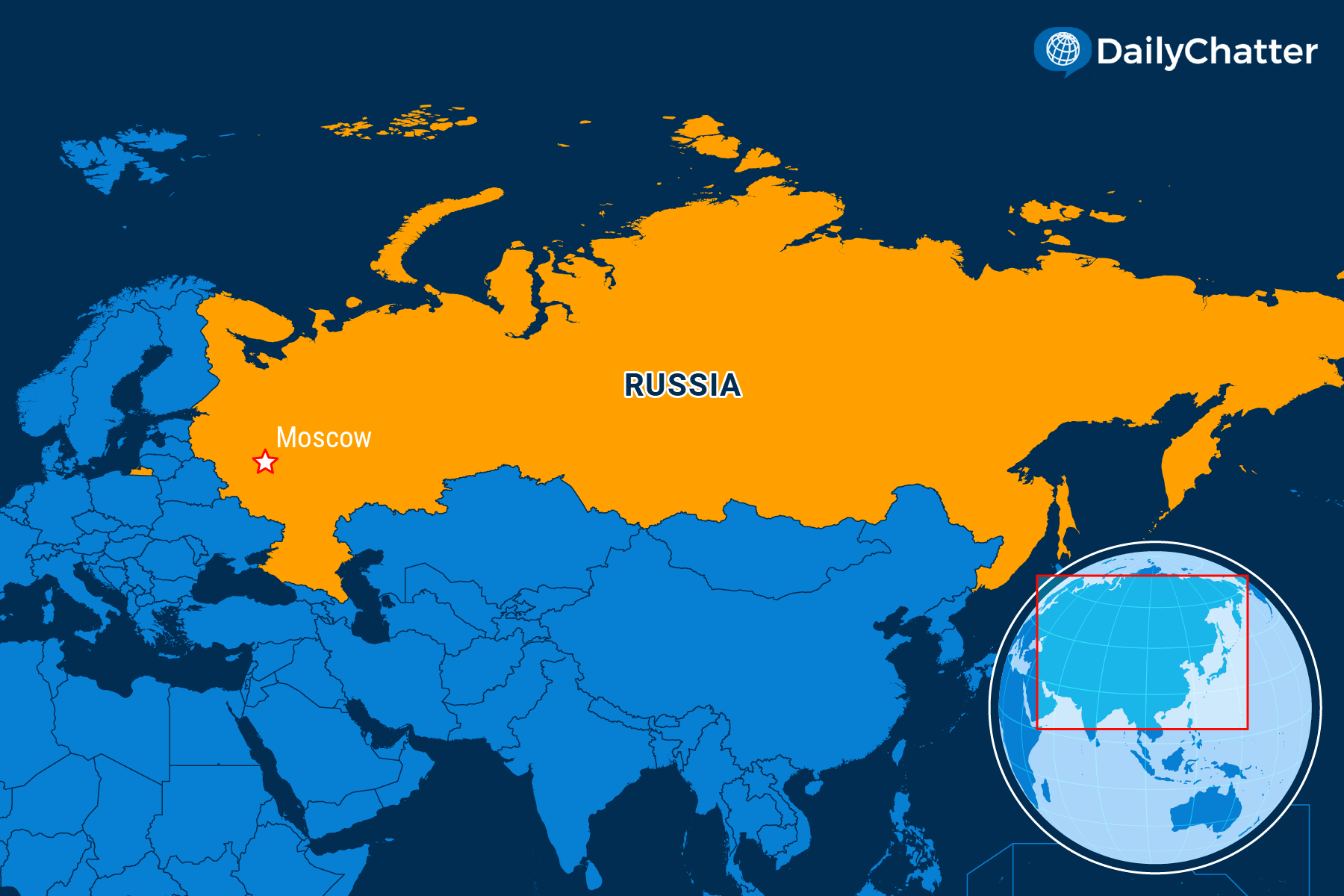 The World Today for April 20, 2021
Listen to Today's Edition
NEED TO KNOW
RUSSIA
Intimidation Games
Around 10 years ago, the Atlantic Council recalled, American leaders scoffed at those who viewed Russia as America's greatest geopolitical foe. Now it seems as if the Russophobes may have been prescient.
Fisherman plying American waters off the coast of Alaska recently told NBC News that extraordinarily aggressive Russian naval ships and warplanes have been harassing them lately. The intimidation tactics reflect how tensions are heating up between the US and Russia because of renewed confrontation between Russia and Ukraine.
Russia recently amassed the largest force of troops on the Ukrainian border since 2014, when it annexed the then-Ukrainian territory of Crimea. It also sent troops into the country's largely Russian-speaking eastern region, precipitating a war between the two ex-Soviet republics, as the BBC explained.
American diplomats have responded to the troop buildup with a flurry of meetings with European leaders to develop a response to a potential act of aggression that could explode into large-scale violence, the Hill reported. Unlike when the initial fighting in eastern Ukraine broke out, the US has been selling weapons to the Ukrainians in recent years, suggesting the fighting could escalate fast. "The question for Kyiv now becomes: Is it time to start putting US-made weapons in the field?" wondered Politico.
Meanwhile, American officials are accusing Russian President Vladimir Putin of meddling in the 2020 presidential election and still trying to piece together the damage done after Russian hackers infiltrated important American government systems last year, National Public Radio reported.
US President Joe Biden adopted a tough tone immediately upon assuming office, labeling Putin as a "killer" in an ABC News television interview in March. Biden then imposed sanctions on Russia for its election tampering and hacking.
The strong words might have backfired, however, the Washington Post wrote. The Russian president's popularity had been sinking amid his isolation during the coronavirus pandemic. Putin has jailed his foremost critic, Alexei Navalny, who is now on hunger strike in prison, in part because citizens are growing more tired of his regime. Biden's attack gave him an opportunity to stand up for Russia, a point that usually rallies Russians.
Many Russians didn't take the bait, however, argued Foreign Policy magazine. Putin organized a massive concert and other festivities to celebrate the seventh anniversary of the Crimean annexation. But many citizens viewed the self-aggrandizing spectacle as hypocrisy. Tens of thousands of people close to Putin and his allies could congregate while everyone else was expected to social distance – Russia has one of the world's highest coronavirus death tolls, according to the Moscow Times.
Still, observers of Russia don't expect things to change anytime soon.
After all, Putin may be struggling but he still wields the powerful tools he needs to survive.
WANT TO KNOW
CHAD
Nothing to See Here
Chadian soldiers killed about 300 rebels advancing on the capital, N'Djamena, amid fears of a rising insurgency in the troubled and impoverished northern African country, the Associated Press reported.
Army officials reported the death toll Monday, a day after the military declared that a rebel column had been "totally decimated" by the Chadian military.
Confusion and fear have gripped the landlocked African nation over the threat from the Front for Change and Concord in Chad rebel group, which entered the country during the April 11 presidential elections.
The insurgents are believed to have been armed and trained in neighboring Libya.
Their arrival coincides with President Idriss Deby's attempt to extend his 30-year tenure despite rising discontent over his handling of the nation's resources. Partial election results show that Deby was on course to win his sixth term, Reuters reported.
Meanwhile, British and US officials have advised their citizens to leave the country out of concern that rebels will advance on the capital.
Chad has faced similar insurgencies in the past, the latest in 2019: Deby's government, aided by French armed forces, was able to thwart an armed group that crossed the Libyan border.
The former French colony is home to France's military Operation Barkhane, which deploys troops across the continent to fight Islamic extremism.
PAKISTAN
Death By Cartoons
Pakistan began talks with an extremist group this week following days of violent protests that pose a major challenge for Prime Minister Imran Khan as he struggles to revive the economy, Bloomberg reported.
Protests broke out last week after the Islamic party, Tehreek Labbaik Pakistan (TLP), began a nationwide rally demanding the expulsion of France's ambassador: Party officials are upset over remarks made by President Emmanuel Macron last year regarding the publication of cartoons ridiculing Islam's Prophet Muhammad.
The clashes resulted in the death of at least 10 people including four policemen and prompted the government to ban the party last week – although that did not stop the demonstrations.
Khan said that expelling the French diplomat will amount to severing ties with the European Union. Even so, he said he will start a global campaign against blasphemy, which is a crime in Pakistan punishable by death.
The riots come as Pakistan reels from economic hardships worsened by the coronavirus pandemic. The country recently reached an agreement with the International Monetary Fund on the resumption of a $6 billion bailout program.
TAIWAN
Money, Money, Money
The Central Bank of Taiwan urged the US on Sunday to ease monitoring of its trading partners for currency manipulation during the Covid-19 pandemic after coming under pressure from its ally because of its undervalued currency, reported the Taipei Times.
The bank asked for the suspension of a three-criteria model used by the US, which includes a trade surplus of at least $20 billion with the country, to determine "currency manipulators" among its trading partners.
Short of explicit classification, the Biden Administration's first foreign-exchange policy report last week said Taiwan, Switzerland and Vietnam met the threshold for currency manipulation.
The central banks' disagreement stems from the New Taiwan dollar being undervalued using the same model during the pandemic – Tawain had a $30 billion trade surplus with the US last year.
It also denied having gained an unfair advantage by intervening in currency markets, touting the irrelevance of foreign-exchange transactions to international trade.
The US Department of the Treasury said Friday that it will continue to seek evidence and determine whether the actions of Taiwan, Switzerland and Vietnam breached the Omnibus Trade and Competitiveness Act of 1988, which examines countries with large trade surpluses with the US.
US Secretary of the Treasury Janet Yellen said the "treasury is working tirelessly to address efforts by foreign economies to artificially manipulate their currency values that put American workers at an unfair disadvantage," in a statement accompanying the report.
DISCOVERIES
The New Crawlers
Scientists recently developed an automaton that can crawl up a wall like a reptile, the Washington Post reported.
To do this, researcher Christofer Clemente and his team at the University of the Sunshine Coast in Australia, closely monitored how two lizard species climbed up a vertical surface. They wanted to understand their foot placement and body movement.
Their findings showed the animals have an optimal range for dynamic stability, meaning their speed can affect how successful they are at climbing: If they climbed too fast, they had higher chances of falling but going too slow also didn't help.
Using this data, the team then created a robot – named X-4 – that could mimic the reptiles' movement and speed.
The machine is about nine inches long, weighs less than a half-pound and is equipped with a range finder and Wi-Fi sensor to avoid obstructions. Its claws are made out of pushpins, which allows a firm grip on surfaces and easy release.
During testing, X-4 could climb up a 90-degree carpeted surface and stay there if operating at a medium speed.
The authors hope the small robot can be used to improve telecommunication infrastructure or even help in search-and-rescue operations.
"In a disaster zone, …they can just crawl around the structure and look for survivors," Clemente said. "If anyone has a mobile phone, they can connect to the robot and send out a ping of their location."
COVID-19 Global Update
More than 180 nations worldwide have confirmed cases of the coronavirus. The following have the highest numbers worldwide as of 4 a.m. ET*:
US: 31,738,233 (+0.22%)
India: 15,320,972 (+1.72%)
Brazil: 13,973,695 (+0.22%)
France: 5,357,229 (+0.13%)
Russia: 4,657,509 (+0.18%)
UK: 4,406,114 (+0.07%)
Turkey: 4,323,596 (+1.29%)
Italy: 3,878,994 (+0.23%)
Spain: 3,428,354 (+0.62%)
Germany: 3,167,137 (+0.37%)
Source: Johns Hopkins University
*Numbers change over 24 hours
Not already a subscriber?
If you would like to receive DailyChatter directly to your inbox each morning, subscribe below with a free two-week trial.
Support journalism that's independent, non-partisan, and fair.
If you are a student or faculty with a valid school email, you can sign up for a FREE student subscription or faculty subscription.
Questions? Write to us at hello@dailychatter.com.