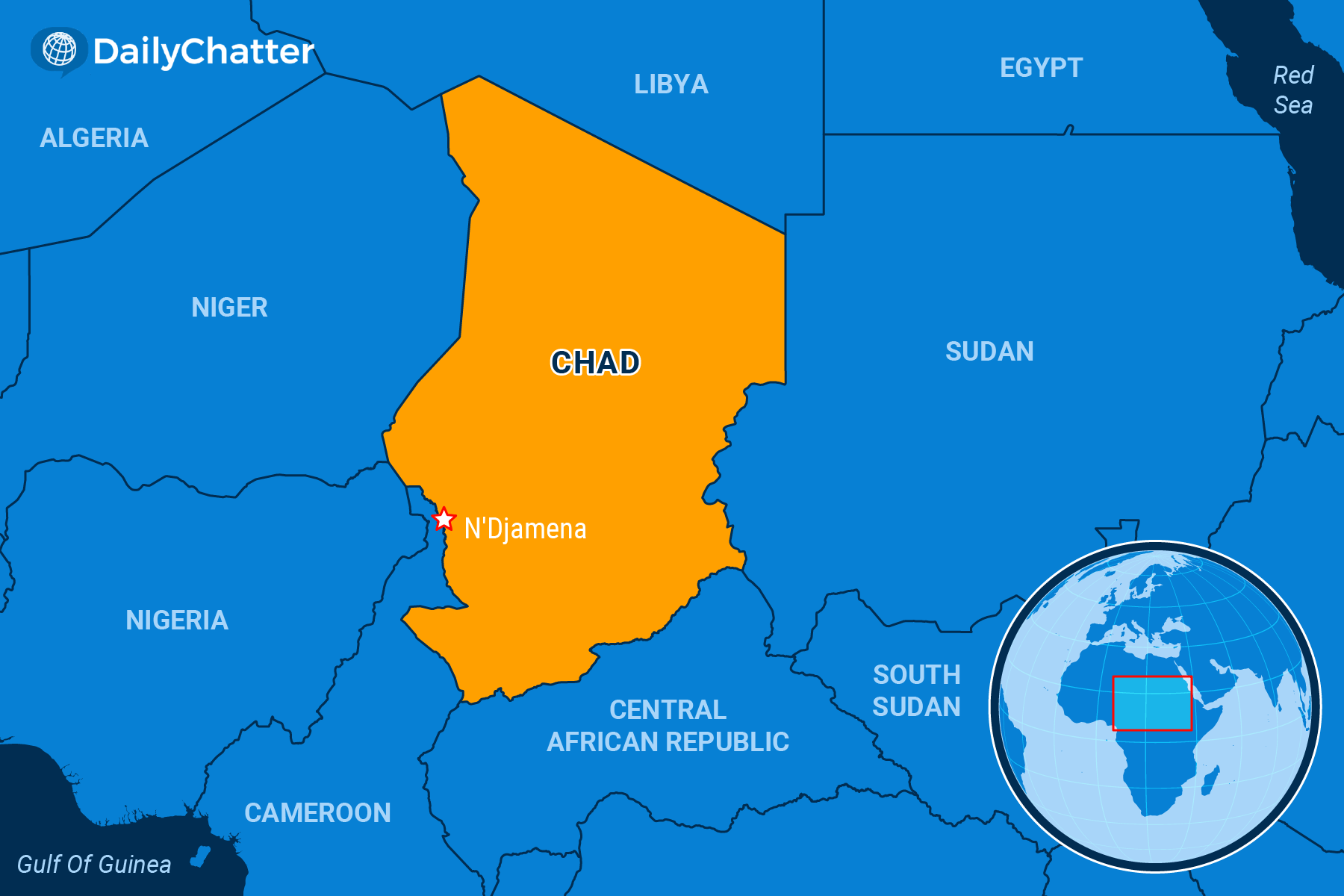 The World Today for April 08, 2021
Listen to Today's Edition
NEED TO KNOW
CHAD
Paris' Man
When Chadian President Idriss Deby accepted the nomination for a sixth term in office from the ruling Patriotic Salvation Movement in February, he struck a pose of magnanimity. "The people's confidence has a sacred value for me," said Deby, 68, according to Al Jazeera. "Allow me, my brothers and sisters, to tell you that it is after a mature and deep introspection that I decided to respond favorably to this call of the people."
In response, the people took to the streets in protest.
Deby took office 21 years ago after rebels overthrew his predecessor. In 2005, lawmakers changed the West African nation's constitution, allowing him to serve indefinitely. In 2018, a new constitution reimposed term limits but let him remain in office through 2033. His actions resemble those of other African leaders who remain in office, sometimes for decades, despite widespread discontent. He's now running for reelection on April 11.
Under his rule, wrote University of Freiburg researcher Helga Dickow, most Chadians live in extreme poverty despite the country's oil wealth, human rights are not respected and political dissidents, journalists and others who might criticize Deby's regime live in fear of violent reprisals. Journalist Vava Tampa argued in a Guardian op-ed that the president deliberately diverts oil revenues to weapons sales.
Additionally, Chadian troops have been fighting Islamic militants near the borders of Niger, Burkina Faso and Mali, Reuters reported. Deby's cooperation with France in that fight has helped bolster his power, said critics. Deutsche Welle even wondered if Chad, which became independent from France in 1960, is truly a sovereign state. France has repeatedly intervened in Chad's internal affairs over the years, both militarily and diplomatically.
Sometimes the influence seems positive. After security forces sought to arrest opposition presidential candidate Yaya Dillo, killing his mother and four other family members, French Foreign Minister Jean-Yves Le Drian called for an investigation. But Deby also told the French newspaper Le Monde four years ago that France pressured him to remain in office.
The bottom line is that, if French leaders wanted Deby out, he'd be out.
Some citizens of Chad hoped they might bring about Deby's downfall like popular movements that ousted presidents in Burkina Faso in 2014, and later in The Gambia, Zimbabwe and even Mali last year. But Deby's oppression has led many viable candidates to pull out of the race. Those who remain are "stooges" who have no chance of winning, Agence France-Presse explained. Dillo is now in hiding.
Is Chad's plight a legacy of imperialism or simple authoritarianism? Most say it's almost certainly both.
WANT TO KNOW
PAKISTAN
Making Friends
Russia and Pakistan pledged to boost bilateral relations following the first state visit by a top Russian official in a decade, signaling a thaw in a long-frosty relationship, Radio Free Europe/Radio Liberty reported Wednesday.
The two nations agreed to strengthen cooperation in the fight against terrorism with Foreign Minister Sergey Lavrov pledging that Russia will provide unspecified military equipment to Pakistan, and cooperate in developing Pakistan's rail and energy sector.
The two countries also approved joint naval and land exercises.
The two-day visit is part of Russia's efforts to increase its influence in the region, particularly in war-torn Afghanistan.
The Kremlin wants to become a key player in establishing peace in Afghanistan as the United States and other Western nations withdraw troops after nearly two decades of conflict.
Last year, the US and the Taliban signed a peace agreement that included the US withdrawing its troops on May 1, 2021. However, President Joe Biden warned that the deadline will be difficult to meet amid slow peace negotiations between the armed group and the Afghan government.
Pakistan's security establishment is seen as close to the Afghan Taliban, which is fighting the central government in Kabul amid stalled intra-Afghan peace talks. The country, long a US ally, is said to wield leverage to influence the militant group's actions.
GREENLAND
Bye, Bye
Greenland's opposition party won early parliamentary elections Tuesday that were closely watched by international mining companies and major world powers, Euronews reported.
Results released on Wednesday showed that the left-wing Inuit Ataqatigiit (IA) party received 37 percent of the votes, while the previous ruling Siumut (Forward) party won 29 percent.
The indigenous IA will now try to form a coalition government – it will need at least 16 of the 31 seats in the Inatsisartut parliament for a majority.
The snap elections come after the previous coalition government of Prime Minister Kim Kielsen collapsed amid an internal power struggle and disputes over international companies mining in Greenland, which dominated most of the campaign.
The IA has maintained a strong environmental focus and has refused to consider a controversial mining project in Kvanefjeld. Supporters of the project say it will bring jobs and strengthen the island's economy.
Greenland has the world's largest undeveloped deposits of rare-earth metals, according to the United States Geological Survey.
Despite having its own government and parliament, Greenland relies on Denmark for defense, foreign and monetary policy. Many countries have expressed interest in the Danish territory, including former President Donald Trump who voiced the idea of purchasing Greenland from Denmark.
The Danish government dismissed the suggestion.
CHINA
#Cancelled
Chinese TV stations have started blurring out Western brand logos appearing in their programs, the latest escalation over China's controversial Xinjiang region, the BBC reported Wednesday.
Multiple stations delayed their broadcasts as a result of the announcement, blurring everything from T-shirts to shoes in support of China's campaign against boycotts of cotton products originating in Xinjiang.
For the past month, Western clothing brands have come under fire in China after they expressed concern over the alleged forced labor of the minority Uighur population in cotton production.
The fight began after the United States and other Western nations condemned China over alleged human rights violations in Xinjiang. The ongoing spat prompted Swedish clothing giant H&M to declare last year that it would stop purchasing cotton from the region, the New York Times reported.
In October, the Better Cotton Initiative (BCI) – a non-profit group promoting sustainable cotton production – said it suspended all activities including licensing cotton in Xinjiang, citing allegations and "increasing risks" of forced labor.
However, China denies any wrongdoing and many brands – including Nike and Adidas, which are part of the BCI – are facing national boycotts: There has been massive online outrage and many celebrities have cut ties with major clothing brands.
Meanwhile, some of the companies' online stores have been blocked.
The recent dispute highlights the difficulties faced by international clothing brands that rely heavily on Chinese materials and factories, the Times said.
DISCOVERIES
There's a Protein for That
A cold treat on a hot summer day can be excruciating for some people.
Known as "ice cream toothache," the condition has puzzled dentists and scientists for years but a new paper has finally found the culprit behind the pain, the Telegraph reported.
In their experiments on mice and humans, scientists studied the cells and signals in sensitive teeth that detect significant temperature drops and trigger subsequent discomfort.
Their findings revealed a TRPC5 protein between the soft inner pulp and the hard outer layer of dentine, where the nerve cells are present.
This "gatekeeper" protein – or ion channel – sends electrical signals to the brain, which causes the excruciating jolts in the tooth, the research team explained.
Researchers noted that people with dental decay are more prone to this agony because the pathway in the tooth is more exposed.
But there's no reason to quit chilled products, the team suggested.
Co-author Katharina Zimmermann said that scientists can develop a "TRPC5 blocker" in the form of toothpaste or chewing gum to halt the pain.
Fans of ice cream can also rely on clove oil, an old home remedy that contains a chemical that blocks the "cold sensor" protein's pathway.
Scientists, on the other hand, suggest it might be better to visit a dentist.
COVID-19 Global Update
More than 180 nations worldwide have confirmed cases of the coronavirus. The following have the highest numbers worldwide as of 4 a.m. ET*:
US: 30,922,759 (+0.25%)
Brazil: 13,193,205 (+0.71%)
India: 12,928,574 (+0.99%)
France: 4,902,985 (+0.02%)
Russia: 4,554,481 (+0.18%)
UK: 4,381,830 (+0.06%)
Italy: 3,700,393 (+0.37%)
Turkey: 3,633,925 (+1.53%)
Spain: 3,326,736 (+0.26%)
Germany: 2,940,271 (+1.04%)
Source: Johns Hopkins University
*Numbers change over 24 hours
Not already a subscriber?
If you would like to receive DailyChatter directly to your inbox each morning, subscribe below with a free two-week trial.
Support journalism that's independent, non-partisan, and fair.
If you are a student or faculty with a valid school email, you can sign up for a FREE student subscription or faculty subscription.
Questions? Write to us at hello@dailychatter.com.