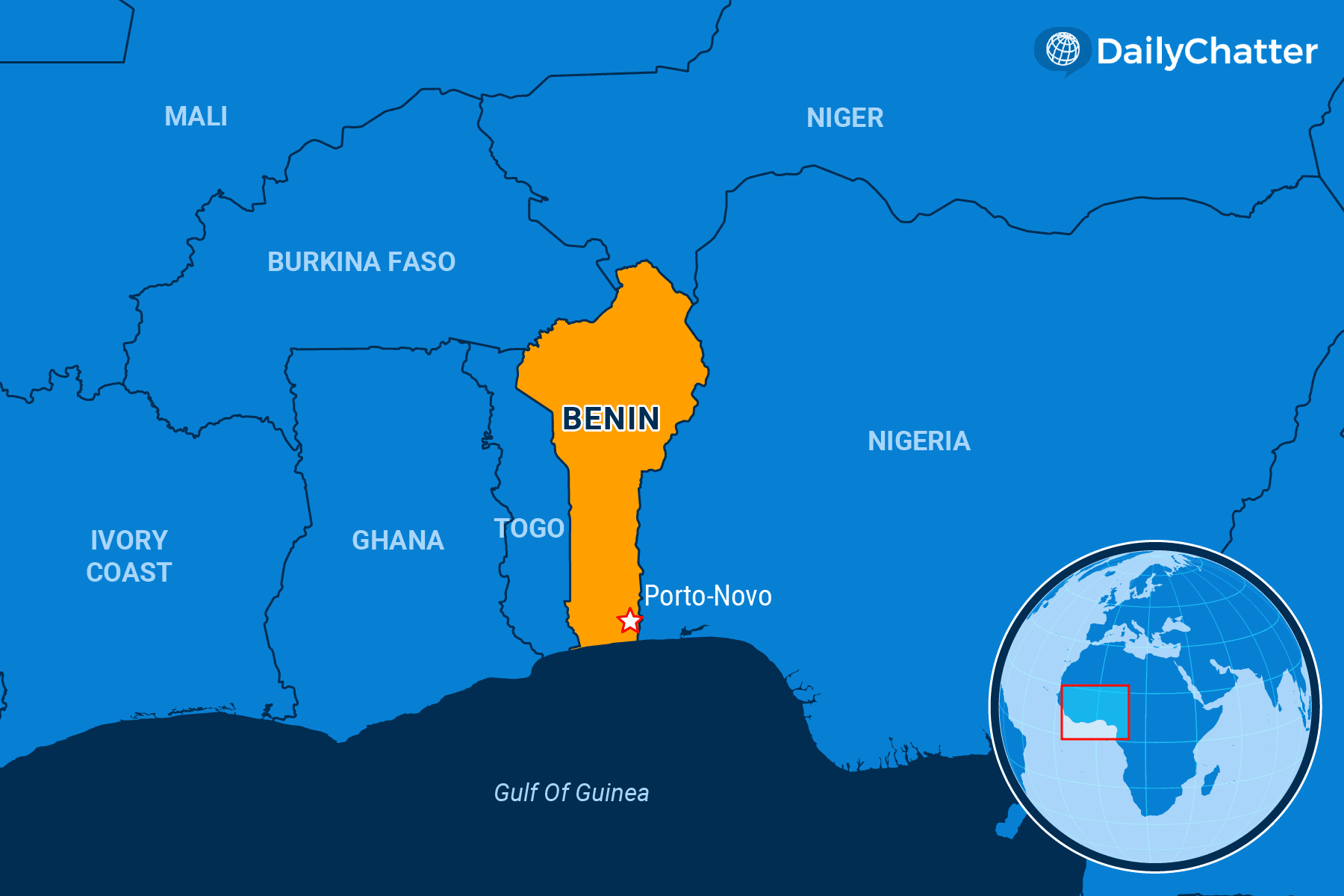 The World Today for March 31, 2021
Listen to Today's Edition
NEED TO KNOW
BENIN
Cotton and the King
Benin had been known as a bastion of democracy in West Africa.
But in 2019, election officials banned political opposition parties from parliamentary elections, sparking protests and a brutal crackdown on demonstrators, journalists and dissidents that Amnesty International at the time warned could undermine the small country's reputation.
Now more troublesome events are occurring in the run-up to presidential elections on April 11.
Police recently arrested Reckya Madougou, the leader of the French-speaking country's largest opposition party, reported Africanews and Agence France-Presse. Madougou was allegedly planning on assassinating other politicians. Election officials had already rejected her candidacy because she didn't garner signatures from 16 mayors or parliamentarians to put her name on the ballot – a rule that International Politics and Society, the magazine of the Friedrich-Ebert-Stiftung, a German think tank, said effectively guaranteed Talon's victory.
Critics charge President Patrice Talon with seeking to transform Benin into an authoritarian state. Madougou is the latest of many opposition leaders who can't run for office or who have fled the country out of fear for their safety. Her campaign has begged for international support.
Writing in an op-ed in South Africa's Mail & Guardian, opposition leader and ex-Beninese Foreign Minister Rogatien Biaou lamented how Talon pledged to serve only one five-year term when he was elected in 2016. He changed his mind, however, leading Biaou to wonder whether Benin might become yet another West African country where leaders or their families stay in power for decades.
Emerging Europe, a news analysis site for businesses, corroborated that theory, noting that Talon was using a similar playbook that Belarusian President Alexander Lukashenko has deployed to retain power in that ex-Soviet republic: concoct reasons to stifle the opposition, allowing only one's allies to run for office and then claim a popular mandate when nearly all the votes go for the incumbent.
Talon happens to be a cotton magnate in a country that produces more cotton than anywhere else in Africa. It makes up a quarter of gross domestic product, employs 70 percent of workers and delivers 75 percent of exports. Talon enjoys the support of the industry, Bloomberg reported. The crop is also an important part of Benin's relationship with China, added Xinhua.
Those in other agricultural sectors – particularly cashew nuts and pineapples – want Talon to give them the public investment and support cotton has received to increase their production, too, wrote the Africa Report.
More exports would help the people of Benin. They might also help Talon keep his grip on power.
WANT TO KNOW
HONG KONG
In Name Only
China's rubber-stamp parliament passed a new election law that will overhaul how Hong Kong lawmakers are chosen and reshape the city's legislative body, a move to further solidify Beijing's power over the semi-autonomous territory, CNN reported Tuesday.
Before the changes, Hong Kong's 70-seat legislature was split between directly elected seats and the so-called functional constituencies, which consist of trade and industry bodies that usually favor allies of Beijing.
Under the new legislation, the lawmaking body will be expanded to 90 seats with 40 of those to be chosen by a newly empowered, mostly government-appointed Election Committee. Functional constituencies will control 30 seats, and the remaining 20 seats will be directly elected by the public.
However, the directly elected candidates will have to secure nominations from each of the five sectors of the Election Committee – which may be nearly impossible except for just a few opposition candidates.
The election bill will alter the Election Committee that chooses Hong Kong's chief executive, expanding its size and abolishing all 117 seats that were held by directly elected district councilors.
Chinese and Hong Kong officials have said that the law is necessary to ensure that "patriots" govern Hong Kong. Meanwhile, the move has been internationally condemned.
The United States called the move an "assault on democracy in Hong Kong." It added that the changes were a direct attack on the "one country, two systems" framework previously agreed to when the city was handed over by Britain to China in 1997.
The electoral overhaul is the latest move by China to assert control on the territory following mass protests in 2019 over Beijing's increasing influence in Hong Kong.
SLOVAKIA
Devil's Pact
Slovakian Prime Minister Igor Matovic resigned Tuesday to end a political crisis triggered by a secret deal to buy Russia's Sputnik V coronavirus vaccine, the Associated Press reported.
The move marks the first collapse of a European Union government due to its handling of the pandemic amid a slow vaccination rollout throughout the bloc.
The crisis began in early March when Matovic organized a secret deal to procure two million doses of the Sputnik V jab, which has not yet been approved for use by the European Medicines Agency. Matovic had said it would speed up the vaccination program in one of the hardest-hit European Union countries.
The move was rejected by some members of his four-party governing coalition, especially those who said it undermined the staunch pro-West stance of the country, which until 1989, was part of the Soviet satellite, Czechoslovakia.
Following the purchase, six ministers resigned in protest and two parties threatened to leave the coalition if the prime minister did not resign, Politico reported.
The new government, however, will still keep the four-party coalition in power, avoiding the possibility of early elections.
Finance minister and deputy prime minister, Eduard Heger, will become the country's new prime minister, while Matovic is expected to assume a post in the new government, according to AP.
ARMENIA
Damned If You Do…
Armenian Prime Minister Nikol Pashinyan will resign next month but remain as the country's interim leader until June 20 parliamentary elections, a move aimed at halting the political crisis that has gripped the country since its war with Azerbaijan, Agence France-Presse reported.
Since November, Armenians have been taking to the streets demanding Pashinyan's resignation after the leader signed a Russian-backed ceasefire agreement that month following a six-week conflict with neighboring Azerbaijan over the disputed territory of Nagorno-Karabakh.
Under the deal, parts of the territory will go to Azerbaijan and Russian peacekeepers will be deployed to regions that had been under the control of ethnic Armenian for nearly three decades.
The deal was considered a national humiliation in Armenia but Pashinyan countered that he was forced to reach an agreement to prevent greater losses by Armenian forces.
The conflict claimed around 6,000 lives on both sides.
A former newspaper editor, Pashinyan came to power spearheading peaceful protests in 2018 and initially brought a wave of optimism to Armenia. However, the Nagorno-Karabakh war severely dented his popularity.
Analysts said that Pashinyan will likely hold his grip on power after the election, even if he has to form a coalition with other parties.
DISCOVERIES
Warning: Zoomies Ahead!
At unexpected moments, cats and dogs can all of a sudden display incredible bursts of energy, running around and being extremely playful.
Pet owners are often confused when they witness this behavior that comes without warning and naturally worry. Not to worry, say scientists, it's perfectly normal.
José Arce of the American Veterinary Association told Live Science that these episodes are known as "zoomies" – or "frenetic random activity periods" (FRAPs) – and are seen in both domesticated and wild animal species.
"They're just having fun," he quipped.
He explained that FRAPs appear at random in animals but certain triggers can make the pooches and kitties overly excited.
Pups tend to be more energetic during the day and sometimes display FRAPs during periods of inactivity: For example, when the owner comes home after work, the canines get excited and run around for a short burst of exercise after having taken a long nap.
Cats, on the other hand, are more active during the night and start zooming around after grooming and using the litter box.
FRAPs have also been observed in wild ferrets and elephants.
Rabbit zoomies – or "binkies" – show the cute animal hopping cheerfully in the air.
Arce said that concerned owners shouldn't mistake their pets' frenetic behavior for obsessive-compulsive disorder.
Nevertheless, if they want to be sure, they can simply record the animal's behavior and check with a vet.
COVID-19 Global Update
More than 180 nations worldwide have confirmed cases of the coronavirus. The following have the highest numbers worldwide as of 4 a.m. ET*:
US: 30,393,702 (+0.20%)
Brazil: 12,658,109 (+0.67%)
India: 12,149,335 (+0.44%)
France: 4,646,014 (+0.67%)
Russia: 4,486,078 (+0.18%)
UK: 4,355,867 (+0.09%)
Italy: 3,561,012 (+0.45%)
Turkey: 3,277,880 (+1.15%)
Spain: 3,275,819 (+0.15%)
Germany: 2,818,630 (+0.85%)
Source: Johns Hopkins University
*Numbers change over 24 hours
Not already a subscriber?
If you would like to receive DailyChatter directly to your inbox each morning, subscribe below with a free two-week trial.
Support journalism that's independent, non-partisan, and fair.
If you are a student or faculty with a valid school email, you can sign up for a FREE student subscription or faculty subscription.
Questions? Write to us at hello@dailychatter.com.