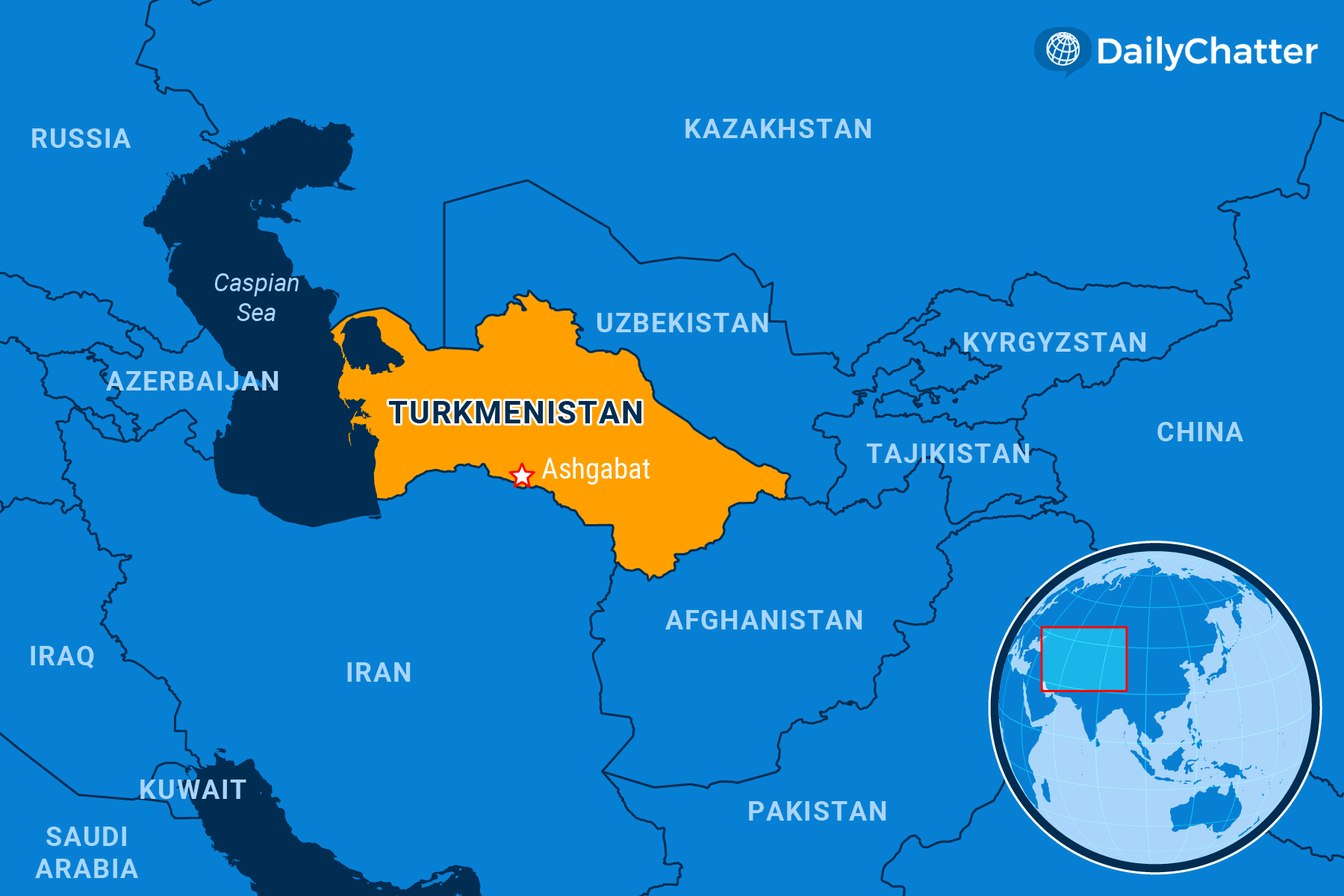 The World Today for March 24, 2021
Listen to Today's Edition
NEED TO KNOW
TURKMENISTAN
Of Golden Princes and Golden Dogs
Turkmenistan is culling stray dogs and cats, and sometimes pets, too, in a campaign to clean up the streets of the capital, Ashgabat.
Even so, President Gurbanguly Berdymukhamedov, 63, declared that the last Sunday in April would from now on be designated as Alabai Dog Day in the Central Asian ex-Soviet republic, to honor the beloved Central Asian Shephard. The president's son, Serdar Berdymukhamedov, is running the festivities as head of the International Alabai Association.
Gurbanguly Berdymukhamedov has been in power since 2006. His son is being groomed as his successor. Serdar Berdymukhamedov will oversee a canine beauty pageant and agility contests, reported Radio Free Europe. Events like these are nothing new in this country. Even so, some critics say the money for such pet projects could help the millions of Turkmen who live in poverty – a better use than the golden statue of an Alabai dog that graces central Ashgabat.
Critics of the president and his Alabai-loving son dare not speak publicly, however, because Turkmenistan is a totalitarian state that Freedom House lists as one of the most un-free on the planet, with little government respect for basic human rights. In that vein, upcoming parliamentary elections on March 28 will certainly not be free nor fair.
For example, Gurbanguly Berdymukhamedov blocked broadcaster Euronews following a report about Soltan Achilova, a 72-year-old civil-rights activist and journalist who has reported on repression in the country and been the victim of much harassment, the Vienna-based Chronicles of Turkmenistan reported. Agence France-Presse explained how Achilova writes stories from within Turkmenistan for foreign outlets. She's been repeatedly physically assaulted over the years.
In a roundup that focused mostly on human rights, Eurasianet noted that Turkmenistan runs a Soviet-style quota economy but has been dabbling in privatization to raise incomes and standards of living – including putting an end to food shortages – while generating foreign cash.
Selling off state assets to private companies – a common way for oligarchs and organized crime networks to obtain property and influence in former communist countries – will likely result in boondoggles, wrote bne Intellinews.
One can expect particularly close trade ties in the future between Turkmenistan and Turkey.
Both leaders recently pledged to cooperate more closely. That's in addition to strong ties with Russia, particularly regarding vaccines for Covid-19, as Nikkei Asia reported, and China, which has extended significant loans to the country.
Interestingly, Serdar Berdymukhamedov has been given responsibility for adopting new digital systems and innovative technologies in government agencies, suggesting he will handle those privatization deals – and the graft opportunities that come with them.
It's good to be the prince.
WANT TO KNOW
ISRAEL
Groundhog Day
Israeli Prime Minister Benjamin Netanyahu's Likud party won the most seats in Tuesday's parliamentary elections, according to exit polls, but not enough to easily secure his 6th term or necessarily quash the political gridlock of the past two years, the Associated Press reported
Polls showed that Netanyahu's rightwing coalition is expected to secure about 53 seats in the 120-member parliament. His opponents are projected to win 59.
As a result, Likud supporters are eying a coalition with the Yamina party of former defense minister and former Netanyahu ally, Naftali Bennet, projected to win about eight seats.
If the results are in line with the exit polls, both Netanyahu and his opponents are expected to court Bennet to secure at least 61 seats in parliament.
While Bennet shares Netanyahu's hardline nationalist ideology, he has signaled he would be open to cooperating with his rivals if given the chance to be prime minister.
The election – the fourth in two years – is widely seen as a referendum on Netanyahu's divisive rule. The embattled leader is currently on trial on charges of bribery, fraud and breach of trust in three separate cases.
If Netanyahu wins, he could form the most religious and conservative coalition government in Israel's history and potentially take steps to undermine his corruption trial, according to Axios.
Since 2019, Israel has been in a deep political crisis following three inconclusive elections that have failed to produce a clear majority for any of its parties and have led to the collapse of multiple coalition governments following internal disputes.
UNITED KINGDOM
Cracking Down on Crackdowns
Violent clashes between police and protesters gripped the British city of Bristol this week over a police bill that gives authorities more power to crack down on protests, the Independent reported.
At least seven people were arrested and more than 20 officers were injured during the Bristol clash. Police said many more will be detained in the coming days: On Tuesday, authorities released images of 10 suspects they are hunting in connection with the clashes, the Evening Standard reported.
Peaceful mass demonstrations erupted across Britain over the weekend under the banner "Kill the Bill" to protest the new "draconian" Police, Crime, Sentencing and Courts Bill.
The measure would give police officers in England and Wales far more control over non-violent protests, including the power to dictate start and end times for the demonstrations and shut down those considered too noisy.
Critics of the bill say it's an attack on civil rights by giving police the authority to arrest protestors on flimsy charges.
Those convicted under the proposed legislation could face a fine of more than $3,000 or imprisonment.
The bill also would protect statues, with those found guilty of damaging monuments potentially liable to be sentenced to up to 10 years in prison. This provision is addressing vandalism by Black Lives Matter protesters last year against statues of historical figures involved in colonialism and sometimes slavery.
The draft law was approved in parliament by almost every member of the ruling Conservative party but others including Labour and Green party lawmakers called it "a Tory-led coup without guns."
Meanwhile, fresh protests over the bill are expected later this week.
BANGLADESH
Nowhere To Rest
A devastating fire ripped through a large Rohingya refugee camp in southern Bangladesh killing at least 15 and leaving tens of thousands of stateless refugees homeless, the Washington Post reported Tuesday.
The blaze destroyed at least 10,000 shelters at the Balukhali camp in Cox's Bazar, United Nations officials said. They added that more than 550 people were injured and 400 remain missing.
The cause of the fire is still unknown.
Cox's Bazaar is home to nearly one million Muslim Rohingya who fled neighboring Myanmar after the military moved to raze their villages in a crackdown on militants within the community in Rakhine state in 2017.
The UN has described the situation as "ethnic cleansing" and Myanmar has been accused of genocide under international law.
The fire broke out even as Bangladeshi authorities are trying to relocate refugees. Last year, Bangladesh began an ambitious plan to move hundreds to the Bhasan Char island, miles off the coast of the mainland.
Human rights organizations have criticized the move, saying that the island is at risk for flooding and submersion during the monsoon season. They also question whether the refugees have consented to the move.
DISCOVERIES
Tears of Joy
Dutch researchers recently used stem cells to develop tiny tear glands that shed actual tears, CNET reported.
The lab-grown organoids are made up of ductal cells taken from the tear gland tissue located inside the upper eyelid.
The team explained in their study that the organoid produces tears in response to chemical stimuli such as noradrenaline, a neurotransmitter that transmits messages from the neurons to the glands.
Tear – or lacrimal – glands are extremely important for eye health: They help ward off bacteria while keeping the cornea lubricated.
Researchers hope that these petri dish organoids can serve as models to study the more complex human tear glands, and help researchers find better treatments for dry eye disease and cancers of the lacrimal gland.
But unlike the lab-grown ones, human glands are made up of different kinds of cells and the organoid can't be applied to humans just yet.
"Hopefully in the future, this type of organoid may even be transplantable to patients with nonfunctioning tear glands," said co-author Marie Bannier-Hélaouët.
They may soon be able to help people bawl their eyes out.
COVID-19 Global Update
More than 180 nations worldwide have confirmed cases of the coronavirus. The following have the highest numbers worldwide as of 4 a.m. ET*:
US: 29,922,391 (+0.18%)
Brazil: 12,130,019 (+0.68%)
India: 11,734,058 (+0.40%)
Russia: 4,424,595 (+0.00%)**
France: 4,373,607 (+0.34%)
UK: 4,321,019 (+0.13%)
Italy: 3,419,616 (+0.87%)
Spain: 3,234,319 (+0.17%)
Turkey: 3,061,520 (+0.86%)
Germany: 2,699,231 (+0.73%)
Source: Johns Hopkins University
*Numbers change over 24 hours
**Numbers have been adjusted by affected country
Not already a subscriber?
If you would like to receive DailyChatter directly to your inbox each morning, subscribe below with a free two-week trial.
Support journalism that's independent, non-partisan, and fair.
If you are a student or faculty with a valid school email, you can sign up for a FREE student subscription or faculty subscription.
Questions? Write to us at hello@dailychatter.com.