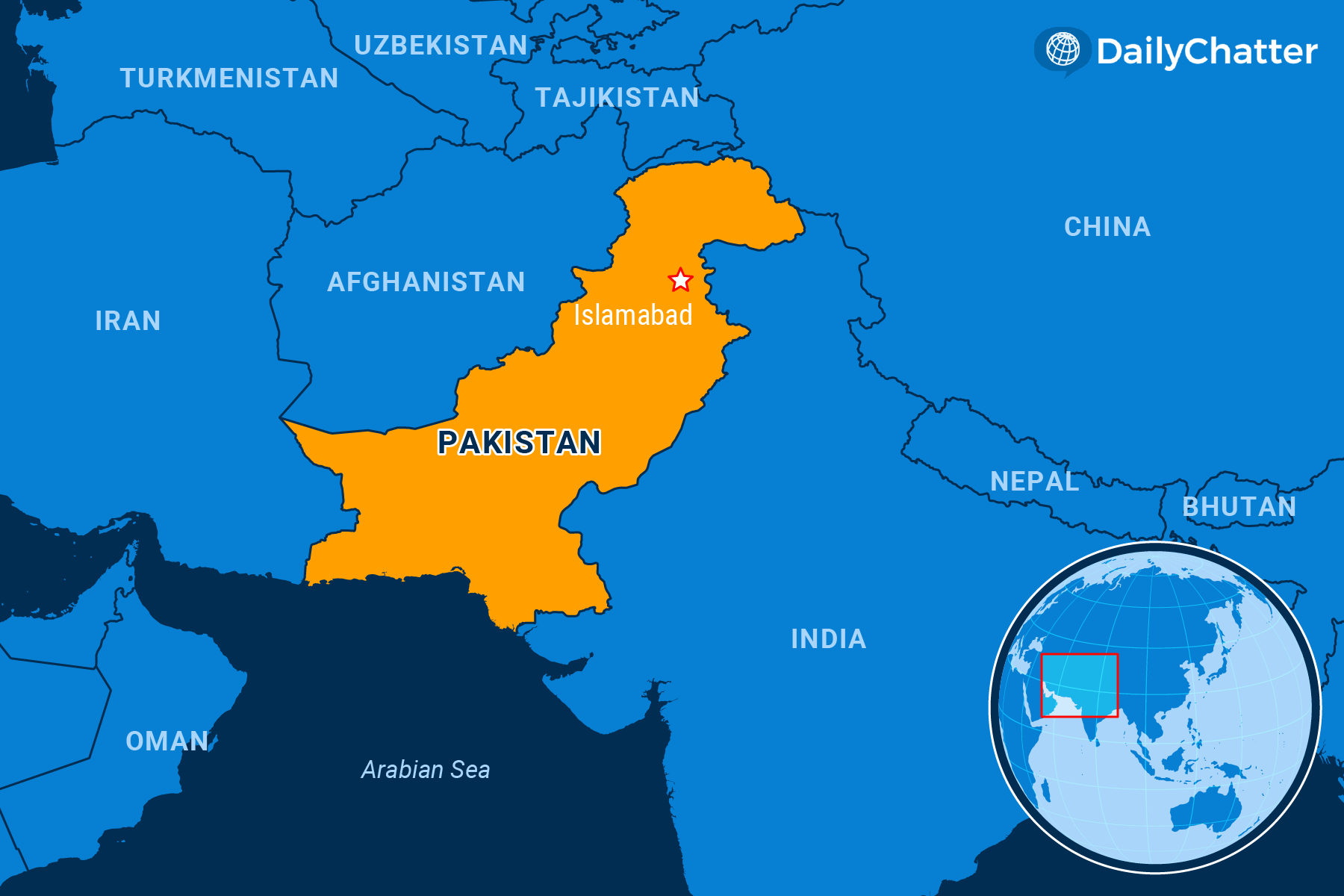 The World Today for February 15, 2021
Listen to Today's Edition
NEED TO KNOW
PAKISTAN
Vaccination Games
Around the world, covid-skepticism has become a thing – leading to millions saying they will shun the vaccine.
In Pakistan that stance has a special twist.
Many Pakistanis are skeptical of vaccinations because of a fake inoculation program that the CIA used to collect DNA evidence to find al Qaeda terrorist Osama bin Laden, whom American forces eventually tracked down in the Pakistani city of Abbottabad. As Vox wrote, local leaders, including Pakistani Taliban militants, banned vaccinations in their regions.
In 2014, the White House announced that the CIA would not use a vaccination program again, wrote the Lancet, a top British medical journal.
Today, however, the skepticism lingers, creating challenges for Pakistani leaders looking to protect the world's fifth-most populous country from COVID-19. They are under intense pressure because, while the pandemic has not hit Pakistan as hard as other countries, its health care system is still overloaded.
"We are full, we have patients waiting, we have families who are suffering, we have patients at home, sick patients at home, patients who are on oxygen, we just don't have space in hospitals," Dr. Nashwa Ahmad told CNN.
Pakistani leaders want to vaccinate more than 70 percent of their 220 million citizens against COVID-19 for free in the coming months. But almost half of Pakistanis don't want to receive a coronavirus vaccine, a Gallup Poll found.
Many Pakistanis are also reluctant to take Western-made vaccinations. Along with the fear of CIA plots are other conspiracy theories that suggest vaccines were designed to sterilize Muslims or that Microsoft founder and philanthropist Bill Gates is using COVID-19 to insert "chips" into people.
Some don't want anyone to receive any other vaccines either. A gunman shot and killed a police officer escorting polio vaccinators in northern Pakistan last month, for example, reported Dawn, a Pakistani English-language news outlet.
Elites who want to receive vaccines, meanwhile, have the resources to skip lines and obtain them before everyone else, National Public Radio noted.
The country is importing vaccines from China as well as the British–Swedish multinational pharmaceutical company AstraZeneca to meet its demand, Reuters wrote. Its regulators plan to approve the Russian vaccine soon, Bloomberg added. It's not yet clear if Pakistan will order vaccines from India, a regional rival that produces 60 percent of the world's vaccine supply, the BBC reported.
Still, thousands of Pakistanis have volunteered to participate in vaccine trials that are preceding a vaccine rollout slated for March. "I was aware of people talking about conspiracies, about some chip being inserted into the body, about birth control," an unnamed Pakistani told the Washington Post. "Some in my family told me not to do it, but I didn't care."
His courage might save the lives of others someday.
WANT TO KNOW
YEMEN
Unlabeled
The United States revoked the terrorist designation of Houthi rebels in Yemen over the weekend, a week after the new Joe Biden administration said it would halt military operations in the country, United Press International reported.
Former President Donald Trump designated the Iran-backed group as a terrorist organization just before Biden took office, a move that received criticism from aid organizations.
The United Nations and other humanitarian organizations had warned that labeling and sanctioning the rebels could prevent civilians from accessing basic needs such as food and fuel, according to Voice of America.
UN officials praised the decision to revoke the designation and expressed optimism that a new nationwide cease-fire with the rebels could be reached in the future.
Since 2014, the Houthis – officially known as Ansarallah – have been locked in a civil war with the Saudi-backed government of President Abed Rabbo Mansour Hadi. Biden withdrew the support the US had been providing to a coalition led by Saudi Arabia on Feb. 4.
The conflict has resulted in what has been described as the world's "worst humanitarian crisis." About 24 million of the country's 30 million people are in need of some form of humanitarian aid, according to the UN.
ITALY
Broad Support
Former European Central Bank head, Mario Draghi, was sworn in as Italy's new prime minister Saturday, ending the weekslong political crisis in the country following the resignation of his predecessor Giuseppe Conte, NPR reported.
Draghi, who has been credited with saving the euro currency, will be tasked with navigating the country through the twin crises of the coronavirus pandemic and a crumbling economy.
One of his primary tasks will be to create a spending plan for the European Union's coronavirus recovery fund. The previous coalition government collapsed over disputes regarding how Conte was going to spend the nearly $240 billion package.
Italy's new leader received backing from nearly all of Italy's political parties, including the anti-establishment Five Star Movement, which is the largest group in parliament.
His new 23-member cabinet will include eight technocrats, while the rest of the posts will go to parties ranging from center-left to far-right populist.
Draghi still faces confidence votes in parliament next week. He is expected to net the biggest majority in Italian history.
CHINA
Of Cooperation and Transparency
A diplomatic row broke out on Sunday between the United States and China over the World Health Organization's fact-finding mission into the origins of the coronavirus pandemic, NBC News reported.
China accused the US of damaging international cooperation on the pandemic and having "severely undermined multilateral institutions, including the WHO," referring to former President Donald Trump's decision to withdraw from the health agency in July.
The decision has been reversed by the new Joe Biden administration.
The dispute began less than a day after the US and Britain expressed "deep concerns" about the way the findings of the WHO's investigation were communicated.
WHO investigators conducted a four-week probe in China earlier this year, but the investigation was plagued by delays and concerns over access to data.
Investigator Dominic Dwyer told Reuters that he and his team had requested raw patient data on 174 cases that China had identified from the early phase of the outbreak in Wuhan.
China, however, only provided a summary of the data, which led to speculation that the investigators had been denied some of the details.
The WHO's full investigation report will be published in the coming weeks, according to the health agency.
DISCOVERIES
Guts of History
Neanderthals are extinct but part of them still lives on in the modern human species – and it's not just their DNA.
A thorough study of Neanderthal feces showed that Homo sapiens and their extinct relatives have been sharing some of the same gut bacteria for hundreds of thousands of years, according to Cosmos magazine.
Scientists came across the 50,000-year-old fecal matter – the oldest ever found – in a site called El Salt in Spain, which was occupied by various species of ancient humans for thousands of years.
In their study, the research team analyzed the DNA of the Neanderthal microbes and then compared them with those of modern people.
It turned out that our species shared a lot of microorganisms, including many well-known bacteria such as Blautia, Dorea and Roseburia.
"These ancient microorganisms populated the intestine of our species before the separation between Sapiens and Neanderthals, which occurred about 700,000 years ago," explained co-author Silvia Turroni.
Gut bacteria have an important role in the human body, helping to regulate our metabolism and immune system.
Previous research has shown that eating processed food and drug use has reduced the biodiversity in the intestines of 21st-century humans.
The team hopes their findings will help create special diets and lifestyles to ensure a thriving and diverse community in our guts.
COVID-19 Global Update
More than 180 nations worldwide have confirmed cases of the coronavirus. The following have the highest numbers worldwide as of 4 a.m. ET*:
US: 27,640,291 (+0.23%)
India: 10,916,589 (+0.11%)
Brazil: 9,834,513 (+0.25%)
UK: 4,049,920 (+0.27%)
Russia: 4,026,506 (+0.00%)**
France: 3,467,884 (+0.02%)
Spain: 3,056,035 (+0.00%)**
Italy: 2,721,879 (+0.41%)
Turkey: 2,586,183 (+0.24%)
Germany: 2,342,744 (+0.05%)
Source: Johns Hopkins University
*Numbers change over 24 hours
**Numbers have been adjusted by affected country
Not already a subscriber?
If you would like to receive DailyChatter directly to your inbox each morning, subscribe below with a free two-week trial.
Support journalism that's independent, non-partisan, and fair.
If you are a student or faculty with a valid school email, you can sign up for a FREE student subscription or faculty subscription.
Questions? Write to us at hello@dailychatter.com.