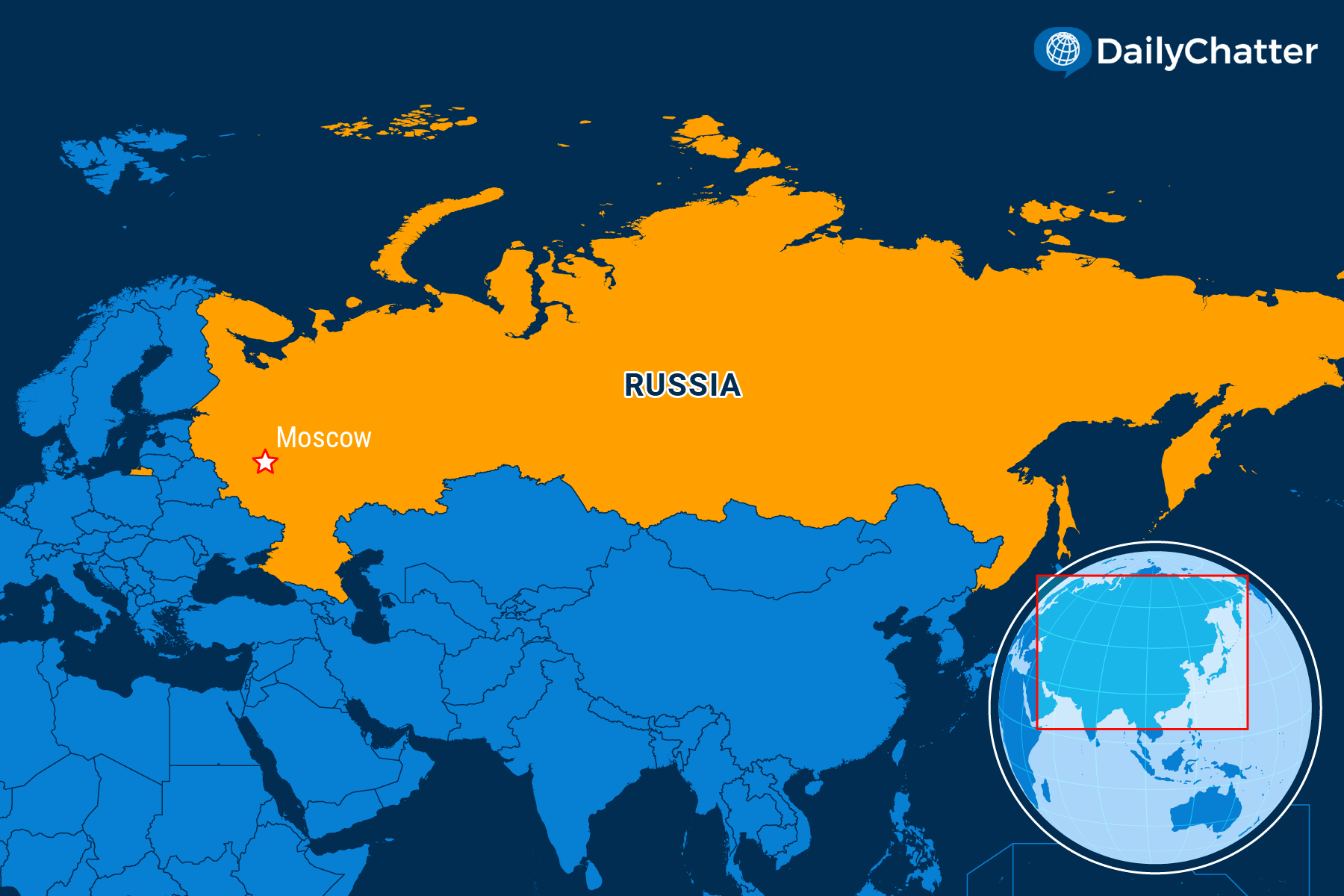 The World Today for February 09, 2021
Listen to Today's Edition
NEED TO KNOW
RUSSIA
The Palace and the Underpants
Alexei Navalny directed some rather unkind words toward Russian President Vladimir Putin before a Moscow court sentenced him to more than two years in prison.
"He'll go down in history as nothing but a poisoner," Navalny told a Moscow court last week, according to a New York Times translation of his speech. "He's busy holding meetings where he decides how to steal opponents' underpants and smear them with chemical weapons."
The court ruled that Navalny was guilty of violating probation while he was in Berlin, Germany, recovering from a near-fatal dose of Novichok, a nerve agent that he believes he was poisoned with because he has become the face of the opposition against the Russian president, CNN explained. The poison was found in Navalny's underwear. Russian officials have denied the accusation.
His probation stemmed from a 2014 case where he was given a suspended sentence for embezzling $500,000 from a Russian company. He claims the charges were politically motivated.
There is no doubt that Navalny is a thorn in Putin's side. Recently, the dissident and his followers released a video showcasing "Putin's Palace," a $1.3 billion Black Sea estate that includes an 18,000-square-foot mansion with a private casino, hookah bar, a vineyard and other attractions, Washington Post columnist David Ignatius wrote. The video has been watched more than 100 million times.
One of Putin's childhood friends, who now also happens to be one of the wealthiest men in Russia, has since claimed that he owns the resort, noted Radio Free Europe.
Protests erupted after Navalny's sentencing. Russian police arrested 1,400 protesters, reported Deutsche Welle. Security forces shot down flying drones at the rally that were recording the large anti-Putin crowds. Those arrests are among 10,000 made since Navalny returned to Russia from Germany a few weeks ago.
The sentencing was important because it shows that Putin will not brook any dissent or substantive political challenges, and observers say the president is cracking down unusually hard. "(The Kremlin) wants to send a message and the system must produce that message," an unnamed European diplomat in Moscow told the Financial Times. "The verdict was the only verdict allowed."
But Putin's alleged failed assassination attempt and legal crackdown appears to be backfiring, the New Yorker said. Navalny has become a hero to many Russians and a rallying point for Western leaders who want to support someone who might divert Putin's attention or at least serve as an example of Russia's corrupt judicial system.
Putin's position is secure, Slate believes. But little movements have room to grow.
WANT TO KNOW
ISRAEL
Take Four
Israeli Prime Minister Benjamin Netanyahu pled not guilty to corruption charges during a court appearance Monday, part of a trial that comes just ahead of the country's fourth elections in two years, the BBC reported.
Netanyahu pled not guilty to charges of bribery, fraud and breach of trust in three separate cases, marking the first time a serving Israeli prime minister has gone on trial.
He says the charges are part of a "witch-hunt" by his political opponents and has vowed to clear his name.
Hundreds of protesters gathered in front of the court to demand Netanyahu's resignation, while his political opponents say he is not fit to hold office.
Netanyahu has served as prime minister since 2009 and in the past two years has managed to hold onto power through three deadlocked elections, the Associated Press reported.
The upcoming elections were triggered after his shaky ruling coalition collapsed in December, with analysts saying that the new polls will be a major battle for the leader.
Under Israeli law, Israel's highest leader is not forced to resign if charged with a crime.
If Netanyahu wins and is convicted later, he won't be required to resign until all appeals are exhausted – which could take years.
HAITI
Bold Move
Haitian authorities arrested 23 people earlier this week accused of plotting to overthrow and kill President Jovenel Moise, a move some say is part of another crackdown against the president's opponents, Miami Herald reported Monday.
Officials said the group – which included a former presidential candidate and a Supreme Court justice – planned to infiltrate the president's office and install Supreme Court judge, Yvcikel Dabresil, as the country's new leader.
The arrests come after months of rising tensions between Moise and the opposition over his expiring presidential term: The opposition says Moise's term ended Sunday and criticized the detention as an attempt to curb dissent.
Moise, however, maintains that he has another year in office, a position backed by the UN and the Biden administration even as some US officials want him to resign to make way for a transitional government. On Sunday, Moise denied accusations that he is an autocratic leader despite ruling by decree since last year after dismissing most of the legislature.
Pierre Esperance, executive director of the National Human Rights Defense Network, told the newspaper that the State Department's approval had emboldened Moïse.
"The presidential term of Jovenel finished at midnight and the executive is using the police to do set-ups, to do repression and arrest people," Esperance said. "He feels… comfortable after the declaration of the State Department…(and this led him to) …making the arrests."
NEPAL
Pretenders
Nepal is seeking to ban two Indian mountaineers this month who were the latest climbers to fake their summit of Mount Everest, the New York Times reported.
Authorities launched an investigation against climbers Narender Singh Yadav and Seema Rani Goswami, who say they reached the top of the world in 2016.
The couple initially had provided photographic evidence of their achievement, which earned them a Nepalese certificate confirming their climb of the world's highest peak. However, veteran mountaineers and local Sherpas questioned the authenticity of the photos.
Officials concluded that the images were doctored and decided to strip their names from the list of climbers that have scaled Everest.
Nepal, a country that thrives from tourists and mountaineers wanting to scale Everest, has been struggling to root out bogus summiteers even as the number of fraudsters has sharply increased over the past decade. Indians, especially, make these fake claims because successful summiteers are often given national awards, promotions and other benefits.
Meanwhile, in recent years, Nepal has issued more Everest permits than ever, sometimes leading to a dangerous traffic jam on the top of the world.
DISCOVERIES
Flying Pumpkins
Bats usually sport dark colors – even so, out of the 1,400 species worldwide, a few fly brighter – orange, to be exact.
A research team saw that first hand after they stumbled across a new species of pumpkin-colored bats in the Nimba Mountains in Guinea in West Africa, Smithsonian Magazine reported.
In 2018, researcher Jon Flanders and his colleagues had set up a net in the abandoned mineshafts inside the mountains to capture and study another bat species, the endangered Lamotte's roundleaf bat.
But among the dark-furred mammals, their net also caught a brightly colored flyer that had never been documented before.
At first, the researchers noted that the peculiar bat, a male, didn't match the other similar-looking species. They kept digging.
They later caught another female bat and conducted a thorough investigation to see if the orange animals resembled any other night flyers physically or genetically.
They eventually learned that the newly found Myotis nimbaenis species differs from its closest-related species by at least five percent, according to their study.
Flanders noted that the bat could be an endangered species because it lives in an isolated habitat.
"The more we know about it, the more we'll know how to protect it as well," he told the New York Times.
COVID-19 Global Update
More than 180 nations worldwide have confirmed cases of the coronavirus. The following have the highest numbers worldwide as of 4 a.m. ET*:
US: 27,097,106 (+0.33%)
India: 10,847,304 (+0.08%)
Brazil: 9,524,640 (+0.00%)**
UK: 3,971,315 (+0.36%)
Russia: 3,953,970 (+0.38%)
France: 3,400,324 (+0.13%)
Spain: 2,989,085 (+1.60%)
Italy: 2,644,707 (+0.30%)
Turkey: 2,539,559 (+0.32%)
Germany: 2,296,400 (+0.18%)
Source: Johns Hopkins University
*Numbers change over 24 hours
**Numbers have been adjusted by affected country
Not already a subscriber?
If you would like to receive DailyChatter directly to your inbox each morning, subscribe below with a free two-week trial.
Support journalism that's independent, non-partisan, and fair.
If you are a student or faculty with a valid school email, you can sign up for a FREE student subscription or faculty subscription.
Questions? Write to us at hello@dailychatter.com.