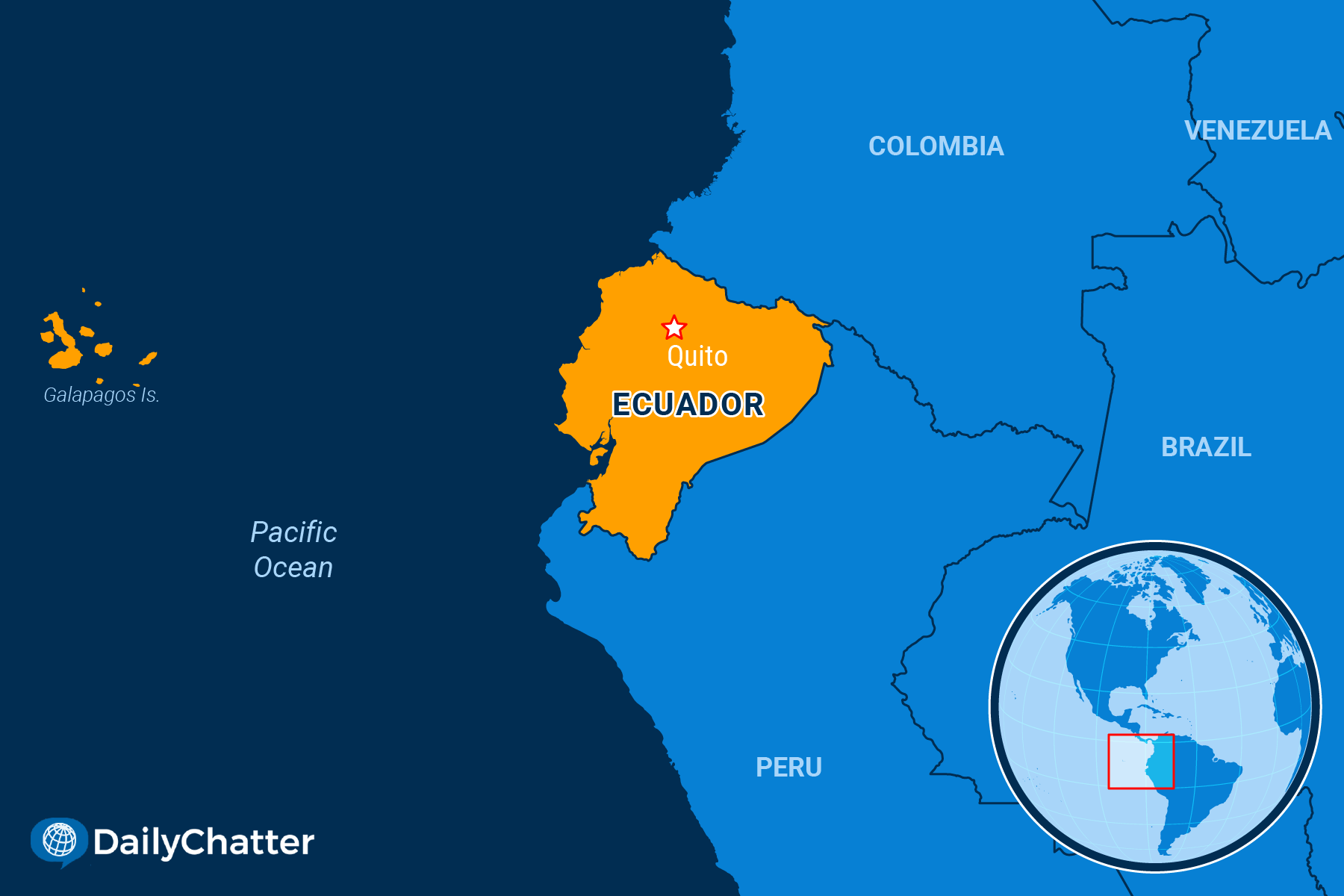 The World Today for February 03, 2021
Listen to Today's Edition
NEED TO KNOW
ECUADOR
Rescue Us
Ecuadorans hope whoever wins their upcoming presidential election will throw them a lifeline.
That's because in 2020, Ecuador's economy shrunk by 11 percent, wrote Bloomberg. Covid-19 and lockdowns were mostly to blame for the pain. But policy was also a culprit.
In September, current President Lenín Moreno secured a $6.5 billion loan from the International Monetary Fund (IMF) after slashing $4 billion in public spending, cutting government services, closing state-owned companies, decreasing military spending as well as selectively defaulting on and restructuring debt, the Americas Society/Council of the Americas explained.
As a result, left-wing economist Andres Arauz, who is 35, is currently ahead in the polls ahead of elections on Feb. 7, according to Reuters. He has pledged to reject the IMF's austerity plan, boost government spending and giving $1,000 checks to millions of families struggling to make ends meet.
Arauz is running as an ally of former President Rafael Correa, a popular left-wing ex-president who left office in 2017. A court found Correa guilty on corruption charges in absentia, however, forcing him to go into exile in Belgium, as Agence France-Presse explained. Correa maintains that the charges were false and politically motivated.
While he may lead, Arauz might not win outright in the Feb. 7 vote, necessitating a runoff between the top two candidates on April 11.
His primary rival is conservative banker Guillermo Lasso, who has pledged to increase oil production and attract more investment. Lasso is running for president for a third time. His name recognition could help him attract the anti-Arauz-Correa vote, Americas Quarterly wrote.
In distant third place is indigenous rights activist Yaku Perez. He wants to ban mining and limit the oil production that has polluted the South American's country's Amazonian jungle. Moreno is not running for reelection.
Oil has always been central to Ecuador's economy and politics. A remarkable story in the Intercept that described the fate of an American lawyer who successfully sued Chevron for its activities in Ecuador illustrates the connection between the two.
Now, however, oil is poised to play an even more crucial role in the country. Recently, leaders in the capital of Quito withdrew from OPEC – they did so to avoid the group's production caps in anticipation of more pumping to pay for more government spending to rescue the economy, wrote OilPrice.com. Part of that plan could involve a deal with the US that would privatize Ecuador's oil industry and ban Chinese influence therein, argued the Hill.
Whether or not more oil will help is an open question. European banks, for instance, recently announced they would pull out of the Ecuadoran oil market because of its environmental impact on the rainforest, the Wall Street Journal reported.  At the same time, Ecuadorean bonds tumbled this month because of fiery rhetoric from Arauz, Reuters noted.
What's clear is that that many hope for a return to the not-so-distant past, a time before Covid-19, before economic collapse, before hardship, and are looking to Arauz to provide that. But no matter who wins, say observers, those good times are gone, at least for long while.
WANT TO KNOW
EUROPEAN UNION
Stormy Weather
The Eurozone's economy contracted by nearly seven percent in 2020 due to the coronavirus pandemic, Europe's statistics agency said Tuesday.
Eurostat said that the region's gross domestic product had dropped by 0.7 percent in the final quarter of last year, when many countries began imposing new restrictions as the number of confirmed cases increased, CNBC reported.
The figures mark a significant contraction for the bloc's economy after it had experienced a growth rate of 12.4 percent in the third quarter as low infection rates at the time allowed governments to partially reopen their economies.
The European Union experienced a sharp spike in infections in the final months of 2020 and at the start of the new year. As a result, many EU nations have extended or reintroduced lockdowns, a move that will severely affect the bloc's economic performance.
The bloc is also facing a slow and bumpy vaccine rollout with economists worrying that it will delay the region's much-needed economic recovery.
Last week, the International Monetary Fund cut its GDP forecasts for the Eurozone this year by one percentage point to 4.2 percent.
BRAZIL
A Pat on the Back
Brazilian President Jair Bolsonaro secured a victory after two candidates he supported will preside over Brazil's bicameral legislature, Bloomberg reported Tuesday.
Congressmen Arthur Lira and Rodrigo Pachecho were elected – respectively – as the leaders of the lower house and the senate, a move that will facilitate Bolsonaro's efforts to push forward his reform agenda while also blocking any impeachment attempts.
Both leaders have rejected calls to impeach the president over his poor handling of the coronavirus pandemic: Brazil is one of the hardest-hit nations in the world with more than nine million confirmed cases and 225,000 deaths.
Lira and Pacheco also said they would consider approving new measures to help the poor during the pandemic: That will increase public spending just as the country posted its largest budget deficit ever last year.
Analysts noted that their election marks a victory for the embattled Bolsonaro, who suffered a major setback when candidates he backed performed poorly in municipal elections last year.
IRAN
Poking the Bear
Iran tested a new rocket this week that could be used in its missile programs, a move aimed at raising the stakes for the new US president, Joe Biden, ahead of potential negotiations over a new nuclear deal, the Wall Street Journal reported.
The new rocket, Zuljanah, features a solid-fuel-propelled motor – the largest yet exhibited by Iran, which is also a major component used in developing intercontinental ballistic missiles.
The Zuljanah was developed under a government-run program to send civilian satellites into orbit 310 miles above ground, with officials stressing that Monday's rocket launch was developed for civilian use.
Analyst Fabian Hinz, however, said that the motor could be used for military application. He added that Iran is trying to gain leverage and discourage any US attempts to curtail its conventional-missile program until negotiations start.
Iran has been slowly breaching key provisions of the nuclear accord over the past 18 months, as it sought relief from US sanctions: These were reimposed by former President Donald Trump in 2018 after he withdrew the US from the 2015 nuclear deal.
DISCOVERIES
Tooting One's Horn
The art of seduction among male tree crickets involves making very loud mating calls to attract potential females.
Unfortunately, that's not an easy feat for some of the smaller, more soft-spoken crickets.
Still, these insects have figured out an ingenious way to stand out against their louder competitors: Scientists discovered that the small insects create tiny megaphones made of leaves to boost their mating calls, according to Mic.
In their study, scientists observed tree crickets of Oecanthus henryi species chewing a hole in the middle of a leaf. Afterward, they would plug themselves into the self-made amplifier and would whip out their amplified tunes in the hopes of capturing the interest of females.
Researchers said that quiet bugs would normally produce a measly sound of about 60 decibels, which is comparable to the volume of a normal conversation. But with the megaphone, they blared out more than 70 decibels, about the same level as heavy traffic or a noisy vacuum cleaner.
Known as "baffling," scientists have observed this technique since the 1970s but only recently determined its purpose.
The team noted that baffling doesn't always even the playing field since females still preferred big and loud crickets.
Still, it did give an advantage to the underdogs and underscored how sometimes, as the adage goes, size doesn't matter.
COVID-19 Global Update
More than 180 nations worldwide have confirmed cases of the coronavirus. The following have the highest numbers worldwide as of 4 a.m. ET*:
US: 26,435,563 (+0.43%)
India: 10,777,284 (+0.10%)
Brazil: 9,283,418 (+0.59%)
UK: 3,863,757 (+0.44%)
Russia: 3,842,145 (+0.43%)
France: 3,283,645 (+0.72%)
Spain: 2,851,869 (+1.03%)
Italy: 2,570,608 (+0.38%)
Turkey: 2,492,977 (+0.31%)
Germany: 2,240,118 (+0.35%)
Source: Johns Hopkins University
*Numbers change over 24 hours
Not already a subscriber?
If you would like to receive DailyChatter directly to your inbox each morning, subscribe below with a free two-week trial.
Support journalism that's independent, non-partisan, and fair.
If you are a student or faculty with a valid school email, you can sign up for a FREE student subscription or faculty subscription.
Questions? Write to us at hello@dailychatter.com.