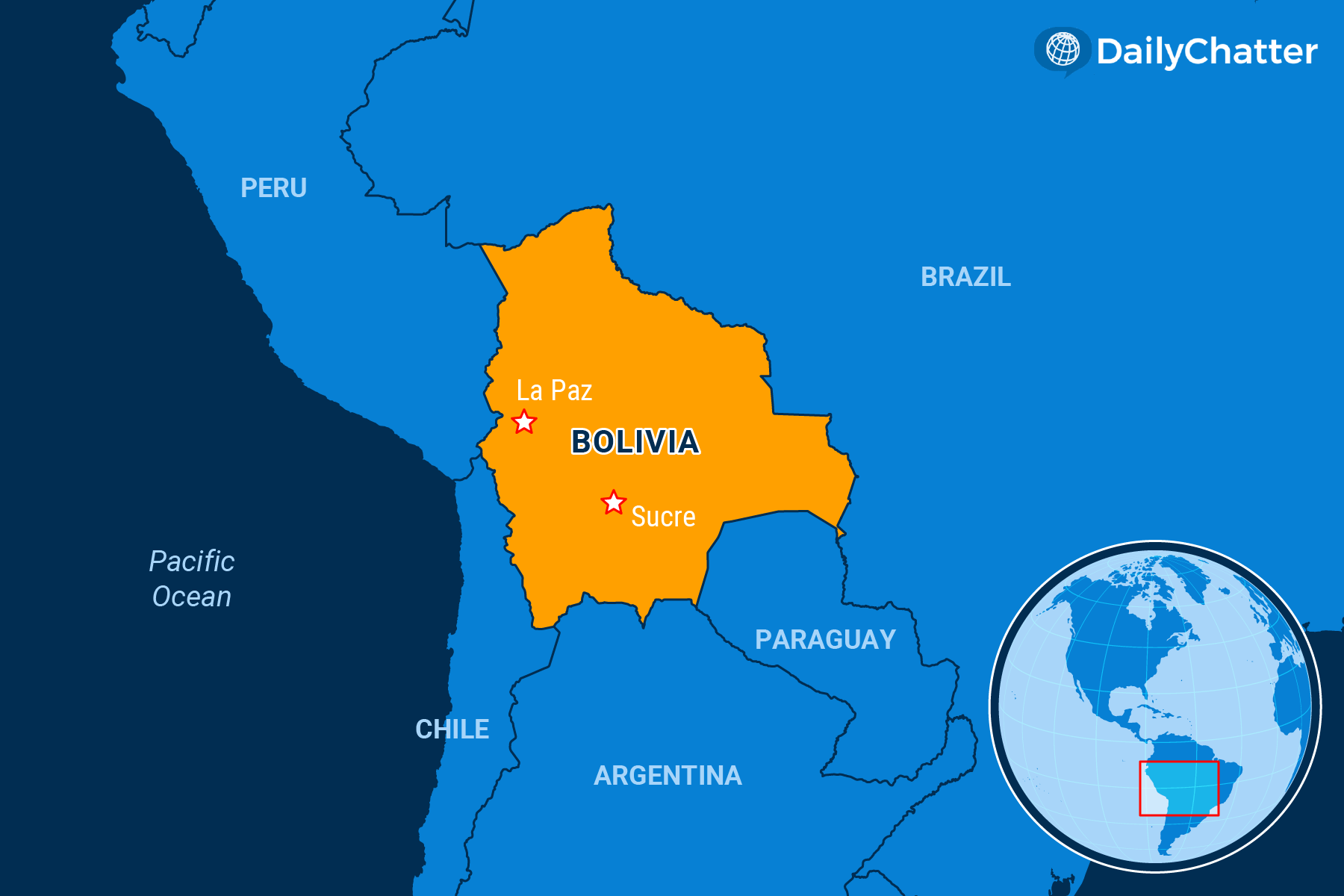 The World Today for October 15, 2020
Listen to Today's Edition
NEED TO KNOW
BOLIVIA
The Do-Over
The US allegedly backed a military coup against the leftwing government of ex-president Evo Morales in Bolivia late last year. If that is the case, the coup's impact doesn't appear to be lasting.
The former senator who became interim president after Morales resigned under pressure from the military, Jeanine Anez, recently decided not to run for office in a bid to unite the opposition against the Movement Towards Socialism, Al Jazeera explained.
"Today I put aside my candidacy for the presidency of Bolivia, for the sake of democracy," Anez said in a video addressing the nation. "If we do not unite, Morales will return. If we do not unite, democracy loses."
But polls recently found that Luis Arce, the candidate from Morales' Movement Toward Socialism political party, is widely expected to win the first round of voting on Oct. 18, Reuters reported.
The Americas Society/Council of the Americas cited polls suggesting similar results. Anez has yet to endorse another candidate, and her supporters are splitting between Carlos Mesa, a centrist former president, and rightwing Catholic civic leader Luis Fernando Camacho.
Leftists worldwide view Morales, as the first indigenous person to become a head of state in South America, as an icon. He might have had the stature of Nelson Mandela if he had simply accepted the results of a 2016 referendum to determine whether he could run for reelection, argued Texas A&M political scientist Diego von Vacano in the New York Times. Instead, Morales had a court annul the results.
Also, his administration was rife with corruption. His machinations to win an unprecedented and arguably illegal fourth term were too much for the country's security forces who decided to pull the plug on his 14 years in office, wrote the National Review.
The military's record has been no better if not worse, however, according to Mark Weisbrot, co-director of the Center for Economic and Policy Research in Washington. Writing in the Guardian, he said, "Bolivia has descended into a nightmare of political repression and racist state violence since the democratically elected government of Evo Morales was overthrown."
The targets of racist state violence in Bolivia are indigenous communities, wrote leftwing magazine Jacobin in an interview with Movement Toward Socialism vice presidential candidate David Choquehuanca. That discussion includes the candidates' deep historical thinking about the legacy of Spanish colonialism in Bolivia, the roots of much of the political battles in the country's halls of power.
Irrespective of who wins, many in Bolivia are at least celebrating that democracy allows for do-overs.
WANT TO KNOW
ISRAEL
Back to Business
Israel approved more than 2,000 new homes in settlements across the occupied West Bank Wednesday, a move that comes less than a month after it reestablished diplomatic relations with two Arab Gulf states, Agence France-Presse reported.
The approval ends an eight-month break in settlement expansion plans, which began in January when the United States gave blessing to the Israeli annexation of parts of the West Bank, including the settlements.
Around 2,000 more homes are expected to be approved on Thursday, according to the non-governmental organization Peace Now.
Israel initially agreed to delay its annexation plans following the deals with the United Arab Emirates and Bahrain last month. Emirati officials backed the deals, arguing that it halted the settlement expansion plans, but other Arab nations, including the Palestinian Authority, strongly condemned the agreements.
The move broke with years of Arab League policy which placed the resolution of the Israeli-Palestinian conflict as a precondition for normalizing relations with the Jewish state.
More than 450,000 Israelis live in Jewish settlements in the occupied West Bank, which are considered illegal under international law.
WORLD
Look Who's Talking
The United Nations General Assembly chose Russia and China to serve on the Human Rights Council, a move that has been slammed by human rights organizations, Business Insider reported Wednesday.
Members of the General Assembly elected 15 countries to the 47-member council in a secret ballot earlier this week.
Activists and rights groups point out that Russia and China are among the world's worst abusers of human rights. Amnesty International said that Russia continues to repress dissent and freedom of expression using harassment, arbitrary arrests and imprisonment.
China, meanwhile, has been accused of persecuting its ethnic Uighur Muslims: Since 2016, more than one million have been imprisoned in so-called "reeducation camps," and forced to adopt Chinese culture. China has also been conducting a forced sterilization campaign against Uighur women, the AP reported earlier this year.
US Secretary of State Mike Pompeo criticized the appointments, adding that the choice "validates" the United States' decision to exit the council in 2018.
China's ascension is seen as another example of how it's trying to increase its international influence by joining and supporting high-profile institutions.
In May, China pledged $2 billion to the World Health Organization after the US said it would leave the group in 2021 – amid accusations that the agency has been pandering to China throughout the coronavirus pandemic and therefore assisted in underplaying the severity of the virus.
THE NETHERLANDS
Unbearable Suffering, Unbearable Decisions
The Dutch government approved new regulations this week that would allow euthanasia for terminally ill children between the ages of one and 12, the BBC reported Wednesday.
Health Minister Hugo de Jonge cited a study that suggested that new regulations need to be implemented to prevent some children from "suffering hopelessly and unbearably."
Euthanasia is currently legal in the Netherlands for children above the age of 12 and infants up to their first birthday – both requiring parental consent. However, there is no provision for children between one and 12 who are terminally ill.
The new regulations would not change the present laws: It would exempt doctors from prosecution for carrying out euthanasia on children of that age range.
The issue was extremely controversial in the country's four-party ruling coalition and was heavily opposed by Christian parties.
The Netherlands legalized euthanasia and assisted suicide in 2002, with neighboring Belgium following suit a few months later.
DISCOVERIES
Preserved in Glass
The eruption of Mount Vesuvius laid waste to Pompeii and surrounding Roman cities nearly 2,000 years ago.
In the 1960s, archaeologists came across the remains of a young man from Herculaneum, among the thousands of unfortunate victims. Decades later, researchers analyzed the man's skull and found that his brain cells had been preserved thanks to the hot volcanic ash, CNN reported.
Italian researcher Pier Paolo Petrone initially found a glassy, shiny material inside the victim's skull back in 2018. In a study published earlier this year, he and his team explained that the victim's brain had become shiny due to the process of vitrification
"The brain exposed to the hot volcanic ash must first have liquefied and then immediately turned into a glassy material by the rapid cooling of the volcanic ash deposit," he said.
In a new paper, close inspection of the material showed that man's nerve cells in his brain and spinal cord were completely intact from vitrification.
It's a staggering find, considering that temperatures during an eruption reached above 900 Fahrenheit.
The authors hope to learn more about the vitrification process, as well as analyze the proteins and genes in the remains.
"This opens up the room for studies of these ancient people that have never been possible," said co-author Guido Giordano.
COVID-19 Global Update
More than 180 nations worldwide have confirmed cases of the coronavirus. The following have the highest numbers worldwide as of 4 a.m. ET*:
US: 7,916,532 (+0.74%)
India: 7,307,097 (+0.94%)
Brazil: 5,140,863 (+0.53%)
Russia: 1,332,824 (+1.06%)
Argentina: 931,967 (+1.63%)
Colombia: 930,159 (+0.66%)
Spain: 908,056 (+1.34%)
Peru: 853,974 (+0.00%)**
Mexico: 829,396 (+0.49%)
France: 820,376 (+2.77%)
Source: Johns Hopkins University
*Numbers change over 24 hours
**Numbers have been adjusted by affected country
Not already a subscriber?
If you would like to receive DailyChatter directly to your inbox each morning, subscribe below with a free two-week trial.
Support journalism that's independent, non-partisan, and fair.
If you are a student or faculty with a valid school email, you can sign up for a FREE student subscription or faculty subscription.
Questions? Write to us at hello@dailychatter.com.