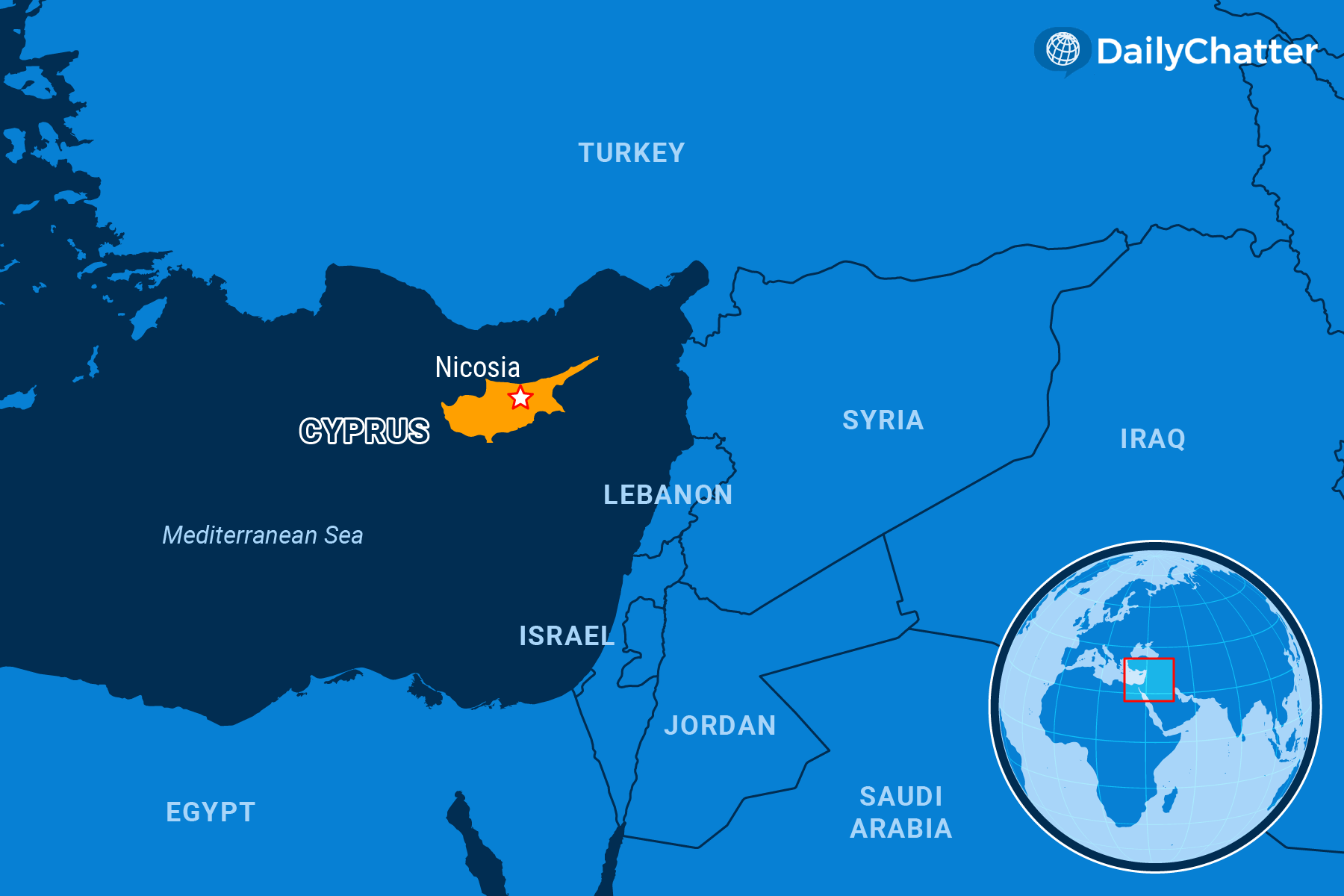 The World Today for October 05, 2020
Listen to Today's Edition
NEED TO KNOW
CYPRUS
The Shadow of the Ottomans
Turkish Cypriots recently watched the first-ever debate between their presidential candidates.
One of the leading contenders, Prime Minister Ersin Tatar, couldn't attend the event, however, because he was on a diplomatic trip to Ankara, the capital of Turkey. That night, he returned to his side of the divided island in the Eastern Mediterranean bearing $15 million in aid for local businesses struggling amid the coronavirus pandemic.
Incumbent President Mustafa Akınci, who is running for reelection, criticized Tatar's move as an example of Turkish meddling, wrote the Hurriyet Daily News, a Turkish newspaper, in an opinion column.
Polls predict that Tatar will win.
The two men are seeking to preside over the self-declared Turkish Republic of Cyprus, sharing around a third of an island that otherwise is a Greek-speaking member of the European Union.
As the BBC explained, the republic was founded in 1974 when Turkey invaded the north after the Greek government backed a military coup on the island. The island has been divided into Turkish and Greek sides ever since, though Turkey is the only foreign government that recognizes the republic. Tensions between Greece and Turkey, both NATO allies, continue to this day, Carnegie Europe noted.
The upcoming election is important because it will determine how the republic interacts with Turkey at a very sensitive time in the region, reported the Financial Mirror, a Cypriot newspaper.
The Turkish military has stationed thousands of soldiers on Northern Cyprus and conducts military exercises there regularly, using it as a point on a string of military installations from Albania to Somalia. "Not since the days of the Ottoman Empire has the Turkish military had such an extensive global footprint," wrote Bloomberg in an analysis.
That military muscle has also, importantly, supported Turkish President Recep Erdogan's plan to drill for oil in waters that Cyprus and Greece claim as theirs. Cyprus has delayed EU sanctions on Belarus for its crackdown on pro-democracy demonstrations in a diplomatic gambit to force other EU states like France and Germany to punish Turkey for its alleged incursions, Reuters reported.
The Cypriot delegate at the United Nations, Andreas Mavroyiannis, recently blasted Turkey as "expansionist and imperialistic."
The Turkish side sees things differently. As journalist Eltan Halil wrote from Northern Cyprus for the Turkish state-run Anadolu Agency, Turkey invaded the island in the 1970s to prevent a Greek junta from massacring their Muslim neighbors. That idea is not so fanciful given the experience of Muslims in the Balkan wars of the 1990s.
Greek Cypriots have also blocked Turkish efforts to join the EU, too, which gives Turkish leaders little choice but to act more aggressively in their self-interest, Halil suggested.
Regardless, many believe a divided island in a strategic area used militarily by a regional power for economic and geopolitical expansion is a worrying situation.
WANT TO KNOW
NEW CALEDONIA
Vive La France
Voters in New Caledonia chose to remain part of France following a referendum on independence in the South Pacific archipelago that has been part of France since 1853, the Associated Press reported Sunday.
Results showed that 53.3 percent of participants voted to maintain ties with France in a vote that is part of a three-decade decolonization effort aimed at resolving tensions between native Kanaks and pro-France residents. The pro-independence FLNKS movement, meanwhile, called on its supporters to stay "calm and respectful."
Voters that rejected independence told the AP that there was uncertainty in becoming independent and that New Caledonia could face "real danger" without financing from France.
Pro-independent voices, including members of the Kanak community, said that they were fighting for recognition of their identity and culture.
Under French rule since 1853, the Kanaks were not granted French citizenship until after World War Two. The native inhabitants used to face strict segregation policies and widespread discrimination under French rule.
Two years ago, a similar referendum resulted in more than 56 percent voting against independence.
RWANDA
The Ones That Got Away
Belgian authorities captured three men suspected of involvement in the 1994 Rwanda genocide, the latest in a series of captures linked to the 100-day bloodbath that killed as many as one million people, the New York Times reported over the weekend.
Officials have not provided the details about the individuals' identities, and said that the accused were charged with serious abuse of human rights. It's unclear whether they will face trial, the officials added.
The arrests follow the capture of Felicien Kabuga, a wealthy tycoon who was accused of financing the genocide and inciting hatred against ethnic Tutsis. Kabuga, 84, denied the accusations and his lawyers say that he is too old to stand trial at a United Nations tribunal in Tanzania.
The Rwandan government, meanwhile, has also made efforts to arrest and extradite those involved in the genocide, including individuals accused of denying or distorting the historical record.
Among these are Paul Rusesabagina, the famous hotelier depicted in the movie "Hotel Rwanda," who sheltered more than 1,200 people. Rwandan officials said last month that they lured Rusesabagina to return from abroad. He faces 13 charges, including terrorism and forming a rebel group, which he denies.
BELARUS
Tightening the Screws
The European Union imposed sanctions on more than three dozen Belarusian officials over the weekend for political repression and election rigging, a move aimed at pressuring the President Alexander Lukashenko to call new elections, the Wall Street Journal reported.
The sanctions are aimed at individuals responsible for the violent crackdown against protests sparked by a controversial presidential poll in August. Lukashenko – in power since 1994 – was declared the winner of the vote, but the opposition and Western nations accuse him of rigging the elections.
The United States also blacklisted eight senior figures in Lukashenko's administration or associated with it.
None of the sanctions, however, target Lukashenko himself. EU officials said they may impose sanctions on the leader in the future.
The bloc is pushing Lukashenko to enter into talks with the opposition and call new elections.
Meanwhile, Belarus criticized the sanctions and said that it enacted its own sanction list. It threatened to abandon joint programs with the EU and to cut diplomatic relations.
DISCOVERIES
Got Milk?
Evolution usually takes its time in adapting creatures to their environment – in humans, though, it sped up when it came to milk: Scientists discovered that the ancient inhabitants of Central Europe became lactose tolerant in a span of a few thousand years, according to Futurity.
Today, milk consumption is very prevalent in Europe and North America, but nearly two-thirds of the world is lactose intolerant. Some humans, however, are equipped with a genetic mutation that allows the enzyme lactase to digest the lactose sugar found in milk. Most of these people are from Central and Northern Europe.
A new study looked into the genetic material found in the bones of people that died in a battle near the Tollense river in Germany around 1,200 BC – considered one of the oldest battles in Europe.
Researchers found that one-eighth of the warriors were able to ingest dairy products without any digestion problems more than 4,000 years after the introduction of agriculture in Europe – which implies humans started consuming milk from early domesticated cattle, goats and sheep.
"This is actually an incredibly fast rate of change for the gene that controls milk digestion," said co-author Krishna Veeramah.
The question remains as to why being able to digest milk offers an evolutionary advantage?
The team has no conclusive theory, but suggest that drinking milk could have helped societies survive during famines or when water supplies were contaminated.
COVID-19 Global Update
More than 180 nations worldwide have confirmed cases of the coronavirus. The following have the highest numbers worldwide as of 4 a.m. ET*:
US: 7,418,107 (+0.48%)
India: 6,623,815 (+1.14%)
Brazil: 4,915,289 (+0.17%)
Russia: 1,209,039 (+0.87%)
Colombia: 855,052 (+0.81%)
Peru: 828,169 (+0.80%)
Argentina: 798,486 (+0.97%)
Spain: 789,932 (+0.00%)**
Mexico: 761,665 (+0.49%)
South Africa: 681,289 (+0.23%)
Source: Johns Hopkins University
*Numbers change over 24 hours
**Numbers have been adjusted by affected country
Not already a subscriber?
If you would like to receive DailyChatter directly to your inbox each morning, subscribe below with a free two-week trial.
Support journalism that's independent, non-partisan, and fair.
If you are a student or faculty with a valid school email, you can sign up for a FREE student subscription or faculty subscription.
Questions? Write to us at hello@dailychatter.com.