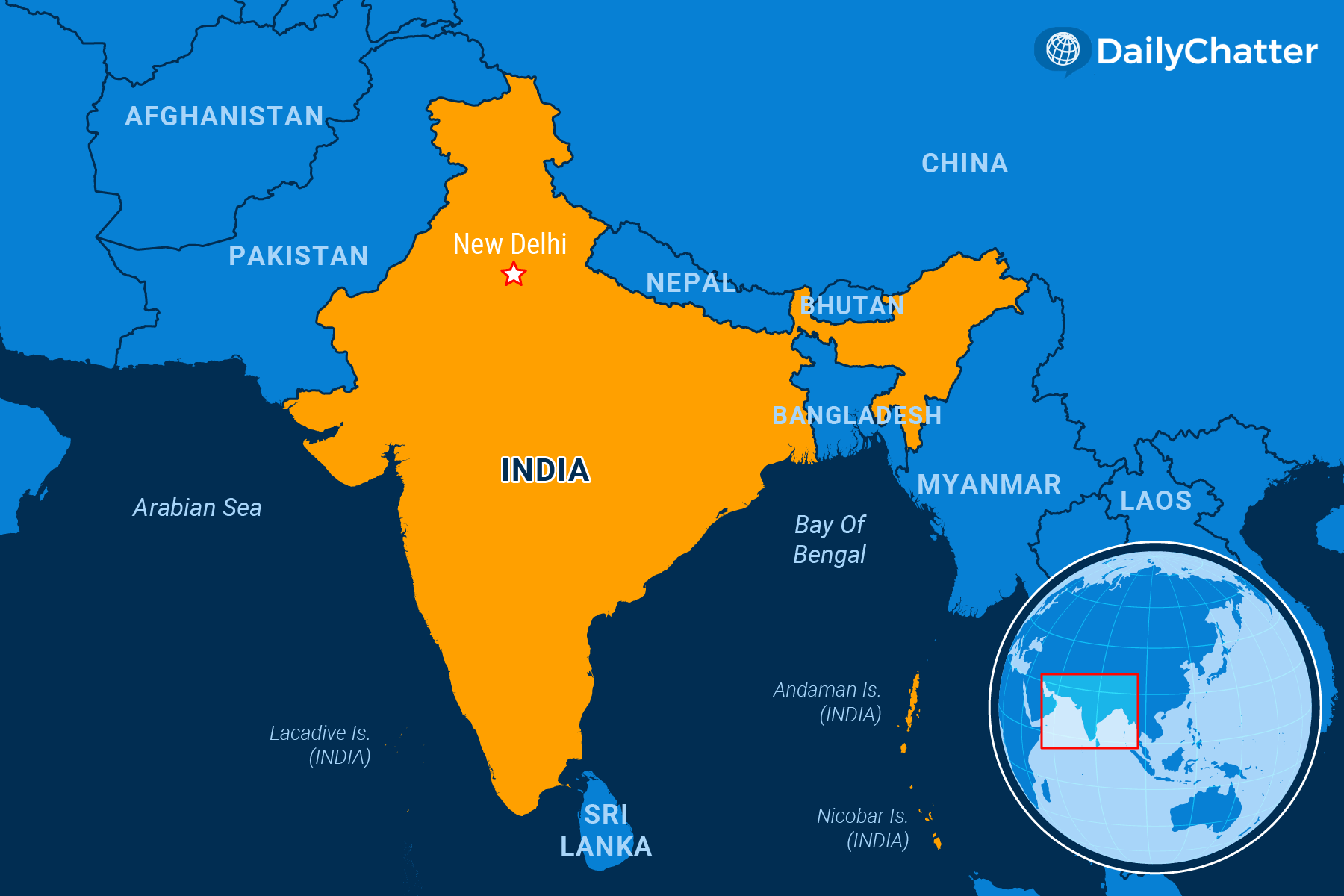 The World Today for August 25, 2020
Listen to Today's Edition
NEED TO KNOW
INDIA
About the Lowliest
Jyoti Kumari bicycled 745 miles from New Delhi to her village in eastern India with her disabled father on her back.
The fifteen-year-old girl had little choice. With little warning in March, Indian Prime Minister Narendra Modi has ordered a lockdown to stop the spread of the coronavirus. Low-income workers like Jyoti and her father live on day-to-day income. If they had remained in Gurugram, a suburb of the Indian capital, reported ABC News, they would have starved for lack of work.
The pathos and suffering wrought in the pandemic has taken on a historic scale in India, the world's largest democracy with a population of 1.35 billion. The lowliest classes in India are especially faring badly in the pandemic.
New York Times Opinion Editor Basharat Peer wrote about Dalits, or members of the so-called "untouchable class," collapsing by the side of the road due to heatstroke as they took long treks home.
It's not only those who hit the road who are suffering. In Mumbai's Dharavi, one of the world's biggest slums, Ejaz Ahmed Chowdhary told the Washington Post that he had to tap into his 11-year-old nephew's piggybank, taking $10 so the family could eat while his phone repair shop was closed.
The pandemic is already changing India's economy and therefore its society. Modi can expect many of his constituents to lose the benefits of the relative prosperity that has swept through India's formerly growing economy. Many folks probably won't appreciate the shift in their fortunes.
"The best-case scenario is two years of very deep economic decline," said Jayati Ghosh, an analyst at the Centre for Economic Studies and Planning at Jawaharlal Nehru University, in an interview with Time magazine. "There are at least 100 million people just above the poverty line. All of them will fall below it.
The coronavirus is not yet done, either. New infections were occurring in India recently at a faster rate than any other country, noted CBS News.
Can Modi reverse course? Years of underinvestment in public health and crumbling hospitals will make his job hard. A tendency among many Indians, including Modi and government officials, to tolerate pseudoscience that advocates for untested traditional medicines will make his job even harder, the Atlantic magazine wrote.
As the BBC explained, Indian authorities have already earned the ire of migrants sprayed with disinfectant as they tried to return to their home villages from the cities where they worked. Now health workers are protesting what they call is a lack of planning to tackle the virus, Reuters reported.
Sometimes leaders need to fix rather than simply manage problems.
WANT TO KNOW
CYPRUS
Buying Gold
A huge trove of leaked documents from Cyprus' government revealed that dozens of high-level officials and their families bought so-called "golden passports," Al Jazeera's Investigative Unit reported Monday.
Known as "the Cyprus Papers," the confidential documents showed that the Cypriot government has sold passports – worth a minimum investment of $2.5 million each – to foreign elected officials and board members of state enterprises, as well as convicted criminals and fugitives.
The Investigative Unit found that those implicated included the speaker of Afghanistan's Lower House of Parliament and his family, a representative in Vietnam's Congress, as well as the brother of a former Lebanese Prime Minister.
Anti-corruption activists and analysts said that while the documents do not prove any wrongdoing, they raise questions as to how and why these golden passports were purchased by the officials.
The European Union has criticized Cyprus – an EU member – for the program, arguing that it makes it easier for politically influential people from potentially hostile states to access the bloc.
Cyprus, meanwhile, has said that it is reviewing the released information and has already made changes to the controversial investment program.
IVORY COAST
Third Time's No Charm
Ivory Coast President Alassane Ouattara submitted his application to run for a third term Monday, despite his opponents arguing that the constitution does not allow him to contest the upcoming October elections, Reuters reported.
Ouattara's submission comes a day after deadly clashes erupted across the West African country between his supporters and the opposition, resulting in the deaths of at least two people.
Ivory Coast has been gripped by violent demonstrations since Ouattara expressed his decision to run for a third term earlier this month, Agence France-Presse reported.
Ouattara, who has been in office since 2011, said in March that he wouldn't run for re-election and handed the reins to Prime Minister Amadou Gon Coulibaly.
However, Coulibaly died of a heart attack in July, prompting Ouattara's party to ask him to reconsider.
His opponents argued that the constitution forbids him from running for a third term, but the president said that a 2016 constitutional tweak has reset the clock on the two-term limit.
The final decision for his candidacy will be decided by the country's constitutional court.
GERMANY
The Color of Money
Germany announced the details of its first "green" bonds Monday, in a move aimed to tap financial markets to support climate-related projects, Agence France-Presse reported.
Officials said that the bonds will help generate up to $13 billion in 2020. The funds will be used to contribute to the government's climate package, which includes introducing a carbon tax to reduce greenhouse gases by 55 percent by 2030 compared with 1990 levels.
The finance ministry added that the green bonds will be issued alongside conventional ones with the same maturity and coupon. This would make them more attractive to investors as it allows them to swap their bonds from one variant to the other.
Germany joined the green bond trend relatively late. In 2016, Poland became the first sovereign nation to issue the bond variant. France, which launched them in 2017, has become one of the world's leading issuer of green bonds.
Globally, green bonds accounted for around $205 billion of worldwide bond issuance in 2019, according to the European Central Bank.
DISCOVERIES
Holes In The Wall
Contactless-delivery methods during disease outbreaks are nothing new, and the people of Florence, in Italy can attest to that.
Back in the 17th century, northern and central Italy was ravaged by the plague, so local wine merchants had to get creative to make money and stay healthy, CBS News reported
Enter the "wine window."
These little windows – known as "buchetta" in Italian –  were originally created by the powerful Medici family in the 16th century. The dynasty wanted to promote local produce and offered tax breaks to landowners to sell their products directly, according to Agence France-Presse.
Wine producers could only sell about 47 fluid ounces, but the advantage was that it cut out the middleman.
During the plague, the windows helped producers sell wine flasks to customers and avoid infection: Sellers used the windows to pass the flask to a customer and would then disinfect coins using vinegar.
And if a customer had their own flask, sellers would pour wine through a metal tube to fill it.
Today, the wine windows have become popular – and useful – once again due to the coronavirus pandemic, which has infected more than 254,000 and killed more than 35,000 people in Italy.
The Italian cultural association "Buchette del Vino" is helping count and map the wine windows in the Tuscany region "to protect and provide testimony" regarding their existence.
COVID-19 Global Update
More than 180 nations worldwide have confirmed cases of the coronavirus. The following have the highest numbers worldwide as of 4 a.m. ET*:
US: 5,740,909 (+0.65%)
Brazil: 3,622,861 (+0.47%)
India: 3,167,323 (+1.96%)
Russia: 959,016 (+0.49%)
South Africa: 611,450 (+0.28%)
Peru: 600,438 (+1.03%)
Mexico: 563,705 (+0.63%)
Colombia: 551,688 (+1.95%)
Spain: 405,436 (+5.02%)
Chile: 399,568 (+0.48%)
Source: Johns Hopkins University
*Numbers change over 24 hours
Not already a subscriber?
If you would like to receive DailyChatter directly to your inbox each morning, subscribe below with a free two-week trial.
Support journalism that's independent, non-partisan, and fair.
If you are a student or faculty with a valid school email, you can sign up for a FREE student subscription or faculty subscription.
Questions? Write to us at hello@dailychatter.com.