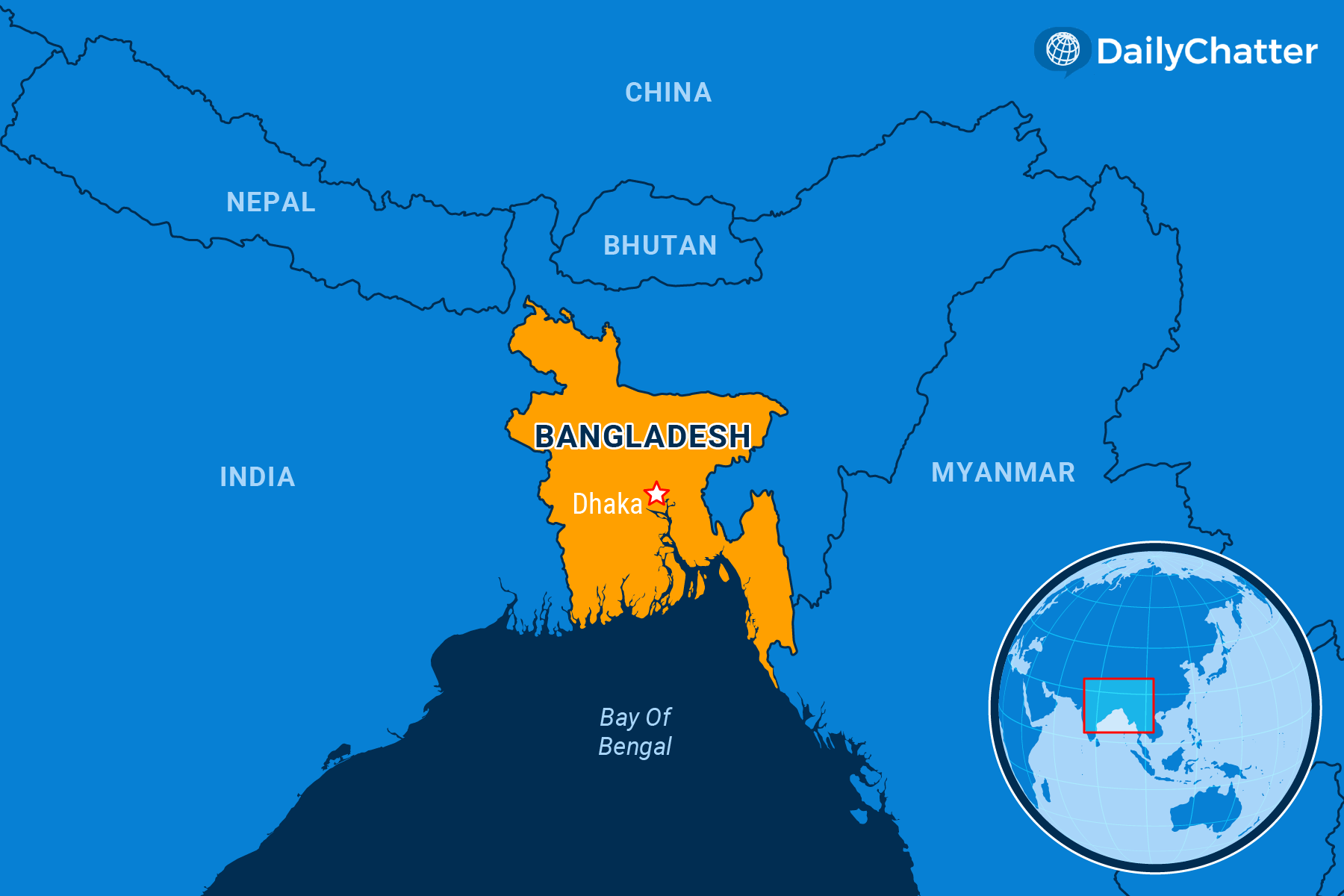 The World Today for August 12, 2020
Listen to Today's Edition
NEED TO KNOW
BANGLADESH
When the Waters Come
The Ganges Delta, the largest in the world at 41,000 square miles, empties into the Bay of Bengal. The worst flood in 20 years recently inundated it, displacing millions in Bangladesh, one of the poorest countries on the planet.
NASA developed an amazing multimedia story that showcased before and after photos of the flooding, which has covered around a quarter of Bangladesh. The agency estimated four million people have been affected due to the waters. About 100 died. Crops on around 600 square miles of farmland have been destroyed.
Meanwhile, the monsoons that have dropped torrents of rain that feeds those floods are forecasted to continue through early August, the Washington Post reported.
The devastation in Bangladesh has been stunning. Bangladeshi leaders have been trying to prepare for such a disaster. But many of the country's dikes and embankments had been damaged during Cyclone Amphan in May. It typically takes around four years for the South Asian country to rebuild those defenses after a powerful cyclone.
Climate change is expected to make future disasters worse. If global temperatures increase by around 2 degrees Celsius, flooding along the Brahmaputra River in Bangladesh is projected to increase by 25 percent, according to a study cited by the New York Times. Temperatures going up by 4 degrees Celsius would result in 60 percent more flooding.
The flooding and worrisome numbers come as Bangladeshi Prime Minister Sheikh Hasina is juggling a host of other problems that entail other short-term emergencies in addition to flooding, medium-term challenges like lifting millions from poverty and diversifying the economy from textiles, and long-term goals such as balancing the influence of China and India on the country.
Meanwhile, Bangladesh's healthcare sector is struggling to avoid collapse while fighting the coronavirus. The Turkey-based Anadolu Agency wrote about the plight of Bangladeshi doctors who are treating increasing numbers of patients and more Covid-19 cases not only without adequate protection equipment but food to sustain themselves.
An inspiring Al Jazeera story featured a cohort of female textile workers, tea pickers and refugees who were attending a local university in hopes of seeking new careers in business. But the program helps less than 500 women, a small group in a country of more than 160 million.
Still, Bangladesh's economy and regional clout are growing, the Hindustan Times wrote. Traditionally close to India, the country has been playing China off against Indian officials who recently enacted a law to make it harder for Bangladeshis and other Muslims to earn Indian citizenship, Deutsche Welle explained.
Even so, with problems on all fronts, it's hard to tell where Hasina should start, once the waters recede.
WANT TO KNOW
RUSSIA
A Vaccine, Maybe
Russia became the first country in the world to approve a vaccine for the novel coronavirus, despite concern from global health professionals that the vaccine has yet to complete clinical trials, the New York Times reported.
The vaccine "works effectively enough, forms a stable immunity and… has gone through all necessary tests," Russian President Vladimir Putin said Tuesday.
The vaccine uses two strains of genetically modified adenovirus – known to cause mild colds in humans. The altered virus then creates proteins from the spike of the novel coronavirus.
The announcement is considered a win for Putin, whose government has been constantly boasting for months that Russia is ahead in the vaccine race. However, World Health Organization officials remained cautious and said the vaccine needs to go through full testing before being released to the public.
Vaccines need to go through three phases for approval but Russian scientists have yet to conduct the third, adding to worries that Russia has cut corners in the race to find a cure for the virus.
Russia has also been accused by Western nations of stealing vaccine research. The government denies the accusations.
TRINIDAD AND TOBAGO
The Song Remains the Same
Trinidad and Tobago Prime Minister Keith Rowley claimed victory in the country's general elections, securing a second term as the resource-rich nation reels from a recession, an influx of migrants and the coronavirus pandemic, Reuters reported Tuesday.
Preliminary results showed that the ruling People's National Movement party won 22 out of 41 parliamentary seats, defeating the opposition United National Congress, which won 19 seats.
The elections were severely overshadowed by the coronavirus outbreak, which has forced the Caribbean nation to shut its borders since March. So far, it has recorded nearly 300 confirmed cases and eight deaths – a figure that Rowley's government has used as a testament to its successful handling of the outbreak.
However, Trinidad and Tobago's economy has been contracting over seven of the past 10 years due to falling energy prices. Rowley has vowed to diversify the economy by boosting energy exports, digitalizing services to ease bureaucracy for business and providing support to the private sector.
Meanwhile, the nation is also coping with the influx of thousands of Venezuelans entering the twin islands illegally as they flee the economic collapse of their country.
UKRAINE
Butt Out
Ukrainian President Volodymyr Zelenskiy warned Ukrainians to refrain from interfering in foreign elections after a top US counterintelligence official said that a pro-Russian Ukrainian lawmaker was participating in a Kremlin effort to subvert the US presidential vote in November, the Hill reported.
"Once again, I assure our partners that Ukraine did not allow and will not allow itself to intervene in the future in the elections and thereby harm our trustworthy and sincere partnerships with the United States," Zelenskiy said on Facebook earlier this week.
"Therefore, I believe that citizens of Ukraine should, mildly, refrain from any activity related to the US presidential election and not allow themselves to try to solve any of their personal political or business problems…Ukraine's reputation is worth much more than the reputation of any of our politicians."
Zelenskiy also stressed that Ukraine wasn't involved in any attempt to meddle in the US elections, adding that preventing such interference was a "matter of our national security."
His statement comes a few days after William Evanina, the director of the US National Counterintelligence and Security Center, said that foreign adversaries such as Russia are trying to influence the upcoming elections.
Evanina stressed that "Kremlin-linked actors" are trying to discredit presumptive Democratic presidential nominee Joe Biden and help President Donald Trump to win.
Zelenskiy became entangled in US politics last year after reports emerged that Trump had pressured him to launch an investigation into Biden over corruption allegations. The conversation was at the center of the Democratic-led House of Representatives' impeachment process. Trump was acquitted by the Senate earlier this year.
DISCOVERIES
Ultra-Black, the New Black
Deep-sea fish live in a region of total darkness, sometimes as far as three miles below the surface, where sunlight doesn't reach.
Despite the absence of sunlight, certain marine creatures can emit light – known as bioluminescence – which can give them an advantage when hunting prey.
Now, scientists have discovered some "terrifying-looking" species of fish that can camouflage themselves so completely from predators in pitch-black darkness that they literally disappear, CBS News reported.
In a new study, a team of researchers studied 16 species of "ultra-black" fish, which are about 20 times darker than everyday black objects.
Researchers explained that the creatures have adapted the shape, size and pigment of their skin to absorb 99.5 percent of the light that hits them – allowing them to practically hide in plain sight. The skin of these fish is some of the blackest material ever discovered – they often appear as just silhouettes, even in bright light.
They added that photographing the fish was a real hassle.
"It didn't matter how you set up the camera or lighting – they just sucked up all the light," said co-author Karen Osborn.
The marine animals were found in the waters of Monterey Bay and the Gulf of Mexico, and marks the first time ultra-black has been found in aquatic animals.
Other ultra-black creatures include the bird-of-paradise and ultra-black butterflies.
The authors suggested that the study can help develop light-trapping materials that could have many practical applications, such as solar panels and telescopes.
COVID-19 Global Update
More than 180 nations worldwide have confirmed cases of the coronavirus. The following have the highest numbers worldwide as of 4 a.m. ET*:
US: 5,141,208 (+0.92%)
Brazil: 3,057,470 (0.00%)**
India: 2,329,638 (+2.69%)
Russia: 895,691 (+0.55%)
South Africa: 566,109 (+0.45%)
Mexico: 492,522 (+1.38%)
Peru: 489,680 (+1.36%)
Colombia: 410,453 (+3.23%)
Chile: 376,616 (+0.42%)
Iran: 331,189 (+0.71%)
Source: Johns Hopkins University
*Numbers change over 24 hours
**Numbers have been adjusted by affected country
Not already a subscriber?
If you would like to receive DailyChatter directly to your inbox each morning, subscribe below with a free two-week trial.
Support journalism that's independent, non-partisan, and fair.
If you are a student or faculty with a valid school email, you can sign up for a FREE student subscription or faculty subscription.
Questions? Write to us at hello@dailychatter.com.