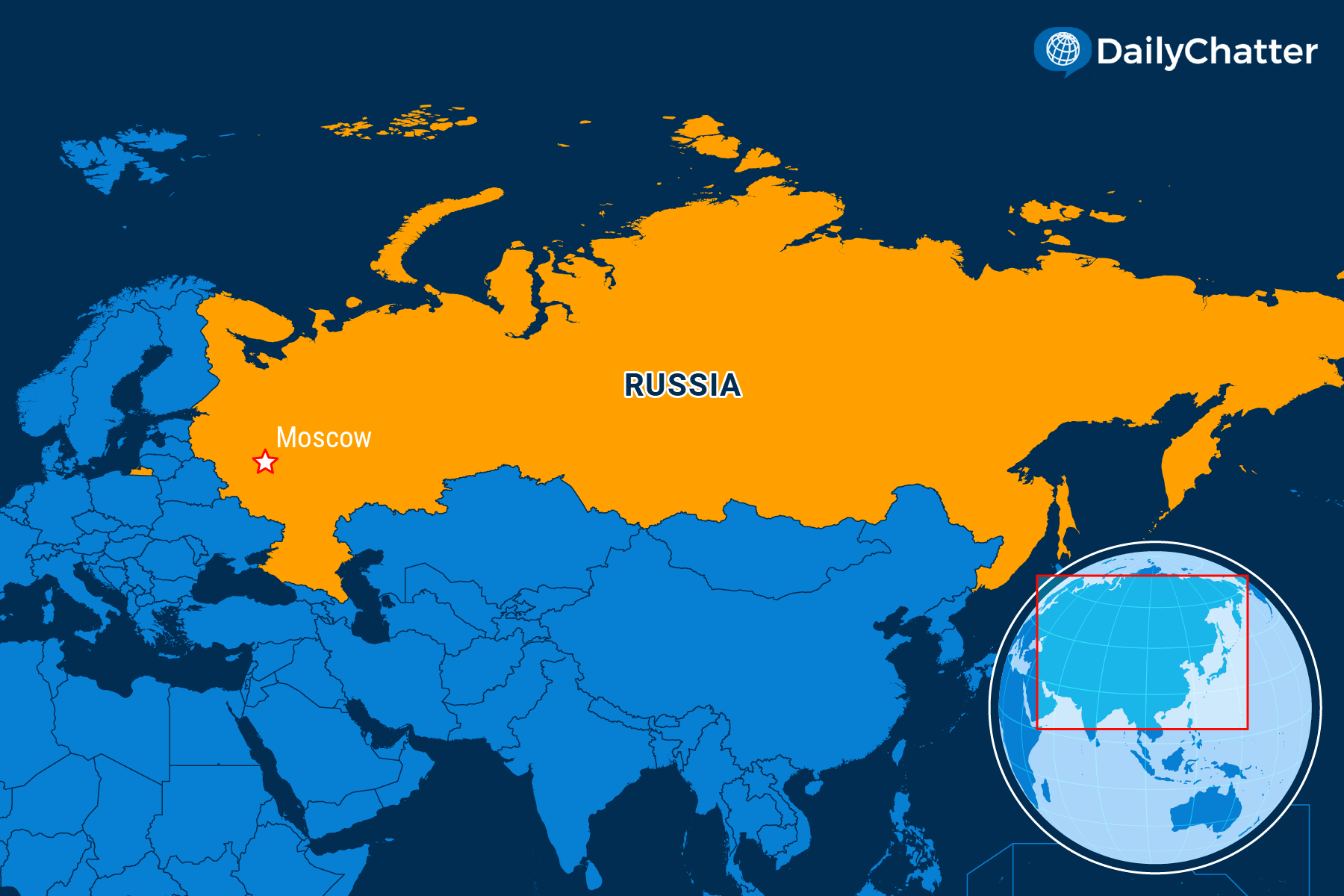 The World Today for August 06, 2020
Listen to Today's Edition
COVID-19 Global Update
More than 180 nations worldwide have confirmed cases of the coronavirus. The following have the highest numbers worldwide as of 4 a.m. ET*:
US: 4,823,891 (+1.10%)
Brazil: 2,859,073 (+2.04%)
India: 1,964,536 (+2.95%)
Russia: 864,948 (+0.60%)
South Africa: 529,877 (+1.64%)
Mexico: 456,100 (+1.36%)
Peru: 447,624 (+1.76%)
Chile: 364,723 (+0.49%)
Colombia: 345,714 (+3.20%)
Iran: 317,483 (+0.86%)
Source: Johns Hopkins University
*Numbers change over 24 hours
Dear Readers,
Since we first introduced maps to DailyChatter more than a year ago, many of you have asked us when we would expand the map feature to cover all news items. We're very pleased to take that step today. Thank you for your support.
Your DailyChatter Team
NEED TO KNOW
RUSSIA
The Endgame
Revolution is brewing in Russia's Far East.
In Khabarovsk, a city 4,000 miles east of Moscow, tens of thousands of people have been marching through the streets, week after week, calling for the release of popular former regional governor, Sergei Furgal.
Masked federal agents arrested Furgal on July 19 on charges of organizing contract killings 15 years ago. He says he is innocent. His constituents believe him.
And march.
"People go out every day without any kind of organization," Artyom Mozgov, a 20-year-old political activist told National Public Radio. "I'm really happy that people from my region have finally taken responsibility for their lives, understand what's happening in our country and go out and protest."
The protests, which have attracted as many as 50,000, appear to be venting frustration over the regime of President Vladimir Putin. Some even are calling for his removal. They say Furgal's only crime is being too popular – and being more popular than President Vladimir Putin is not a recipe for political longevity, the Washington Post wrote.
A member of a political party in Putin's thrall, Furgal had agreed to withdraw from the second round of voting in the gubernatorial election to receive a post of deputy governor in 2018. But he changed his mind, opposing the incumbent whom Putin had publicly supported. Voters liked his spunk. As regional governor, he also oversaw improvements in public services, cementing his voter base, Deutsche Welle reported.
"Furgal's refusal to quit the race was seen as unforgivable," wrote Tatyana Stanovaya, a political analyst and scholar at the Carnegie Moscow Center in an op-ed in the Moscow Times. "The Kremlin saw this as a dangerous precedent that cast doubt on the entire system of managed election campaigns."
On July 1, a nationwide vote gave Putin the green light to remain in power through 2036. Since then, the Washington Post explained, Russian police have been arresting high-profile journalists, dissident politicians and human rights activists. The message is clearly to show who is in charge.
Citizens in Khabarovsk aren't daunted. They have much to criticize in their sprawling nation.
Low oil prices, the economic toll of Russia's fast-growing coronavirus pandemic, the unprepared medical system that sometimes lacks running water and rampant corruption have eroded the already precarious nature of average Russians' quality of life, correspondent Trudy Rudin wrote in the Philadelphia Inquirer. The outpouring of vitriol has taken Putin by surprise, however. The president hasn't yet decided what to do, she says.
The protesters do. Despite little chance of moving a mountain named Moscow, they come out anyway. And interestingly enough, almost half the population of Russia agrees with them.
WANT TO KNOW
TAIWAN
Strategic Friendships
US Health and Human Services Secretary Alex Azar will visit Taiwan this month, a diplomatic move that is likely to further strain US-Chinese relations, the Washington Post reported Wednesday.
The trip will mark the first high-level visit to Taiwan by a cabinet secretary since 1979 – the year Washington established formal diplomatic relations with communist China and ceased to recognize Taiwan.
Taiwanese officials welcomed the move and said Azar will be meeting with President Tsai Ing-wen and other senior officials.
China, meanwhile, denounced the visit: It claims Taiwan is part of its territory and objects to any diplomatic gestures that would appear to give credence to the island's status as a sovereign nation.
In the past, the US and Taiwan conduct exchanges behind closed doors to avoid antagonizing China.
Ties between Taiwan and the US have become stronger during the administration of US President Donald Trump, who has clashed with China on trade and other issues.
Analysts said that the visit will revolve around the coronavirus pandemic – the Trump administration has blamed China for the outbreak. They added that the meeting could help Trump score more points domestically even as US support would help protect Taiwanese sovereignty.
COLOMBIA
Shadowy Ties
Colombia's Supreme Court placed former President Alvaro Uribe under house arrest, a major blow for one of the nation's most powerful but controversial politicians, the Associated Press reported.
The court is investigating Uribe over allegations of witness tampering after Senator Ivan Cepeda accused the former president of being a founding member of a paramilitary group during Colombia's decades-long civil war against leftist rebels. Uribe is accused of attempting to bribe a witness who could testify against him. He hasn't been charged and denies the allegations.
The house arrest touched off a firestorm in the Latin American nation, where Uribe remains a popular albeit divisive figure.
During his presidency from 2002 to 2010, he oversaw Colombia's continuing conflict with the former Revolutionary Armed Forces of Colombia. He is credited for weakening the group but also criticized for his iron-fisted approach. Some of the nation's worst human rights abuses occurred during his presidency, according to the AP.
Uribe's political career has been dogged with allegations that he was connected to paramilitary groups and drug cartels. His supporters – including current President Ivan Duque – argue that the court's decision was political.
The case has been seen as an important test for Colombia's justice system, which has historically struggled to hold political and military leaders accountable.
SPAIN
A Game of Thrones
Spain's monarchy and government was rocked by the sudden departure of retired King Juan Carlos I, who left the country earlier this week amid a series of financial-corruption investigations, the Wall Street Journal reported.
The former king wrote a letter to his son King Felipe VI that he moved abroad to an undisclosed location to reduce distractions from Felipe's role as a head of state. He also referenced "public repercussions that certain events of my past personal life," which allude to the Spanish and Swiss investigations into Juan Carlos's financial dealings in recent years.
The former leader abdicated in 2014 after a string of scandals involving him and his brother-in-law over money laundering and tax evasion. He hasn't been charged or named as a suspect.
Meanwhile, King Felipe has tried to distance himself from the controversies surrounding his father and has pushed for a reformed and more transparent monarchy.
Spain's monarchy was once revered as a symbol of unity following the country's transition to democracy after the death of dictator Francisco Franco in 1975.
The institution, however, has faced some criticism in recent years: Left-leaning Spaniards have been vouching for a republic, while others have demanded a cleaned-up, less flamboyant monarchy.
DISCOVERIES
The Real Stinkers
The cosmetic industry invests millions to tackle body odor (BO). Now, scientists have finally figured out its origins and causes, the Telegraph reported.
Previous research found that bacteria in the armpits – such as the Staphylococcus hominis – would produce the smelly compounds known as thioalcohols once it came into contact with sweat.
In a new study, researchers from the University of York studied the Staphylococcus hominis and discovered that a particular enzyme within the bacteria is the culprit for BO. They identified this enzyme after transferring it to non-odor producing bacteria and noted that it also began to generate a smell.
The team added that this enzyme has been present for millions of years, even before the emergence of Homo sapiens, the current human species.
"All we can say is this is not a new process. BO was definitely around while humans were evolving," co-author Gavin Thomas told the Guardian.
The authors hope that the study can help develop more effective deodorants and antiperspirants.
Not already a subscriber?
If you would like to receive DailyChatter directly to your inbox each morning, subscribe below with a free two-week trial.
Support journalism that's independent, non-partisan, and fair.
If you are a student or faculty with a valid school email, you can sign up for a FREE student subscription or faculty subscription.
Questions? Write to us at hello@dailychatter.com.