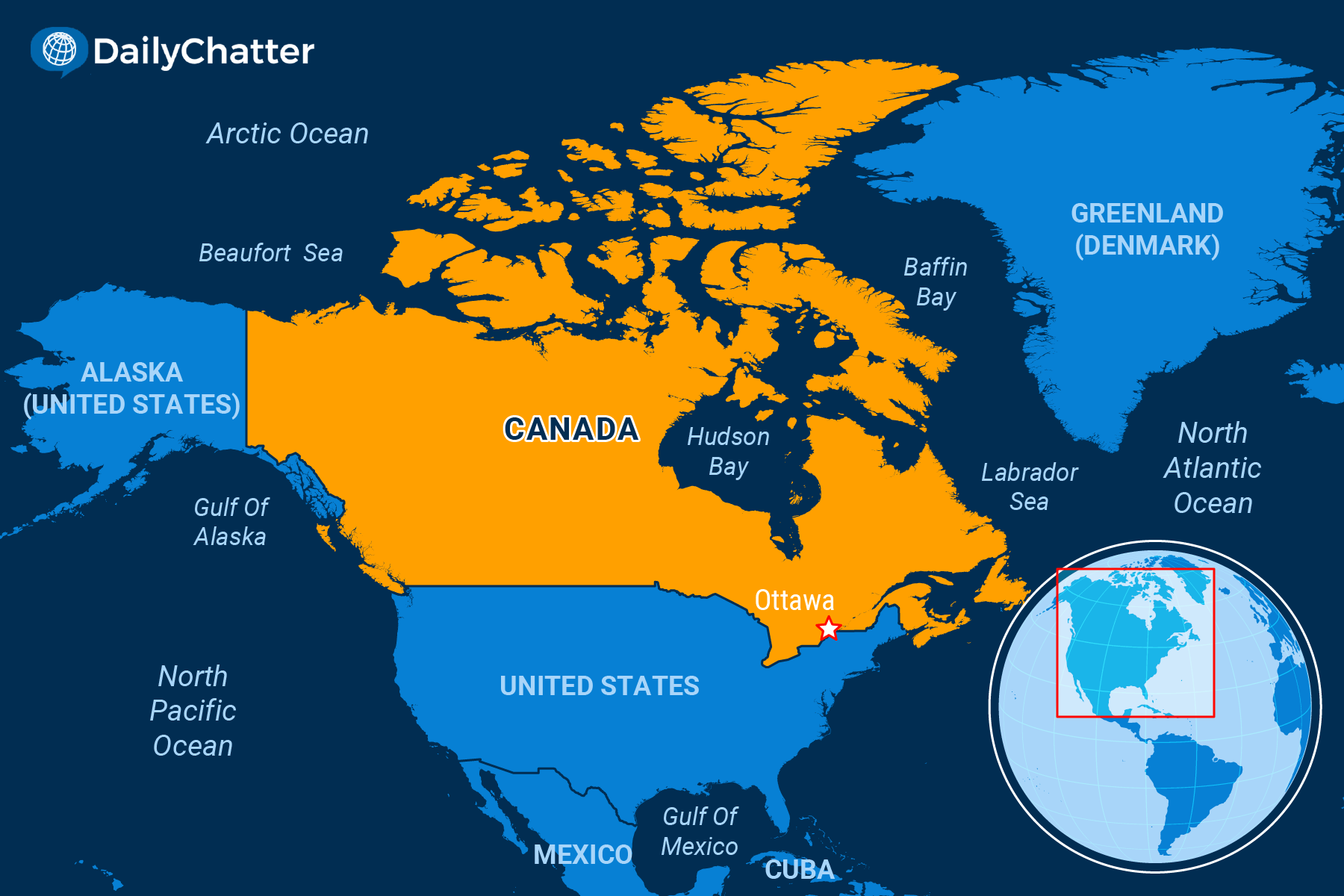 The World Today for August 05, 2020
Listen to Today's Edition
COVID-19 Global Update
More than 180 nations worldwide have confirmed cases of the coronavirus. The following have the highest numbers worldwide as of 4 a.m. ET*:
US: 4,771,236 (+1.14%)
Brazil: 2,801,921 (+1.88%)
India: 1,908,254 (+2.83%)
Russia: 859,762 (+0.60%)
South Africa: 521,318 (+0.86%)
Mexico: 449,961 (+1.39%)
Peru: 439,890 (+1.57%)
Chile: 362,962 (+0.41%)
Colombia: 334,979 (+2.17%)
Iran: 314,786 (+0.88%)
Source: Johns Hopkins University
*Numbers change over 24 hours
Dear Readers,
Since we first introduced maps to DailyChatter more than a year ago, many of you have asked us when we would expand the map feature to cover all news items. We're very pleased to take that step today. Thank you for your support.
Your DailyChatter Team
NEED TO KNOW
CANADA
The Tiger's Stripes
Canadian Prime Minister Justin Trudeau is handling yet another embarrassing political scandal while he also oversees his massive country's response to the coronavirus.
The scandal stems from Trudeau giving an almost a billion-dollar contract to WE Charity after the organization has paid his wife, mother and brother hundreds of thousands of dollars in speaking fees, explained Politico. The BBC has a nice explainer on the issue, too.
Many viewed the 48-year-old prime minister as the next great hope for liberalism. But his approval ratings have taken a dive amid a series of controversies and ethics probes that have dogged him since he took office three years ago.
Those scandals included images surfacing of him wearing a brownface years ago; conflict-of-interest violations in handling corruption charges against a major engineering firm; a 2018 trip to India where he had to rescind a dinner invitation to a Sikh extremist; and breaking ethics rules when he accepted all-expense-paid family trips to the Aga Khan's property in the Bahamas.
Over the latest scandal, Trudeau has since apologized. "I made a mistake in not recusing myself immediately from the discussions given our family's history, and I'm sincerely sorry about not having done that," he said, according to the New York Times.
The scandal is not going away anytime soon, however. A WE Charity worker told the Canadian broadcaster, the CBC, that the organization was more concerned with serving elites than retaining its ethical integrity. A parliamentary committee recently released documents showing the charity was slated to receive CAD 900 million (US 678 million) for a student-grant program of which only 500 million was slated to be given to students as grants.
WE Charity representatives have claimed they wouldn't have benefitted from the grant, however. Speaking to lawmakers, they claimed political ties had nothing to do with the contract, CTV wrote.
Something fishy appears to be going on at the organization, however, many believe. The former chair of the charity's board of directors also told lawmakers she resigned because executives wouldn't produce financial documents as they fired hundreds of staff, the Globe and Mail noted. The Royal Bank of Canada has cut its ties with the charity, according to Reuters.
Trudeau, meanwhile, faced a grilling over the matter before lawmakers late last week, the Washington Post reported. He said the charity received no special treatment from himself and that he was unaware it was chosen until late in the game.
"As I said, I should have recused myself from this decision to avoid the appearance of favoritism," he told lawmakers. "I know that appearances can harm a good program and, of course, that's exactly what happened here."
Trudeau was punished at the polls in the aftermath of prior scandals – his party is in the minority in parliament now. And yet he is embroiled in another controversy and fielding calls for his resignation.
The worst part, says Toronto Sun columnist Lorrie Goldstein, is that none of Trudeau's political allies could have stopped the prime minister from making such an obvious political misstep: Trudeau punishes officials who speak out against him.
But that's a different problem…
WANT TO KNOW
LEBANON
A Day of Mourning
Rescue workers on Wednesday morning continued to search for missing residents of the neighborhoods – many reduced to rubble – adjacent to twin blasts in central Beirut that killed at least 100 people and injured 3,000 more.
Red Cross workers scoured the deserted streets next to the port, calling out to residents who might be trapped and injured, the Washington Post reported.
The blasts Tuesday evening came from a warehouse in Beirut's port area which housed massive quantities of explosive materials: The initial explosion ignited a fire and a second enveloped the skyline as a mushroom cloud of smoke billowed upward, and a shockwave moved out across the city.
The Lebanese Red Cross said that the city's morgues would be accepting bodies directly as hospitals could no longer cope.
The country declared a national day of mourning.
Most officials believe so far that the blasts may have been an accident. Lebanese Interior Minister Mohammed Fahmi said it appeared that stocks of ammonium nitrate, a fertilizer also used in bombmaking, had ignited.
Prime Minister Hassan Diab linked the explosions to 2,700 tons of the dangerous chemical that had been stored at the port since 2014, despite warnings from port officials that the material was not safe. He said, "Those responsible will pay the price."
The explosions coincide with mounting tensions between Israel and the Lebanese Shiite militia Hezbollah, which maintains a facility at the port and has long been accused by the US of using it to smuggle weapons into the country.
The incident follows a spate of mysterious blasts at Shiite militia weapon-storage sites in Iraq last year, which Israeli officials said it was responsible for, and a string of explosions at military sites and sensitive locations in Iran, which regional intelligence officials have said Israel, at least in part, was behind.
An Israeli official told the Washington Post that Israel had no role in the Beirut explosions.
THAILAND
The Land of Frowns
Student protesters angry over the ban of an opposition party last month are getting increasingly emboldened, asking for changes to the constitutional monarchy, a taboo in Thailand, Reuters reported Tuesday.
That request prompted Thai Prime Minister Prayuth Chan-ocha on Tuesday to warn students – many of whom were dressed like characters from the Harry Potter novels to highlight increasing injustices under the military-backed government – to avoid "creating chaos."
He also offered concessions, saying that a parliamentary committee has been formed to discuss possible amendments to the 2017 constitution drafted under the military-backed regime, which would also solicit the views of the young.
Meanwhile, the prime minister, who came to power six years ago following a coup and has led a military-backed cabinet ever since, warned protesters not to insult the monarchy, which is illegal in Thailand with sentences up 15 years in prison under "lese majeste" laws. Instead, the king, by law, is to be "revered."
Last month, a court ban of the opposition Future Forward Party sparked campus demonstrations with some 2,500 rallying at Bangkok's Democracy Monument. Since then, protests have spread around the country, with demonstrators calling for the dissolution of the parliament, reduced powers for the monarchy and new elections.
"Talking about this is not an act to topple the monarchy, but to allow the monarchy to exist in Thai society in the right way and legitimately under a democratic and a constitutional monarchy," a protest leader told the Guardian.
Thai King Maha Vajiralongkorn, who took the throne in 2016, requested changes in 2016 to the new constitution that would give the monarch greater emergency powers.
Paul Chambers, who teaches international affairs at Thailand's Naresuan University, told the Guardian that the protests are surprising: "Such open criticism of Thailand's monarch by non-elites at a public place within Thailand with the police simply standing by is the first of its kind in Thai history."
ARGENTINA
Debtor Woes – Again
Argentina reached an agreement with its biggest creditors Tuesday over restructuring $65 billion in foreign bonds, following months of intense negotiations since the country's ninth debt default in May, the Financial Times reported.
The government of President Alberto Fernandez said that deal will grant Argentina significant debt relief, and potentially avoid years of exclusion from capital markets unlike after the nation's catastrophic 2001 default.
The new terms suggest a recovery value of around 55 cents on the dollar – lower than the 60 cents on the dollar initially requested by some creditors, but higher than the 40 cents on the dollar proposed by the government.
Bondholders will still need to vote the deal and assuming it is passed, Argentina will enter talks with the International Monetary Fund, which has lent the country $44 billion since a currency crisis in 2018, to try to delay debt payments due in 2021-23, while avoiding harsh austerity measures.
The South American nation has been going through a deep recession and carries a large debt burden, further exacerbated by the coronavirus crisis. Analysts predict that the economy will shrink by 13.5 percent this year, compared to a previous forecast of 11.3 percent.
DISCOVERIES
Rock The Pandemic
Many people would think twice about attending a concert nowadays, thanks to the coronavirus pandemic.
German researchers, however, are asking 4,200 brave music fans to attend an upcoming concert in the name of science, the New York Post reported.
The concertgoers will serve as part of the RESTART-19 study – for "risk prediction of indoor sport and culture events for the transmission of Covid-19."
The study aims to learn how a viral pathogen spreads in crowded, indoor spaces in order to "identify a framework" on how to conduct large events and not endanger the population.
Participants aged between 18 and 50 will attend a show by Euro-pop singer Tim Bendzko later this month in Germany. All participants need to test negative with Covid-19 and will be required to carry pocket-sized "contact tracer" devices to monitor their movements.
Once inside, the daring individuals will have to wear masks and disinfect their hands with a sanitizer made of a fluorescent solution. The latter will help scientists later determine which surfaces were touched the most.
So far, more than 1,500 people have volunteered as of this week.
The team said they have no intention of tracking an actual viral spread but learn how and where people can come into contact with the virus – and hopefully overcome the pandemic.
Not already a subscriber?
If you would like to receive DailyChatter directly to your inbox each morning, subscribe below with a free two-week trial.
Support journalism that's independent, non-partisan, and fair.
If you are a student or faculty with a valid school email, you can sign up for a FREE student subscription or faculty subscription.
Questions? Write to us at hello@dailychatter.com.