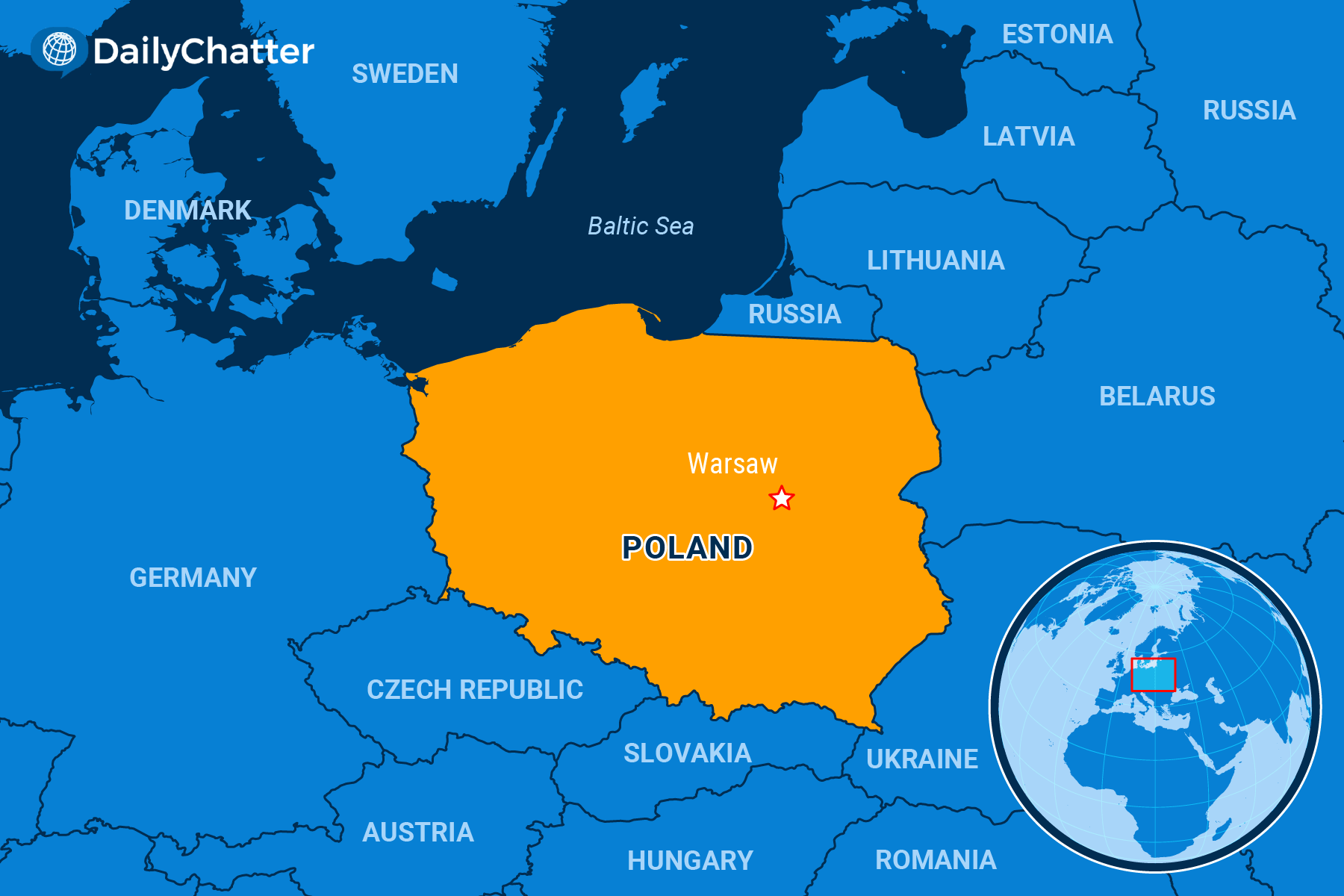 The World Today for June 23, 2020
Listen to Today's Edition
COVID-19 Global Update
More than 180 nations worldwide have confirmed cases of the coronavirus. The following have the highest numbers worldwide as of 4 a.m. ET*:
US: 2,312,302 (+1.37%)
Brazil: 1,106,470 (+2.13%)
Russia: 591,465 (0.00%)**
India: 440,215 (+3.51%)
UK: 306,761 (+0.31%)
Peru: 257,447 (+2.43%)
Chile: 246,963 (+1.90%)
Spain: 246,504 (+0.09%)
Italy: 238,720 (+0.09%)
Iran: 207,525 (+1.26%)
Source: Johns Hopkins University
*Numbers change over 24 hours
**Numbers have been adjusted by affected country
NEED TO KNOW
POLAND
The Pursuit of Happiness
Polish President Andrzej Duda recently said the LGBTQ civil rights movement was more harmful than communism. "LGBT is not people, it's an ideology," said Duda at a recent campaign rally in the lead up to the country's presidential election on June 28.
As Euronews explained, gay rights have become a big political issue before the election, which was delayed due to the coronavirus.
Duda and his nationalist, populist, conservative ruling party, Law and Justice, are using the LGBTQ community to leverage support among Catholic Poles who might be homophobic and feel as if their country has gone through enough revolutions in their lifetimes. The party has a history of curbing political dissidence, freedom of the press, independence of the judiciary and other civil rights.
Even so, the president later walked back the remarks, saying his comments were taken out of context, Reuters wrote. But make no mistake: Duda specifically linked gay rights to communism, the ruling political ideology in Poland for more than four decades.
Poland has a proud history of preserving its culture despite foreign invasions, as the Guardian illustrated in a moving story about Pope John Paul II and Polish freedom fighter and ex-president Lech Walesa. Duda is equating the LGBTQ community with some kind of outside influence to bar from entry rather than a segment of the Polish nation.
Duda's rival, Warsaw Mayor Rafal Trzaskowski, meanwhile, is calling for tolerance. He's also called for the humane treatment of the relatives of Jews killed in the Holocaust in Poland. He wants to satisfy their claims for restitution, the Jewish Telegraph Agency reported.
Whoever wins the election will be the point man for Polish relations with the United States. Duda appears to work well with President Donald Trump. Politico reported on how the two have worked on a plan to withdraw thousands of troops from Germany, which Trump has said is spending too little on defense, and redeploy them to Poland, a former Warsaw Pact member. The troops might occupy a new American foreign military base: Fort Trump.
Poland is also seeking to wean itself off Russian natural gas and instead consume more natural gas from the US and other suppliers, Agence France-Presse reported.
Duda's expected victory will likely bring business opportunities, say observers, but mostly it will preserve the status quo. Poles these days, analysts believe, aren't ready to shake up the establishment – yet.
WANT TO KNOW
JAPAN
Islands of Doubt
A Japanese city passed a bill Monday that would change the status of a group of islands in the East China Sea, sparking fury in China and Taiwan, both of which claim ownership, Japan's Kyodo News reported.
The Ishigaki city assembly changed the name of the southern Japanese region surrounding the Senkaku Islands from "Tonoshiro" to "Tonoshiro Senkaku."
China and Taiwan said that this was an attempt by Japan to establish its claim on the islets by inserting the Japanese name "Senkaku." Chinese officials called the move "illegal and invalid," while Taiwan urged Japan to exercise self-restraint and not undermine peace and stability in the East China Sea.
Taiwanese authorities said the bill could be a response to the fact that Chinese ships have been disrupting fishing activities in the disputed waters.
Japanese officials, however, said that renaming the region is aimed at resolving administrative confusion with another area of Ishigaki, which shares the name "Tonoshiro."
They denied that the name change was to bolster Japan's claim on the islands.
In 2012, tensions over the islets erupted after Japan brought them under state control, sparking anti-Japanese protests across China, CNN reported.
SERBIA
Back in the Saddle
Serbia's ruling populist party won by a landslide in Sunday's parliamentary election, according to early returns released Monday, the Associated Press reported.
Election authorities said the Serbian Progressive Party of President Aleksandar Vucic won more than 60 percent of the vote in an election that was partially boycotted by the main opposition parties.
Opposition politicians said that Vucic unfairly dominated state-run media, which allowed his party to hold about 190 seats in the 250-member parliament.
They alleged that the vote was marred by irregularities and intimidation of voters.
The parliamentary elections were the first post-lockdown elections to take place in Europe. Final results are expected later this week.
Vucic, a former ultra-nationalist, campaigned on the promise of negotiating the future of Serbia's former province of Kosovo, which declared independence in 2008.
Serbia has rejected Kosovo's declaration of independence.
Despite his calls to make Serbia a member of the European Union, critics have accused Vucic of eroding democratic freedoms since his party came to power in 2012.
PANAMA
Digging Up the Past
Panamanian authorities exhumed the remains of 19 people earlier this week as part of an official investigation into the 1989 United States invasion of Panama, the BBC reported.
The victims were initially placed into a mass grave but later reburied in the Jardín de Paz cemetery in the capital. Some bodies remain unidentified.
The government has created a commission to investigate the death toll: About 500 people died during the invasion but activists believe the number to be much higher.
Relatives say that all victims need to be identified to offer closure to the families.
The US invasion took place on Dec. 20, 1989, when relations between the US government and Panamanian leader Manuel Noriega reached an all-time low.
Then-US President George H.W. Bush said that the invasion was to "protect the lives of American citizens" and bring Noriega "to justice."
The invasion remains a difficult issue for many in Panama and there have been calls to mark Dec. 20 as a national day of mourning.
DISCOVERIES
Crowd-sourcing Mars
NASA has invited the public to help in exploring Mars, according to Digital Trends.
The space agency recently unveiled an online tool that would allow any person to classify different types of Mars terrain, in order to help driving rovers navigate around the red planet.
Scientists at NASA use an algorithm called SPOC (Soil Property and Object Classification) to label the topography on the planet's uncharted surface.
The problem is that there's so much data to train the algorithm that it requires a lot of time for researchers – who are also helping the Curiosity rover navigate on Martian soil.
They are now asking the public to offer support and knowledge in training the algorithm using the online AI4Mars tool so it can better recognize different parts of the planet's terrain.
The tool can be used to draw boundaries and label objects around Mars' terrain as sand, soil, bedrock or big rocks.
"In the future, we hope this algorithm can become accurate enough to do other useful tasks, like predicting how likely a rover's wheels are to slip on different surfaces," said Hiro Ono of NASA's Jet Propulsion Laboratory.
Click here to become a cartographer.
Not already a subscriber?
If you would like to receive DailyChatter directly to your inbox each morning, subscribe below with a free two-week trial.
Support journalism that's independent, non-partisan, and fair.
If you are a student or faculty with a valid school email, you can sign up for a FREE student subscription or faculty subscription.
Questions? Write to us at hello@dailychatter.com.