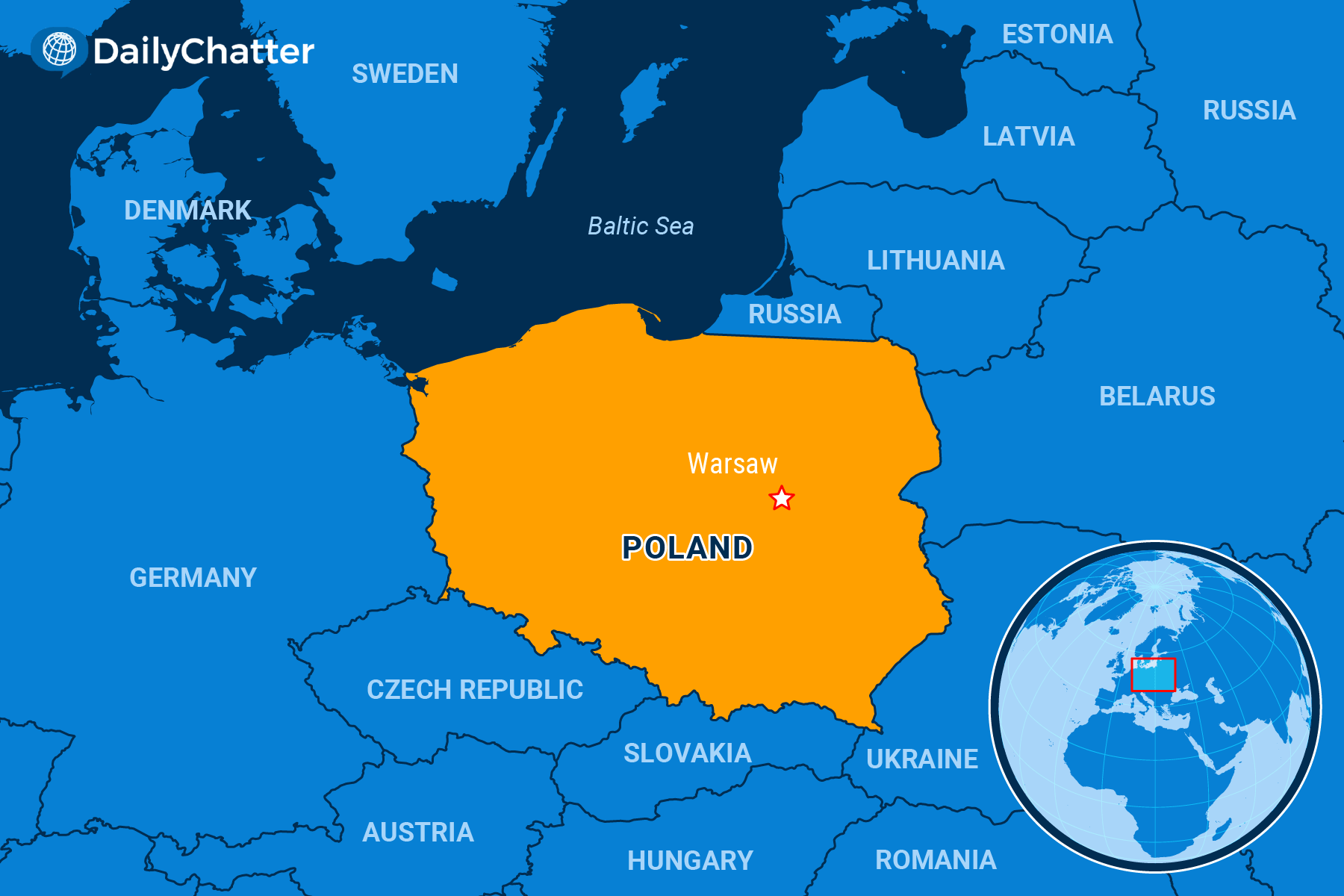 The World Today for May 08, 2020
Listen to Today's Edition
COVID-19 Global Update
More than 180 nations worldwide have confirmed cases of the coronavirus. The following have the highest number as of 4 a.m. ET*:
US 1,256,972 (+2.31%)
Spain 256,855 (+1.25%)
Italy 215,858 (+0.65%)
UK 207,977 (+2.78%)
Russia 177,160 (+6.77%)
France 174,918 (+0.40%)
Germany 169,430 (+0.75%)
Brazil 135,773 (+7.24%)
Turkey 133,721 (+1.50%)
Iran 103,135 (+1.46%)
Source: Johns Hopkins University
*Percentage change over 24 hours
NEED TO KNOW
POLAND
A Virus, a Vote
A global pandemic didn't stop Poland's leaders from trying to cement their grip on power.
Until it did.
Jarosław Kaczyński, leader of the ruling Law and Justice (PiS) party and the country's de facto ruler, decided at the last minute to postpone Sunday's election before the Supreme Court forced him to, Poland's PAP news agency reported.
The decision, which came just before midnight Wednesday, was a "significant retreat" for Kaczyński, who had defied critics at home and abroad to hold the elections, with the incumbent Andrzej Duda, backed by PiS, heavily favored to win, Politico reported.
In the run-up to the elections, the entire country had been in lockdown due to the novel coronavirus. Politicians had decided to go ahead and hold the vote by mail to stave off criticism that a vote might expose Poles to danger, the Financial Times reported.
But criticism persisted.
For example, Duda's rivals were crying foul, saying postponing in-person voting was the only responsible thing to do. Critics accused Duda of wanting to hold the vote in May – before the effects of the coronavirus on the economy take their toll and hurt his approval rating. They also claimed he declined to declare a state of emergency because, while that move would grant him extraordinary powers, it would also require him to delay the vote, wrote the Balkan Investigative Reporting Network.
Meanwhile, analysts said that Duda was aware that any delay in the elections would give the opposition more time to exploit a scandal over the leader and his allies funneling $480 million to state-run media, which behaves like a government mouthpiece, rather than devoting that funding to healthcare, argued Polish intellectual Sławomir Sierakowski in Public Seminar, a journal of ideas published by the New School in New York.
Politics aside, local officials before the postponement weren't sure they could even process mailed ballots properly. Polish Ombudsman Adam Bodnar said Duda was illegally requesting the post office plan for the ballot – parliament had yet to approve the vote-by-mail scheme. "This could irreversibly change the current rules for conducting elections," Bodnar told Reuters.
Meanwhile, former Polish president and ex-leader of the European Council, Donald Tusk, had called for a boycott of the election. That stance, however, might have benefitted Duda by dissuading some voters who would likely cast ballots for other candidates to stay home.
Still, for many observers, the election shenanigans come as no surprise.
Like Hungarian Prime Minister Viktor Orban and his Fidesz party, which has all but ceased its pretense of running a country democratically, Law and Justice has used the presidency and its majorities in parliament to undermine the rule of law and judicial independence, compromise civil rights and press freedom, crack down on political dissidents and marginalize communities that don't conform to Poland's traditional Catholic culture, according to Human Rights Watch.
While other European leaders are figuring out how to handle the coronavirus pandemic, for example, Law and Justice has been debating proposals to restrict women's access to abortion, sex education in schools and similar questions, political analysts discussed in a London School of Economics blog post.
Meanwhile, the anti-democracy trend is accelerating across the region: Democracy is weakening across Central and Eastern Europe as well as Eurasia amid the rise of Chinese and Russian influence, according to a new report by Freedom House, a Washington, D.C.-based nonprofit.
"Many leaders in this region are no longer pretending to care about democracy or the rule of law," said Freedom House President Michael J. Abramowitz. "These shifts are taking place in an environment that was vulnerable to abuse even before the arrival of COVID-19."
Still, sometimes politics can act as a safeguard, too.
Before the decision to delay the vote, rifts began opening up within the conservative ruling coalition over when and how balloting should take place – this raised the threat of a small partner party withdrawing its support and the government losing its parliament majority and potentially collapsing, the Associated Press wrote.
In other words, Polish leaders did the right thing for the wrong reasons, analysts say.
Now, a few things are relatively certain. The elections will likely be held in July, they will likely be held by mail, and Duda will likely win. Polish democracy, however, will continue to lose.
WANT TO KNOW
IRAQ
No Rest for the Weary
Iraq's parliament approved intelligence chief Mustafa al-Kadhimi as the country's prime minister Thursday after months of difficult negotiations, CBS News reported.
Al-Kadhimi will replace Prime Minister Adil Abdul-Mahdi, who resigned in November following months of anti-government protests.
The new prime minister, meanwhile, faces challenges on multiple fronts: Iraq is facing a coronavirus-fueled financial crisis, crumbling infrastructure following years of war and scant investment, ongoing political instability and the renewed threat of Islamic State.
At the same time, al-Kadhimi must also prevent Iraq from turning into a battlefield in the conflict between its neighbor Iran and the United States.
Meanwhile, he will have to convince demonstrators, who have taken to the streets since October and want a clean-up of Iraqi politics, that he will implement significant change.
BRAZIL
An Amazonian Effort
Brazilian President Jair Bolsonaro on Thursday ordered the deployment of the military to the Amazon region to fight fires as destruction of the world's largest rainforest accelerates, Reuters reported.
Last year, Bolsonaro sent the military into the region in August to tackle a similar situation following an international outcry over a wave of fires destroying the rainforest.
Deforestation in Brazil's Amazon increased in the first quarter of 2020 by 51 percent over last year.
Environmentalists said the forest's role in trapping vast amounts of greenhouse gases that cause climate change is critical.
ISRAEL
Unity, Sort Of
Israeli lawmakers approved a unity government between Prime Minister Benjamin Netanyahu and his former rival Benny Gantz Thursday, putting an end to a year of political deadlock, Agence France-Presse reported.
The vote comes a day after Israel's high court ruled that Netanyahu, who has been indicted on corruption charges and is due to go on trial in two weeks, is allowed to form a government.
The new administration will be sworn in on May 13, with Netanyahu running the country for 18 months before handing the reins to Gantz.
The unity government will initially focus on rebuilding the economy damaged by the novel coronavirus outbreak.
In July, it will also decide on the possible annexation of Israeli settlements and the Jordan Valley in the West Bank.
DISCOVERIES
When We Were Fish
Scientists recently found that the fins of a prehistoric fish shed light on the evolutionary origins of the human hand, essentially telling the story of a landmark event in the history of life on Earth – the transition of fish to land vertebrates, Reuters reported.
Archaeologists studied the complete fossil of Elpistostege watsoni, an aquatic creature that lived about 380 million years ago in what is now Canada.
The team noted that the tip of the animal's front fins had tiny bones arranged in a series of rows like digits – the precursor of fingers.
They said that while the digits were as not free moving as fingers, they would have allowed the Elpistostege's fin to bear its weight on land.
However, researchers are unsure if the fish ever left its aquatic habitat for a little stroll on dry land.
This is the first time that digits were observed in fish rather than in amphibians – which were the first land vertebrates and sported five digits.
The authors said that modern four-limbed land animals – known as tetrapods, which also includes humans – evolved from fish similar to the Elpistostege.
"By looking at Elpistostege, it is important to realize that we, as human beings, are coming from a long line of evolution, that every part of our body, like our fingers, has a long evolutionary history," said study co-author Richard Cloutier. "This is true for Homo sapiens but it is also true for all living organisms."
Not already a subscriber?
If you would like to receive DailyChatter directly to your inbox each morning, subscribe below with a free two-week trial.
Support journalism that's independent, non-partisan, and fair.
If you are a student or faculty with a valid school email, you can sign up for a FREE student subscription or faculty subscription.
Questions? Write to us at hello@dailychatter.com.