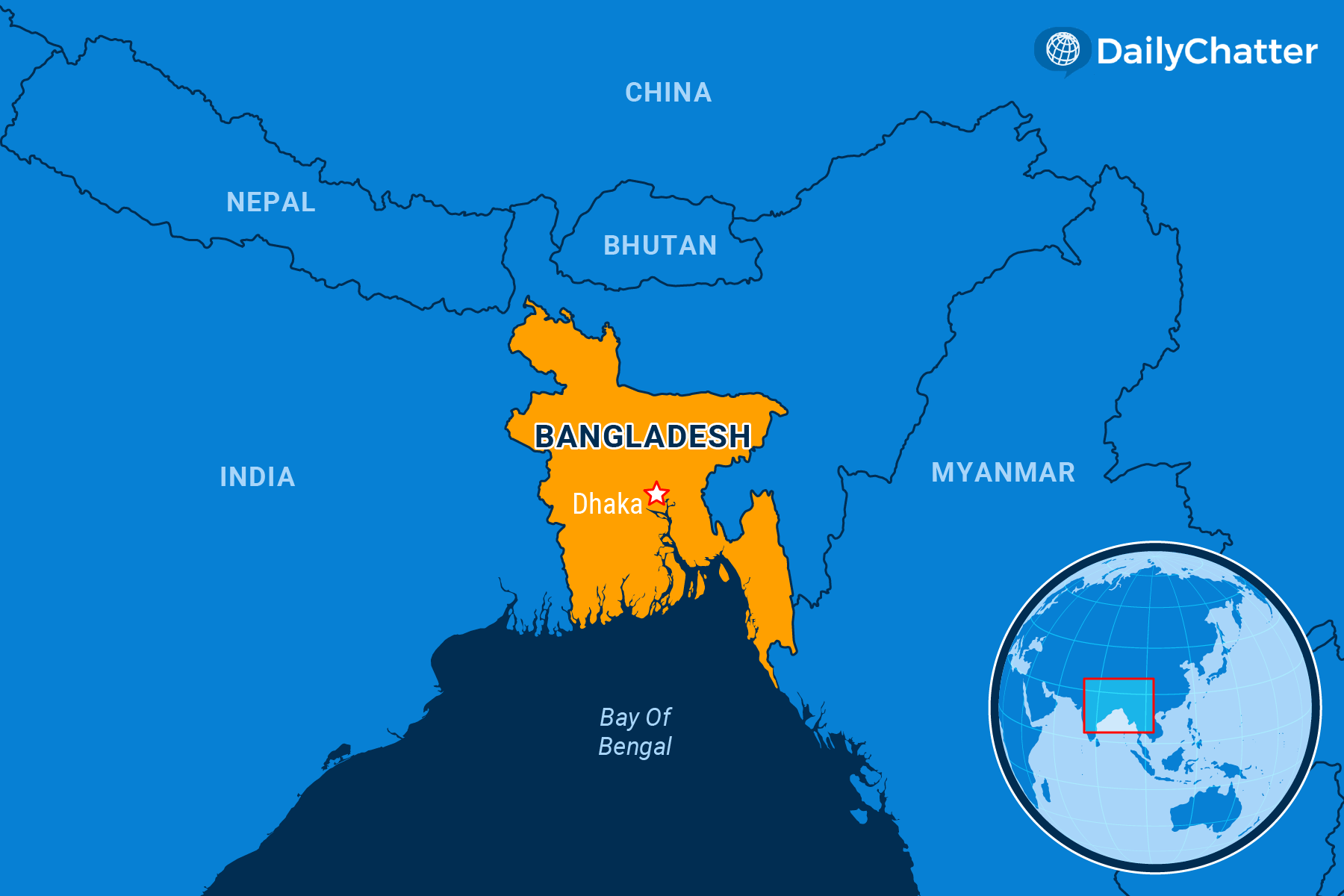 The World Today for May 01, 2020
Listen to Today's Edition
COVID-19 Global Update
China Has Left the Top 10
More than 180 nations worldwide have confirmed cases of the coronavirus. The following have the highest number as of 4 a.m. ET*:
US 1,070,032 (+2.84%)
Spain 239,639 (+1.16%)
Italy 205,463 (+0.92%)
UK 172,481 (+3.63%)
France 167,299 (+0.45%)
Germany 163,009 (0.91%)
Turkey 120,204 (+2.22%)
Russia 106,498 (+7.14%)
Iran 94,640 (+1.05%)
Brazil 87,187 (+9.41%)
Source: Johns Hopkins University
*Percentage change over 24 hours
NEED TO KNOW
BANGLADESH
Running on Empty
Workers around the world are anxious as lockdowns keep them from earning a paycheck.
But few are more desperate and deserving of help than the garment workers of Bangladesh.
In addition to fears of contracting the virus in an impoverished country where the health system is dysfunctional and understaffed, big American stores – think JCPenney and Kohl's – have closed their doors, resulting in a cliff-like drop-off of demand for new clothes that the workers produce.
More than half of Bangladesh's 4.1 million garment workers have been laid off or furloughed, CNN reported. More than $3 billion in orders that provide vital foreign investment into the country is on hold. The fashion industry provides 80 percent of the country's exports and makes up about 16 percent of the country's gross domestic product. The country is the second largest provider of clothing in the world, after China.
"Bangladesh's ready-made garment manufacturers are struggling to survive," wrote Rubana Huq, president of the Bangladesh Garment Manufacturers and Exporters Association, in an op-ed in the Washington Post.
Bangladeshi garment workers have faced poor labor conditions for years. Remember the tragedy of the Rana Plaza factory in Dhaka in 2013? Containing numerous factories that made clothes for Benetton, Mango and other popular brands, the building was literally cracking, the Independent explained. After one incident when a fissure opened in a floor and the building was evacuated, the owner said it was safe to reenter. But soon after, more than 1,100 people died and 2,500 injured when the building collapsed.
The incident set off fury and some reforms were instituted to protect workers, the New York Times reported.
Now, as they face destitution, the garment workers are again asking for respect.
Clothing factory workers took to the streets to demand back pay recently, reported bdnews.24, a local English and Bengali language news outlet. They blocked streets and demonstrated, relenting only after their bosses – no doubt also hard-pressed because contracts have not been honored and business has dried up – promised to pay them. A typical garment worker earns around $110 a month. Many workers send a large portion of their salaries to remote villages where their families live.
Garment workers aren't the only ones suffering, of course. The garment industry employs truckers, mechanics and others. The nationwide lockdown has rickshaw drivers nervous about whether they can pay their rent, too, Al Jazeera reported. Extreme poverty in the so-called informal economy that includes street vendors and others has risen from 24 percent to 84 percent. Many are depending on charities and food banks like this one featured in a Dhaka Tribune story.
Most of the world is feeling the effects of the pandemic. And what started as a ripple in one place became a tidal wave somewhere else. The problem for countries like Bangladesh, however, is that survival-mode was already the norm before the storm.
WANT TO KNOW
GERMANY
The Party of God
Germany banned all activities by the Iran-backed Hezbollah group Thursday, launching police raids on local mosques and community centers linked to the organization, the BBC reported.
The move comes after the government determined that the group was responsible for "a multitude of attacks resulting in hundreds of deaths and injuries worldwide."
The government had previously banned the military arm of the Lebanese Shiite group from operating in the country but had allowed its political wing to conduct business.
Germany joins other Western nations that have banned both the group's political and military wing – a list that includes the United States and the Netherlands.
The European Union has designated Hezbollah's military branch as a terrorist organization but not its political wing.
Hezbollah, which means "Party of God" in Arabic, holds considerable power in Lebanon and is considered a key supporter of its current government.
ISRAEL
Risky Business
Members of the Arab League on Thursday denounced Israel's plan to annex parts of the occupied West Bank as a "war crime" against the Palestinian people, Reuters reported.
The plan would extend Israel's sovereignty to Jewish settlements in the West Bank and annex the Jordan Valley.
Israeli Prime Minister Benjamin Netanyahu said on April 26 that he expected the United States to approve the plan within two months. He also announced that cabinet discussions over annexation will begin July 1.
Arab League representatives accused Israel of taking advantage of the coronavirus pandemic to annex the territory. They added that such a move "would end the two-state solution" for Palestine and Israel.
The US government said earlier this week it was ready to recognize the annexation, but asked the Israeli government to also negotiate with Palestinians, the Times of Israel reported.
Arab countries are now urging the European Union to pressure Israel to back off the plan and to recognize the Palestinian borders of 1967.
UKRAINE
A Slow Process
Top diplomats from Russia, Ukraine, Germany and France met to advance the peace process in eastern Ukraine Thursday, but failed to make progress on a long-lasting truce, the Associated Press reported.
The discussions follow a December summit in Paris where the leaders of the four nations agreed on steps to end the fighting between Ukrainian forces and Russian-backed rebels.
Ukrainian Foreign Minister Dmytro Kuleba said that the four envoys agreed that negotiators from Russia, Ukraine and the rebels should discuss a new ceasefire.
He added that all parties should speed up efforts to ensure the release of prisoners captured since the conflict began in 2014, who have not yet been freed.
Russian Foreign Minister Sergey Lavrov, however, argued that Ukraine's government has hindered the peace process by refusing to hold direct talks with the rebels.
Since the summit, the Ukrainian government and the rebels have exchanged prisoners and withdrawn their troops from parts of the eastern front but clashes continue.
The six-year conflict began after Russia annexed Ukraine's Crimea. More than 14,000 people have died in the war.
DISCOVERIES
The Smell of Attraction
Some creatures produce odors to attract potential partners during mating season.
Known as pheromones, these chemicals can be found in mice and insects, but there's still a big debate whether primates – including humans – use them, too.
A recent study found that the male ring-tailed lemurs release behavior-altering odors from their tails to attract females during breeding seasons, Science magazine reported.
Researchers wrote that the male primates are equipped with special glands on their wrists that produce chemicals that vaporize once exposed to air.
The males rub these chemicals on their tails and then shake them to spread their scent. The authors explained that the chemicals had a bitter, leathery smell to intimidate other males, but a sweet scent to attract the ladies.
Analysis of the secretions revealed three substances that were important in mesmerizing females and aiding in courtship.
The study offers more insight into how odors can play an important role in primate societies, but there are certain caveats, some scientists warned.
Most of the data came from a single male lemur, while females are known to be very promiscuous – making the need for sex pheromones useless.
"Sniffing and other olfactory behaviors by females should not be interpreted as expressing a preference," said Peter Kappeler, who was not involved in the study.
Not already a subscriber?
If you would like to receive DailyChatter directly to your inbox each morning, subscribe below with a free two-week trial.
Support journalism that's independent, non-partisan, and fair.
If you are a student or faculty with a valid school email, you can sign up for a FREE student subscription or faculty subscription.
Questions? Write to us at hello@dailychatter.com.