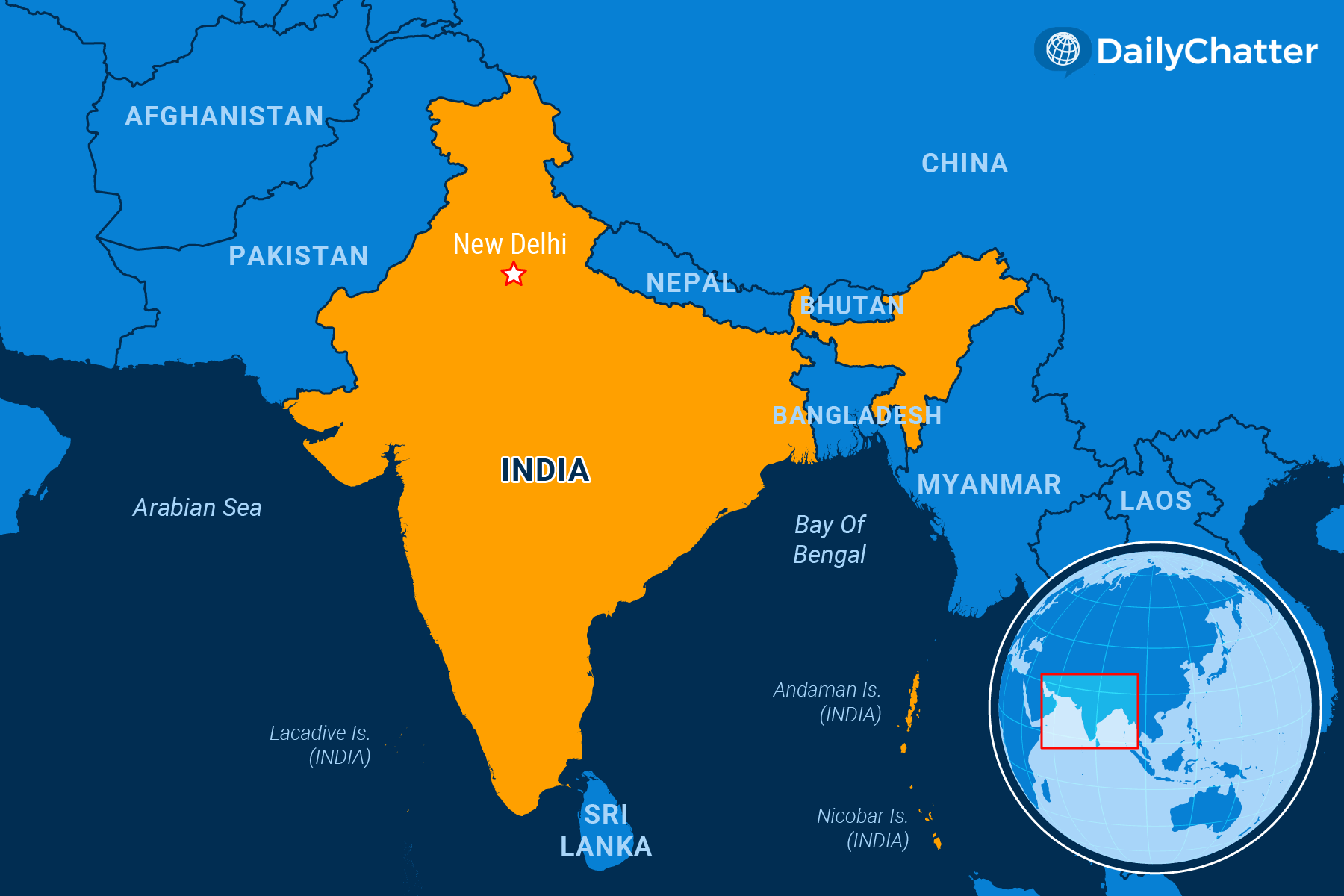 The World Today for April 07, 2020
Listen to Today's Edition
COVID-19 Global Update
More than 180 nations worldwide have confirmed cases of the coronavirus. The following have the highest number as of 4 a.m. ET*:
US 368,449 (+9.13%)
Spain 136,675 (+3.82%)
Italy 132,547 (+2.79%)
Germany 103,375 (+3.25%)
France 98,984 (+5.55%)
China 82,697 (+0.07%)
Iran 60,500 (+3.91%)
UK 52,279 (+7.93%)
Turkey 30,217 (+11.63%)
Switzerland 21,657 (+2.64%)
Source: Johns Hopkins University
*Percentage change over 24 hours
NEED TO KNOW
INDIA
Locked Down, Locked Out
Officer Rajesh Babu in the southern Indian city of Chennai wore a helmet shaped like a coronavirus particle to remind people about the country's three-week lockdown, the world's biggest. The helmet was a way to lighten a serious situation, CNN reported.
But some Indians probably didn't appreciate the gesture in light of police behavior in the country during the pandemic.
Incidents of police brutality have been on the rise amid the coronavirus response. On the first night of the curfew, police whipped and beat violators caught outdoors, wrote Democracy Now! Quartz detailed police demanding bribes from essential employees traveling on the roads to deliver food (one truck driver was shot) and forcing others to hop like frogs, a humiliating gesture that appeared only to cruelly assert the cops' authority.
Worse, many of the folks caught on the road after hours were there because Prime Minister Narendra Modi ordered businesses to close. In India, workers often eat and sleep at their workplaces. Thrown out of their jobs, without a bed or food, they had to commute back home, often hundreds of miles away, most often on foot.
"You fear the disease, living on the streets. But I fear hunger more, not corona," said Papu, a 32-year-old who has worked in Delhi for three years and now was trying to reach his village 125 miles away, in a New York Times interview.
Around the country, chaos broke out.
The Telegraph posted a video on YouTube showing massive crowds converging on the New Delhi bus terminal to catch a ride home even as most public transportation was canceled.
Other workers clashed with police after they sought to violate orders to remain inside. The police fired tear gas at them, Reuters reported. And in one chaotic scene, officials in protective suits sprayed hundreds of returning migrant workers in northern India with a chemical disinfectant, the BBC wrote.
Rajiv Khandelwal, executive director of Aajeevika Bureau, an organization based in Rajasthan helping migrant workers, told the Washington Post that his group has received "an avalanche" of distress calls after Modi's announcement: Many are stranded at state borders, unable to cross and running out of food after losing their jobs, he said.
Meanwhile, at least 22 people died on their treks home.
Most agree: The lockdown has backfired, according to BuzzFeed, noting that Modi gave too little notice to low-wage workers like cooks and cleaners who have become displaced people in their own country overnight.
Modi apologized to the country's poor, saying he was sorry for the suffering but arguing that he needed to take drastic action to prevent the spread of the novel coronavirus in the country of more than 1.3 billion people, Al Jazeera reported.
He has to do more, argued Nobel laureates Esther Duflo and Abhijit Banerjee in an op-ed in the Indian Express. If the poor are suffering now, what will happen to them when they are home and unemployed? Modi's $22.6 billion economic package won't be enough.
Also, the temperature in Mumbai is already hitting 95 degrees Fahrenheit, they noted. Are the poor expected to remain in their tiny homes for weeks on end in those conditions?
It's going to be a long, hot summer in India.
WANT TO KNOW
EUROPE
Resurrection
Austria announced Monday that it will slowly ease its lockdown measures next week, even as most other European countries remain shut down due to the novel coronavirus, Politico reported.
Chancellor Sebastian Kurz said that there would be a "resurrection after Easter" starting on April 14, with non-essential shops opening under strict hygiene protocols.
Meanwhile, the Czech Republic also announced plans to relax lockdown measures Monday, possibly allowing shops to open by Thursday, according to Reuters.
While those two countries attempt to move toward normality, in Poland, a move to postpone the presidential election scheduled for May because of the pandemic led to the resignation of the deputy prime minister Monday, the Associated Press reported.
Jaroslaw Gowin resigned after failing to convince the leader of the ruling Law and Justice Party, Jaroslaw Kaczynski, to postpone the election, saying it was irresponsible to hold a vote during a pandemic.
The dispute aside, in the end, the ruling party passed a bill in the lower house of parliament to hold the election using mail-in ballots, according to Bloomberg.
IVORY COAST
NIMBY
Ivory Coast authorities clashed with protesters Monday over the construction of a coronavirus testing center in a neighborhood of the economic capital Abidjan, Reuters reported.
More than 100 residents attempted to destroy the half-built center over the weekend, fearing that it would be used to treat infected patients.
Officials attempted to reassure protesters that the building is a testing center and one of many in Abidjan. The nation has recorded more than 260 confirmed cases and three deaths as of Monday.
President Alassane Ouattara declared a state of emergency last month and implemented a nationwide curfew, Agence France-Presse reported.
The government has yet to declare a nationwide lockdown.
Abidjan, meanwhile, remains under quarantine and has been effectively cut off from the rest of the country.
WORLD
Infected By Violence
United Nations Secretary-General Antonio Guterres urged governments around the world to take more measures in tackling a surge in domestic violence cases amid the coronavirus lockdowns, NPR reported Monday.
"For many women and girls, the threat looms largest where they should be safest – in their own homes," he said.
Guterres said that as a consequence, lockdowns "can trap women with abusive partners" and that in some countries the number of domestic violence reports "has doubled."
Domestic violence rates have increased in France and South Africa, with South African authorities saying that there were nearly 90,000 reports of violence against women in the first week of the lockdown.
The UN found that the number of calls to helplines doubled in Lebanon and Malaysia, and it tripled in China.
Last week, the Malaysian government launched a controversial campaign advising women to refrain from nagging and being "sarcastic" to their husbands during the lockdown.
Authorities quickly retracted the campaign following an outcry.
DISCOVERIES
The More Things Change…
As nations grapple with the novel coronavirus, historians are looking at how the medieval city of Dubrovnik in Croatia used to contain the spread of disease centuries ago.
The city, the backdrop for the hit series, "Game of Thrones," was the first to set up a quarantine system in Europe, in the 14th century, the Associated Press reported.
Physician Ana Bakija-Konsuo explained that in 1377, authorities initially built wooden huts on nearby islands as protection against leprosy. Visitors to the city, once a major sea power, were quarantined there. After they were allowed out, the huts were burned down.
Centuries later, city officials built the Lazarettos complex, a designated quarantine zone located near the harbor. Historian Ivan Vigjen said authorities used the complex to isolate travelers and tradesmen coming from regions affected with diseases for a maximum period of 40 days.
Lazarettos is currently a tourist hotspot with galleries and nightclubs. But centuries ago, it was considered "the biggest state investment in public health," according to Vigjen.
"They (authorities) were very effective in keeping the diseases away even before they entered the soil of Dubrovnik," he added. "Throughout history, the rules of quarantine were unchanged."
Not already a subscriber?
If you would like to receive DailyChatter directly to your inbox each morning, subscribe below with a free two-week trial.
Support journalism that's independent, non-partisan, and fair.
If you are a student or faculty with a valid school email, you can sign up for a FREE student subscription or faculty subscription.
Questions? Write to us at hello@dailychatter.com.