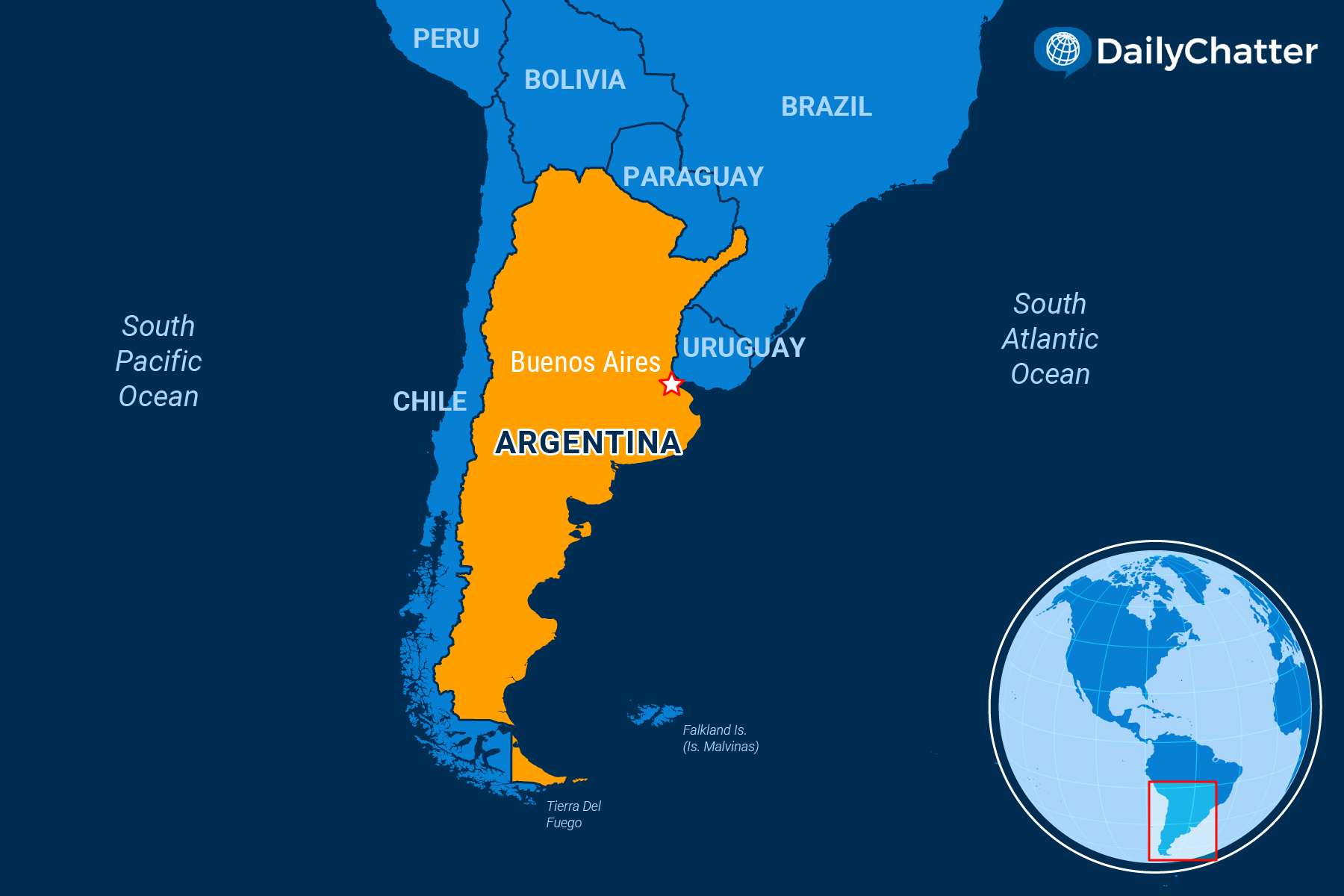 The World Today for March 31, 2020
Listen to Today's Edition
COVID-19 Global Update
More than 170 nations worldwide have confirmed cases of the coronavirus. The following have the highest number as of 4 a.m. ET*:
US 164,610 (+15.09%)
Italy 101,739 (+4.15%)
Spain 87,956 (+9.79%)
China 82,240 (+0.11%)
Germany 66,885 (+7.13%)
France 45,170 (+10.92%)
Iran 41,495 (+8.32%)
UK 22,454 (+13.50%)
Switzerland 15,922 (+7.37%)
Belgium 11,899 (+9.81%)
Source: Johns Hopkins University
*Percentages change over 24 hours
NEED TO KNOW
ARGENTINA
Of Popes and Coat Hangers
Argentina is on track to become the largest Latin American country to legalize abortion.
That's a notable shift.
In Latin America, only Cuba and Uruguay have legalized abortion nationwide. English-speaking Guyana and some parts of Mexico, including its capital city and the state of Oaxaca, have also done so.
But restrictions on the procedure are common throughout the predominantly Roman Catholic region. The Dominican Republic, El Salvador, Haiti, Honduras and Nicaragua ban the procedure without exceptions, reported the Guardian.
In El Salvador, authorities have sentenced at least 14 women to prison for as long as 30 years for allegedly inducing an abortion, according to a Reuters story that cited a report by the United Nations Working Group on Arbitrary Detention. Activists say what the convicted women suffered was more likely a miscarriage, still birth or other pregnancy complications.
Under Salvadoran law, doctors must report to the police if they suspect someone attempted to end a pregnancy. Accused women often face charges of aggravated homicide.
Opinions are changing, however. Argentine President Alberto Fernandez, who took office in December, promised to propose legislation early in his term to amend rules that limit abortion to cases of rape or when the mother's life is threatened. A plan to send the bill to the National Congress in early March was delayed, however, as the government focused instead on responding to the novel coronavirus emergency.
"Abortion happens, it's a fact," Fernandez said in a recent address before lawmakers, according to the Independent. "A state should protect citizens in general and women in particular. And in the 21st century, every society needs to respect the individual choice of its members to decide freely about their bodies."
Those comments stood in stark contrast to the Colombian Constitutional Court's recent decision not to legalize abortion. A Colombian law professor had asked the court to institute a total ban on terminating pregnancies. The court could have used the opportunity to legalize abortion, the New York Times wrote, but instead let stand laws that restrict the practice.
Activists in Argentina were nonetheless heartened by the publicity the Colombian case generated.
As the BBC explained, a previous attempt to legalize abortion in Argentina narrowly failed in 2018. Now, however, the measure is expected to garner sufficient political support to become law. The shift demonstrated that abortion-rights activists can change public views despite strong and earnest opposition.
Amnesty International Argentina noted how activists put pressure on Fernandez to make a big announcement for their cause early in his term.
Women took to the streets after the 2018 legislation failed. Abortion-rights activists wore green and held placards showing coat hangers with the word "adios," meaning "goodbye" to unsafe medical care, Al Jazeera reported. Anti-abortion advocates wore blue and sometimes carried the yellow-and-white flag of the Vatican, an allusion to Pope Francis, an Argentine.
Change happens – eventually.
WANT TO KNOW
HUNGARY
A Virus, An Opportunity
Hungary's parliament approved a law on Monday that would give Prime Minister Viktor Orban sweeping emergency powers to fight the spread of the novel coronavirus, Politico reported.
The vote allows Orban to rule by decree indefinitely and punishes those that spread false information about the pandemic with up to five years in prison.
Civil rights groups and European Union officials have criticized the law and see it as a power grab.
Once a hero for demanding reform and Soviet withdrawal in the late 1980s, Orban has become increasingly authoritarian and has attracted the ire of the European Union multiple times over the past five years for violating the bloc's principles.
Despite his popularity at home, some of his supporters are concerned about the country's healthcare system, NPR reported.
Analysts said that Hungary's health system is ill-prepared: Hospitals suffer staff shortages and lack basic sanitation such as toilet paper and soap.
Hungary has more than 440 confirmed cases of the coronavirus and 15 deaths, which is far less than most other European countries – although not many have been tested.
SINGAPORE
Indecency In Law
Singapore's high court on Monday upheld a colonial-era law that criminalizes gay sex, a move that puts the city-state at odds with a regional trend to embrace same-sex relationships, Financial Times reported.
The court rejected three separate appeals that deemed the legislation as unconstitutional. Under the law, a man found guilty of "gross indecency" with another man faces up to two years in prison.
Analysts argued that the ruling could discourage international companies to relocate their LGBT staff in Singapore.
Authorities, meanwhile, have said that the law was rarely used even as the conservative society was not ready to accept same-sex relationships.
However, a 2019 survey found that nearly 60 percent of respondents between 18 and 25 "indicated that gay marriage was not wrong at all or not wrong most of the time."
The ruling also bucks a trend to embrace LBGT rights in the region, following Taiwan's decision to legalize gay marriage last year.
COLOMBIA
Laying Down Arms
The Colombian leftwing rebel group, the National Liberation Army (ELN), declared a ceasefire earlier this week as a "humanitarian gesture" to prevent distraction from the fight against the novel coronavirus pandemic, the BBC reported.
The armed group said that the unilateral ceasefire will take effect from April 1 until April 30. They added that they were willing to meet with representatives of the Colombian government to discuss an extension to the ceasefire.
Norway, a country that has facilitated previous peace talks in Colombia, welcomed the move and called it an "important step in support of (the) vulnerable population & everyone who struggles for peace."
The ELN is a smaller and lesser known faction than the Revolutionary Armed Forces of Colombia (FARC), which signed a peace agreement with the government in 2016.
ELN fighters are known to attack large landholders, multinational companies as well as oil pipelines.
The group has been fighting the government for more than five decades and previous attempts to reach peace agreements have failed.
DISCOVERIES
Heads and Tails
Scientists discovered tiny burrows in ancient rocks in south Australia 15 years ago but weren't exactly clear what created them.
Recently, they determined that the burrows were made by a grain-sized worm-like creature that could be the key to the evolution of much of the animal kingdom, the BBC reported.
In their study, researchers named the creature Ikaria wariootia and described it as the earliest known example of a bilaterian organism.
Bilaterians are animals with a front and a back, two symmetrical sides, and openings in both ends connected by a gut.
The team explained that the development of bilateral symmetry was a pivotal step in the evolution of human life: Most animals today, including humans, are organized around the same basic bilaterian body plan.
"This may seem trivial but that means it had a distinct front and back end, which is the kind of organization that leads to the variety of things with heads and tails that are around today," co-author Scott Evans told the Guardian.
The authors noted that Ikaria wariootia lived more than 500 million years ago at a time when life on Earth was becoming more complex and multi-cellular.
Not already a subscriber?
If you would like to receive DailyChatter directly to your inbox each morning, subscribe below with a free two-week trial.
Support journalism that's independent, non-partisan, and fair.
If you are a student or faculty with a valid school email, you can sign up for a FREE student subscription or faculty subscription.
Questions? Write to us at hello@dailychatter.com.