August 17, 2023
Taming Through Terror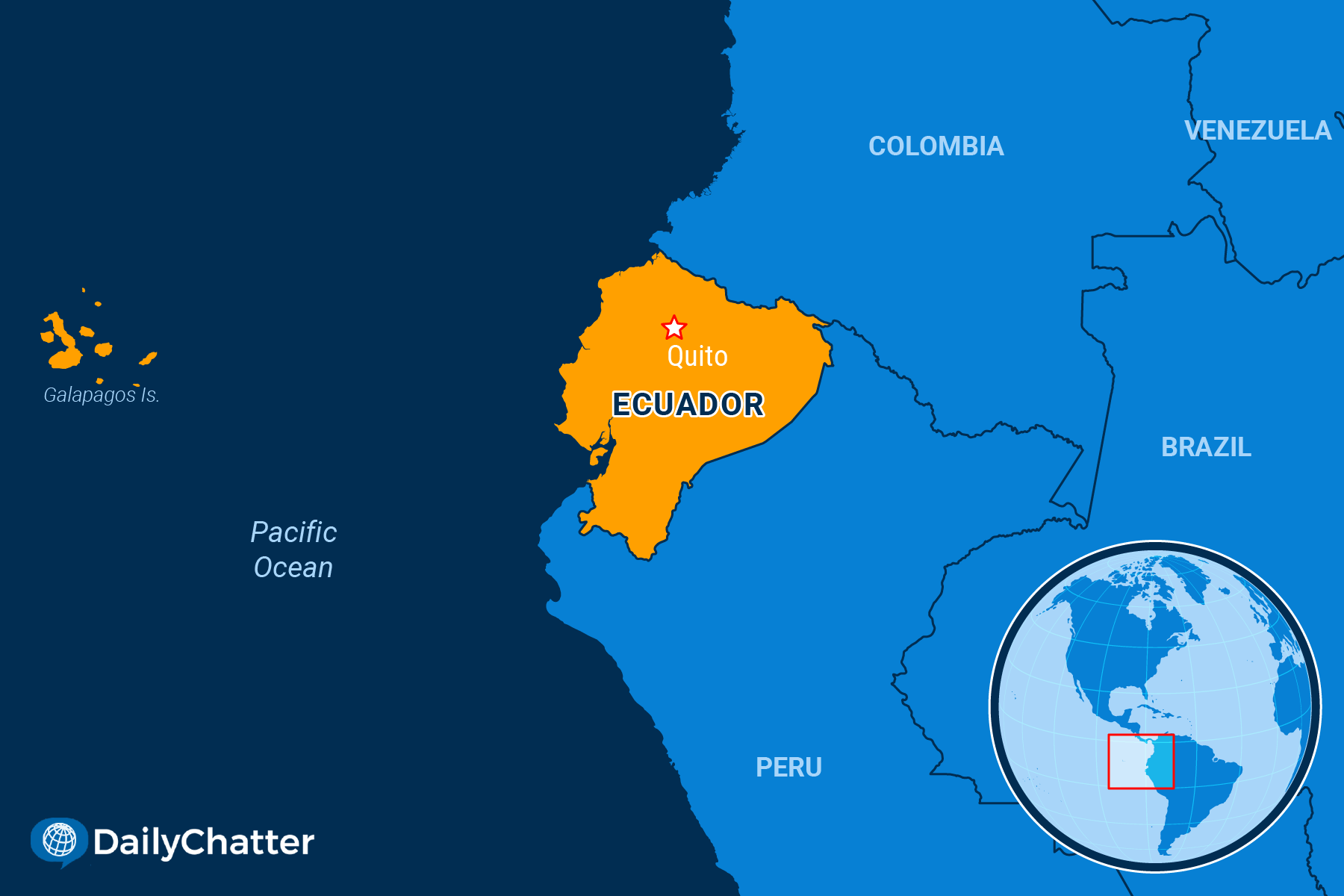 Listen to Today's Edition
Just a few years ago, Ecuador, sandwiched between narco-states Peru and Colombia, then grappling with their own civil conflicts, was an oasis of relative prosperity and peace in the region.
Now, as voters go to the polls on Aug. 20 to choose a successor to conservative President Guillermo Lasso, the country finds itself labeled as a "failed state." This time around, voters will be deciding how they want their next leader to right this listing ship.
The situation is dire. Earlier this month, Ecuadorian lawmaker and presidential candidate Fernando Villavicencio, known as a crusader against public corruption and organized crime, was shot dead at a political rally in the capital of Quito, the Associated Press reported. He was the target of numerous death threats – including from drug cartels outside of the country – and under armed protection. Police believe it was the work of one of the organized crime gangs that have come to dominate the country, becoming a 'state within a state.'
It was, unfortunately, only one more political assassination in a country where the homicide rate because of gang turf wars has quintupled over the past five years. (On Monday, leftist party leader Petro Briones was murdered in another killing attributed to gangs.) Still, Ecuadorians deal with bombings, public shootouts, decapitations and murder victims hanging off of bridges every week.
Argentine author Gabriel Pasquini, writing in the Washington Post, said Villavicencio was just "one more victim in a country where extreme violence has become the criminal organizations' way of not just settling scores but also communicating with society…Their aim has been to tame an entire nation through terror."
Even in a region known for record-setting violence, Ecuador's recent spiral into lawlessness and bloodshed stands out, wrote the Americas Quarterly, noting how homicide rates now top those of Mexico and Brazil.
And at the center of Ecuador's troubles is "the bottomless" global demand for cocaine, the Americas Quarterly explained. Over the past few years, Balkan gangs, particularly from Albania, have now helped propel Ecuador into a center for the transshipment and export of cocaine from the world's top producers, neighbors Colombia and Peru, to Europe and the United States.
Sinking prosperity is also a factor. While oil producer Ecuador was doing relatively well economically until 2019, the pandemic and also the drop in oil prices hit it hard, sliding a greater percentage of its 17 million people into poverty. The violence and extortion rackets have also cut into economic growth and are strangling business, World Politics Review noted.
As a result, corruption and the lure of crime gangs grew, mainly because there are few alternatives, as the International Crisis Group detailed.
Meanwhile, partisan politics and Ecuador's power vacuum have created an opening for the gangs, wrote CNN. While the Lasso administration has attempted to beef up security and crackdown on gang violence, it lost control of the prisons, from where criminal gangs run their empires. At the same time, collusion between top officials and law enforcement with the crime gangs has undermined efforts to contain the violence, according to local investigative outlet, La Posta.
More recently, the country went into crisis mode after Lasso dissolved Congress to block his own impeachment on embezzlement charges his supporters call bogus. This seldom-used mechanism triggered snap elections. He has decided not to run.
Now voters have a stark choice: Continue to move through this spiral of lawlessness until the criminal gangs have made the state completely irrelevant, negotiate with the gangs or impose a police state to crush them with civil liberties as collateral damage, as has happened in El Salvador.
According to polling, the frontrunner is left-leaning Luisa González, backed by former president Rafael Correa, a leftist who is still immensely popular from exile in Belgium after being convicted on corruption charges three years ago, Reuters reported. Correa, who trampled on personal liberties and press freedoms – he tried to jail Villavicencio for defamation – had attempted to negotiate with the crime bosses as did Lasso, according to local press. That's likely with González, too.
However, that tactic didn't work out so well in El Salvador, where after a brief dip, homicides spiked, according to the Council on Foreign Relations.
Also running is conservative candidate, Otto Sonnenholzner, a former vice president, and Yaku Pérez, an environmental activist who surprised observers by only narrowly missing the cut-off to participate in the 2021 runoff, wrote the Americas Society.
Meanwhile, businessman and former French Foreign Legionnaire Jan Topic, says he wants to channel Salvadoran President Nayib Bukele, who has managed to contain his country's spiraling violence by turning a failing democratic state into an authoritarian one: He has imprisoned tens of thousands of alleged gang members without due process, wrote El Pais. And he has all but suspended civil liberties.
Freedoms versus safety? That's a truly terrible choice to have to make. But it looks like Ecuadorians may have to.
Not already a subscriber?
If you would like to receive DailyChatter directly to your inbox each morning, subscribe below with a free two-week trial.
Support journalism that's independent, non-partisan, and fair.
If you are a student or faculty with a valid school email, you can sign up for a FREE student subscription or faculty subscription.
Questions? Write to us at hello@dailychatter.com.